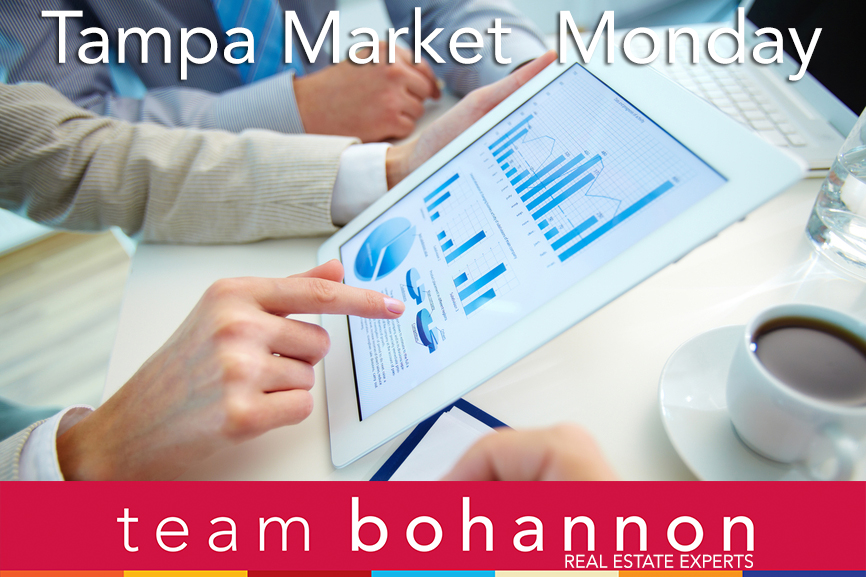 Happy Monday!
The Tampa – Hillsborough County real estate market has shown solid gains so far in 2017. Today we're going to drill down into the sales and pricing data to see what is likely ahead for 2017.
Price Trends
The first chart below reveals that single family homes went from a Median Price* of $195,000 in January of 2016 to $210,000 in January of 2017. The $15,000 increase represents a 7.7% price jump.  The Average Sold Price also went higher and stood at $263,000. That's $23,000 more than in January a year ago when the average sold price stood at $240,000. The 9.5% price rise beat the Median Price rise. If you look at the whole of 2016, you'll see that Median Prices peaked in December at $234,000, will Average Prices topped out a $286,00 in June, July and December of 2016.
(MEDIAN SOLD PRICE – Median means "in the middle," meaning that half of the homes sold above the Median Sold Price and half sold below it. For example, if 5 homes sold in a zip code for $200,000, $250,000, $300,000, $400,000 and $800,000, the Median Price would be the one in the middle. In this case, that would be the $300,000 home.In contrast, average selling price would just be the sum of the selling prices of the 5 homes divided by 5, or $330,000. Many real estate statisticians prefer median price as a better indicator of the "typical" price within an area or zip code. Why? It is not affected by "outliers" or homes sold at an extremely high or low price, like the $800,000 home in our example.)
For Sale, Sold and New Listings
The two charts directly below show how many Homes Sold per month compared to Homes For Sale, as well as how many Homes Were Listed each month. First, let's look at January of 2017 versus January 2016. In January 2017, 1200 homes sold. That was 187 more homes than in January of 2016 — an 18.4% increase in units sold. There were also 57 more homes for sale this January than January a year ago, a slight 1.4% increase.
Now if you look at the second chart below, you'll see that new listings rose from 1837 in January of 2016 to 2019 in January of 2017. That means sellers listed 179 more homes to start this year. This shows an increase in listings of nearly 10%.
If the year has started this strong, it is likely the busiest real estate seasons of spring and summer (see listings trend line in chart 2 below) will be even busier in 2017.
So what does that mean for you? If you're planning to sell this year, you need to put it in gear immediately. Starting toward the end of March to early April, buyers will begin searching for homes in full force. As the year progresses, this influx of buyers will taper off, particularly at the end of summer. More buyers means better prices and faster selling times. So the longer you wait, the more it will cost you in terms of dollars and time.
(Want a customized evaluation of your home and neighborhood, based on comparable homes that have sold recently? Call Annette Bohannon at 813-431-2840 and get a FREE detailed, market evaluation of your home or you can get a Free Market Report by following this link.)
Now let's look at some of the best blog posts, articles and infographics we've found this week. Enjoy!
Tampa:
Global commercial real estate firm Colliers International has named the Tampa Bay area among the Top 10 Emerging Industrial Markets in the U.S., with the city jumping to the number 10 spot from their number 28 ranking in 2015. According to the report, the area is seen as an emerging market due to the key strengths of an influx of population to fuel a growing workforce and e-commerce giants, including Amazon and Walmart, opening multi-million-square-foot distribution centers.
It has long been the hardest ticket to get on Broadway, let alone in Tampa.

But the wait locally for Hamilton finally has an end in sight. A touring version of Broadway's hottest musical in decades is coming to the David A. Straz Jr. Center for the Performing Arts in Tampa during the 2018-2019 season, the center and the show's producers have confirmed to the Tampa Bay Times. Exact dates will be released early in 2018.
From the Blog:
There is no doubt that historically low mortgage interest rates were a major impetus to housing recovery over the last several years. However, many industry experts are showing concern about the possible effect that the rising rates will have moving forward.

The Mortgage Bankers Association, Fannie Mae, Freddie Mac and the National Association of Realtors are all projecting that mortgage interest rates will move upward in 2017. Increasing interest rates will definitely impact purchasers and may stifle demand.

In a recent study of industry experts, "rising mortgage interest rates, and their impact on mortgage affordability" was named by 56% as the force they think will have the most significant impact on U.S. housing in 2017. If rising rates slow demand for housing, home values will be impacted.

Advice for Buyers:
Buying a home is no small feat—particularly if you're in your 20s. Between college debt, measly salaries, and an uncertain economy, it's no wonder that 20-somethings just aren't buying homes at the rate of previous generations. But guess what? Plenty of them actually do pull off homeownership—and not because their families foot the bill.

So how do they make it all work out?
Advice for Sellers
Owning a home is exciting, challenging and the biggest investment of many people's lives. It's also a good way to reduce your tax bill.

Home-related tax breaks begin as soon as you close on your new abode and last throughout your time in the house. But to maximize them, you need to follow some rules.
All of us have heard that the real estate market is "bad" right now. However, what is bad for sellers is often good for buyers. That is exactly what is happening right now. Smart buyers are out in droves attempting to capitalize on a buyer's market. The following are 12 tips to help you sell your home.

Home Loans
The 10-year Treasury yield remained relatively flat this week, while the 30-year mortgage rate fell 6 basis points to 4.1 percent. Since the beginning of the year, the 10-year Treasury yield has covered a 22 basis point range. The range of movement for the 30-year has been half that, just 11 basis points.

30-year fixed-rate mortgage (FRM) averaged 4.10 percent with an average 0.5 point for the week ending March 2, 2017, down from last week when it averaged 4.16 percent. A year ago at this time, the 30-year FRM averaged 3.64 percent.
15-year FRM this week averaged 3.32 percent with an average 0.5 point, down from last week when it averaged 3.37 percent. A year ago at this time, the 15-year FRM averaged 2.94 percent.
5-year Treasury-indexed hybrid adjustable-rate mortgage (ARM) averaged 3.14 percent this week with an average 0.4 point, down from last week when it averaged 3.16 percent. A year ago, the 5-year ARM averaged 2.84 percent.

Average commitment rates should be reported along with average fees and points to reflect the total upfront cost of obtaining the mortgage. Visit the following link for the Definitions. Borrowers may still pay closing costs which are not included in the survey.
Thanks for reading Tampa Market Monday. Please reach out to us. We'd love to show you how our award-winning client service and aggressive marketing approach can help you sell your home fast and for top dollar! You can reach me, Doug Bohannon or Dale Bohannon at 813-979-4963 or by completing this contact form.
Have a Fantastic week!
–Annette Bohannon, Team Bohannon, Keller Williams, 813-431-2840 www.teambohannon.com
Search for Tampa Homes By Neighborhood
Tampa, a beautiful, modern city located on the Gulf Coast of Florida, is bordered by Old Tampa Bay and Hillsborough Bay, which come together to makeup Tampa Bay. It offers…
View 3546 homes
Apollo Beach is a vibrant waterfront community, located in Hillsborough County in Tampa, FL. It features over 50 miles of interconnected canals that lead to Tampa Bay and the Gulf…
View 325 homes
Land O' Lakes, located in Pasco County, is north of downtown Tampa. It's also part of the Tampa-St. Petersburg-Clearwater, Florida MSA. The population of the area is a little over…
View 468 homes
FishHawk, Hillsborough County's first "green community", is made up of a variety of smaller communities located in Lithia, Florida. They including Starling at FishHawk, The Preserve, FishHawk Ranch and FishHawk…
View 215 homes
Lutz, which began as a small train depot on the Tampa North Railroad, now has about 20,000 residents. It was named for W. P. Lutz, who brought the railroad to…
View 424 homes
New Tampa, Tampa Bay's fastest growing community is located in the northern side of Tampa. New Tampa, well-known for its master-planned communities, features upscale residences surrounded by lakes, lush green…
View 361 homes
The Carrollwood area, about 7 miles northwest of Tampa includes two distinct communities — Carrollwood and Carrollwood Village. Both are located in Hillsborough County. Together, they have a population of…
View 266 homes
Odessa, located in Pasco County started as a community of open spaces that residents used for ranches and horse farms. But in more recent years, it has grown considerably due…
View 271 homes
Brandon is an appealing suburb, east of downtown Tampa, Florida. It offers residents a quieter, family-oriented lifestyle just outside of Tampa's city center. Over 100,000 people call it home and…
View 311 homes
Riverview, Florida, located in Hillsborough County near Tampa has nearly 80,000 residents. The community saw its population increase close to 500 percent from 2000 to 2010 as new development occurred…
View 703 homes
South Tampa, located on the Interbay Peninsula, includes areas of Tampa south of Kennedy Boulevard. Many of Tampa's most unique and in-demand neighborhoods, Beach Park, Ballast Point, Bayshore Beautiful, Bayshore…
View 1055 homes
Ruskin, located in Hillsborough County, Florida, near Tampa's South shore has blossomed since the early 2000's. It's population, which doubled from 2000 to 2010 now tops 17,000 residents. Background The…
View 297 homes
Valrico, located east of Tampa, is home to more than 35,000 residents. The population has expanded over 400% since 2000, when only 6,500 residents lived there. The median house or…
View 263 homes
Wesley Chapel, in Pasco County, has been one of Tampa Bay's fastest growing communities during the past 10 years. Currently, there are over 45,000 residents, 16,000 households and 12,000 families…
View 502 homes
Westchase, founded in 1991, is a luxurious planned community located between Tampa and Clearwaterin Hillsborough County. It has around 22,000 residents and is one of the most affluent subdivisions the…
View 154 homes
Are you seeking a one-of-a-kind luxury home? You'll discover many remarkable million-dollar-plus properties in the Tampa area. Whether you prefer living on the water with spectacular views, a Championship golf…
View 3772 homes
If you love golf, you'll love the Tampa Bay area's challenging and picturesque golf courses set in vibrant and beautiful communities on the Gulf Coast. You can enjoy a daily…
View 6222 homes
Living on the waterfront means a variety of things to different people. Some love the all-the-time access to sunshine, the beach and the ocean. For other it's about a peaceful…
View 13625 homes