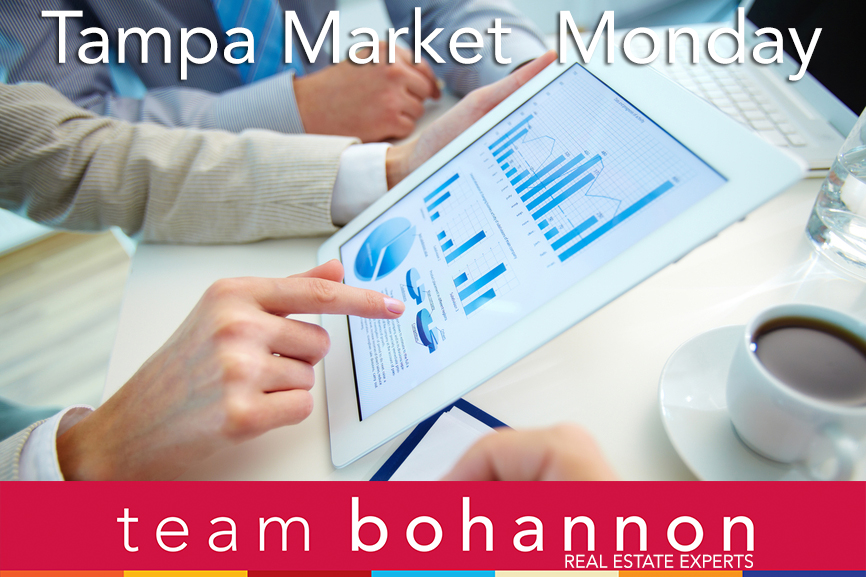 Happy Monday!
Today, let's see how real estate performed in Wesley Chapel for July 2016. Wesley Chapel is located in Pasco County, near Tampa, Florida and Hillsborough County. (See the 3 zip codes below)
In July of 2016, 194 homes sold throughout Wesley Chapel: 89 sold in 33543 (up 5.9% from July 2015), 56 sold in 33544 (up 7.69% from July 2015), and 49 sold in 33545 (up 4.26% from July 2015). The average number of days a home stayed on the market ranged from 45 (33545) to 65 (33543) days based on the zip code. The 33543 zip code had 239 active listings (up 26.46% from last year) in July, while the 33544 area had 126 (down 3.82% from a year ago). The remaining zip, 33545, had 69, a decline of 34.29% from July 2015.
Here's a more detailed overview of the rest of the data.
33543
33544
33545

Now let's look at last week's best articles, blog posts and infographics about what's going on in the Tampa area and the real estate market. Each week, we give you the information you need to be a smarter home buyer and/or seller. Enjoy.
Tampa Lifestyle:
Mettler Toledo will build a 250,000-square-foot manufacturing facility at a site adjacent to the Suncoast Parkway in Lutz. It will bring 500 jobs to Pasco County, 185 of which are new jobs.
From the Blog:
Some Highlights:
The Concept of Supply & Demand is a simple one. The best time to sell something is when supply of that item is low & demand for that item is high!
Anything under a 6-month supply is a Seller's Market!
There has not been a 6-months inventory supply since August 2012!
Buyer Demand continues to out-pace Seller Supply!
Advice for Buyers:
Though active listings likely will fall more (8 percent over last year), the market still may be shifting slightly as the start of the school year arrives and give buyers more bargaining power, writes Jonathan Smoke, realtor.com®'s chief economist in his latest column.

"The real estate cycle has shifted into its slower fall phase, and we see it evident in the median days on the market," Smoke says.

Active listings remained on realtor.com® a median of 65 days in May and June. In August, however, that is expected to reach 72.

"Demand follows a more extreme seasonal pattern," Smoke notes. "The busiest month on average is June, and June has almost 75 percent more sales than December, the slowest month of the year."
Advice for Sellers

Home Loans
Treasury yields were little changed from the prior week and the 30-year fixed-rate mortgage held steady at 3.43 percent this week. This marks the ninth consecutive week that mortgage rates have been below 3.5 percent. Markets are erring on the side of caution ahead of the second estimate for second-quarter GDP and Fed Chair Janet Yellen's speech on Friday.

30-year fixed-rate mortgage (FRM) averaged 3.43 percent with an average 0.6 point for the week ending August 25, 2016, unchanged from last week. A year ago at this time, the 30-year FRM averaged 3.84 percent.
15-year FRM this week averaged 2.74 percent with an average 0.5 point, unchanged from last week. A year ago at this time, the 15-year FRM averaged 3.06 percent.
5-year Treasury-indexed hybrid adjustable-rate mortgage (ARM) averaged 2.75 percent this week with an average 0.4 point, up from last week when it averaged 2.74 percent. A year ago, the 5-year ARM averaged 2.90 percent.

Average commitment rates should be reported along with average fees and points to reflect the total upfront cost of obtaining the mortgage. Visit the following link for the Definitions. Borrowers may still pay closing costs which are not included in the survey.
Thanks for reading Tampa Market Monday. We'd love to help you buy or sell your home so please get in touch! You can reach me, Doug Bohannon or Dale Bohannon at 813-979-4963 or by completing this contact form.
Have a Fantastic week!
–Annette Bohannon, Team Bohannon, Keller Williams, 813-431-2840 www.teambohannon.com
Search for Tampa Homes By Neighborhood