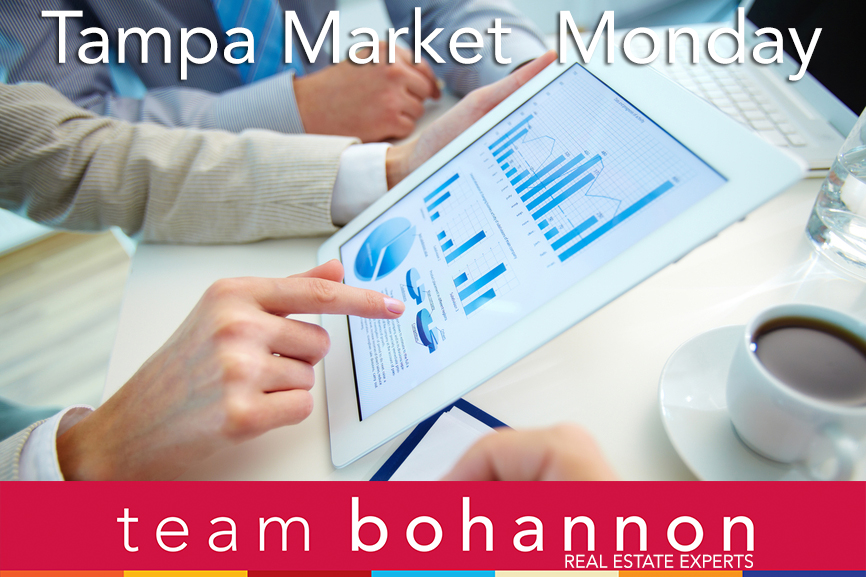 Happy Monday!
In this week's Market Monday, I'll review the performance of  the Wesley Chapel housing market in August 2017.
Pricing Trends
First, let's look at the Median Sold Price* for each Wesley Chapel zip code. Compared to August 2016, Wesley Chapel (33543) jumped 11.7% to $251,390, Wesley Chapel (33544) fell 10.1% to $253,245 and Wesley Chapel (33545) climbed 17.5% as the median sold price came in at $246,685.
(MEDIAN SOLD PRICE – Median means "in the middle," meaning that half of the homes sold above the Median Sold Price and half sold below it. For example, if 5 homes sold in a zip code for $200,000, $250,000, $300,000, $400,000 and $800,000, the Median Price would be the one in the middle. In this case, that would be the $300,000 home. In contrast, average selling price would just be the sum of the selling prices of the 5 homes divided by 5, or $330,000. Many real estate statisticians prefer median price as a better indicator of the "typical" price within an area or zip code. Why? It is not affected by "outliers" or homes sold at an extremely high or low price, like the $800,000 home in our example.)
The following graphs show the Average Sale Price compared to the Original List Price. In Wesley Chapel (33543), sellers received an average of 96.8% of their original asking price, while in Wesley Chapel (33544) they sold for 96.8% of original list price. The ratio for the 33545 zip code in Wesley Chapel was slightly below that at 96.4% of original list price, on average.
Number of Properties Sold, For Sale, and New to the Market
The Numbers of Homes Sold rose 6% compared to August 2016, as 165 homes sold, nine more than last August.  That The Number of Homes for Sale ticked up 1%. In total, 574 were for sale, 5 more than August 2016. In addition, 187 New Properties came onto the market, which was 22 homes or 13% more than August a year ago.
Months of Supply, which measures housing inventory, plunged 37% from 3.2 months (August 2016) to 2.0 months (August 2017). However, the Average Number of Days a home stayed on the market jumped 13% compared to August 2016, as homes sold in an average of 66 days in August 2017 instead of 59.
Bottom Line
August sent a clear signal that the robust housing market in Wesley Chapel is on solid footing. The tight inventory of homes for sale continues to be the biggest obstacle to an even stronger year of home sales.
(Want a customized evaluation of your home and neighborhood, based on comparable homes that have sold recently? Call Annette Bohannon at 813-431-2840 and get a FREE detailed, market evaluation of your home.)
Now let's look at some of the most informative blog posts, articles and infographics we've read this week. Enjoy!
Tampa:
The University of South Florida's rankings as both a public and national university improved more than any other Florida school in the U.S. News and World Report's 2018 scorecard.

The Tampa-based school jumped 19 places to No. 140 among national universities, which include public and private colleges, and 15 places to No. 68 among public universities.
Blog:
Here are five reasons listing your home for sale this fall makes sense.

1. Demand Is Strong

The latest Buyer Traffic Report from the National Association of Realtors (NAR) shows that buyer demand remains very strong throughout the vast majority of the country. These buyers are ready, willing, and able to purchase… and are in the market right now! More often than not, multiple buyers are competing with each other to buy a home.

Take advantage of the buyer activity currently in the market.
Buyers:
Home values (median)

: $183,300

Annual forecasted appreciation

: 3.2%

Residents of Tampa enjoy warm weather year-round, at a cost that's lower than many other beach towns. Nearly one-in-five house listings in Tampa have had a recent price cut, according to Zillow, suggesting the market there may be less competitive for new homebuyers than in some other cities.

Alongside potential real estate deals, homeowners in Tampa will find a thriving financial sector as well as military jobs at the MacDill Air Force Base. "The I-4 corridor is the bread basket for growth in Florida, and a lot of that boils down to affordability," says Sean Snaith, an economist with the University of Central Florida.
As a busy human, I have recently embraced the philosophy that "Perfection is the Enemy of Execution". Every so often, when the self-doubt starts to creep up, I have to remind myself that everything doesn't have to be perfect in order to embark on a new adventure. This was particularly true when I quit my Wall Street job to become a financial advisor. It was true when my husband and I decided to have kids. In both those cases, there was never going to be the most perfect amazing time ever to quit or have kids. But I did it anyway. Recently, when a client of mine called to ask about buying his first home, we discussed the pros and cons of his timing. When is a good time to buy a home? Was this his most perfect amazing time ever to buy a house? The short answer is "maybe" but here is a good outline of things to think about before jumping head first into home ownership.

Sellers:
Once you've decided it's time to sell your home, start to look at it with an objective eye. If you were the potential buyer, what red flags would you see when you walked around your house and yard?
Home Loans

Thanks for reading Tampa Market Monday. If you want help buying or selling your home, please get in touch. We have sold over 4,600 homes in the Tampa area and our mission is "to elevate the practice of real estate to an art form — and to deliver a real estate experience that is re-imagined and extraordinary!"
You can reach me, Doug Bohannon or Dale Bohannon at 813-979-4963 or by completing this contact form.
Have a Fantastic week!
–Annette Bohannon,
Team Bohannon, Keller Williams, 813-431-2840
www.teambohannon.com
Search for Tampa Homes By Neighborhood
Tampa, a beautiful, modern city located on the Gulf Coast of Florida, is bordered by Old Tampa Bay and Hillsborough Bay, which come together to makeup Tampa Bay. It offers…
View 3546 homes
Apollo Beach is a vibrant waterfront community, located in Hillsborough County in Tampa, FL. It features over 50 miles of interconnected canals that lead to Tampa Bay and the Gulf…
View 325 homes
Land O' Lakes, located in Pasco County, is north of downtown Tampa. It's also part of the Tampa-St. Petersburg-Clearwater, Florida MSA. The population of the area is a little over…
View 468 homes
FishHawk, Hillsborough County's first "green community", is made up of a variety of smaller communities located in Lithia, Florida. They including Starling at FishHawk, The Preserve, FishHawk Ranch and FishHawk…
View 215 homes
Lutz, which began as a small train depot on the Tampa North Railroad, now has about 20,000 residents. It was named for W. P. Lutz, who brought the railroad to…
View 424 homes
New Tampa, Tampa Bay's fastest growing community is located in the northern side of Tampa. New Tampa, well-known for its master-planned communities, features upscale residences surrounded by lakes, lush green…
View 361 homes
The Carrollwood area, about 7 miles northwest of Tampa includes two distinct communities — Carrollwood and Carrollwood Village. Both are located in Hillsborough County. Together, they have a population of…
View 266 homes
Odessa, located in Pasco County started as a community of open spaces that residents used for ranches and horse farms. But in more recent years, it has grown considerably due…
View 271 homes
Brandon is an appealing suburb, east of downtown Tampa, Florida. It offers residents a quieter, family-oriented lifestyle just outside of Tampa's city center. Over 100,000 people call it home and…
View 311 homes
Riverview, Florida, located in Hillsborough County near Tampa has nearly 80,000 residents. The community saw its population increase close to 500 percent from 2000 to 2010 as new development occurred…
View 703 homes
South Tampa, located on the Interbay Peninsula, includes areas of Tampa south of Kennedy Boulevard. Many of Tampa's most unique and in-demand neighborhoods, Beach Park, Ballast Point, Bayshore Beautiful, Bayshore…
View 1055 homes
Ruskin, located in Hillsborough County, Florida, near Tampa's South shore has blossomed since the early 2000's. It's population, which doubled from 2000 to 2010 now tops 17,000 residents. Background The…
View 297 homes
Valrico, located east of Tampa, is home to more than 35,000 residents. The population has expanded over 400% since 2000, when only 6,500 residents lived there. The median house or…
View 263 homes
Wesley Chapel, in Pasco County, has been one of Tampa Bay's fastest growing communities during the past 10 years. Currently, there are over 45,000 residents, 16,000 households and 12,000 families…
View 502 homes
Westchase, founded in 1991, is a luxurious planned community located between Tampa and Clearwaterin Hillsborough County. It has around 22,000 residents and is one of the most affluent subdivisions the…
View 154 homes
Are you seeking a one-of-a-kind luxury home? You'll discover many remarkable million-dollar-plus properties in the Tampa area. Whether you prefer living on the water with spectacular views, a Championship golf…
View 3772 homes
If you love golf, you'll love the Tampa Bay area's challenging and picturesque golf courses set in vibrant and beautiful communities on the Gulf Coast. You can enjoy a daily…
View 6222 homes
Living on the waterfront means a variety of things to different people. Some love the all-the-time access to sunshine, the beach and the ocean. For other it's about a peaceful…
View 13625 homes