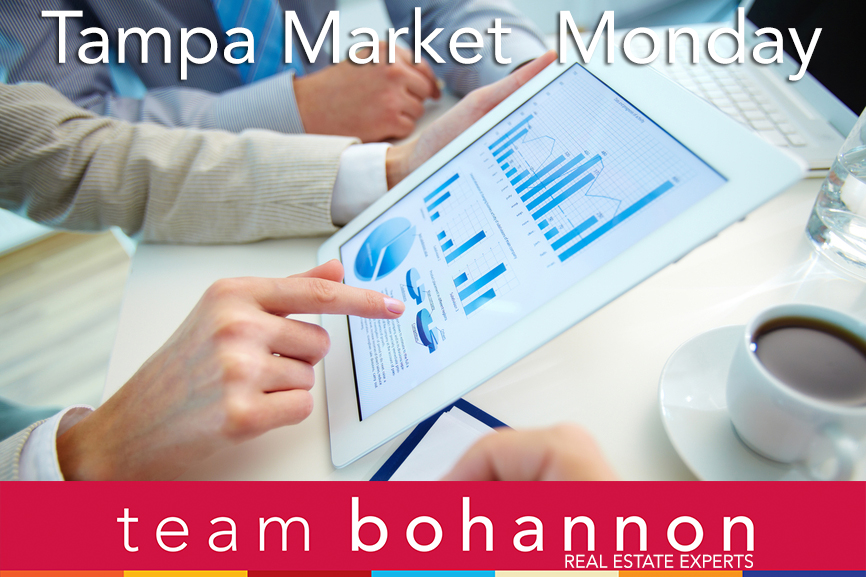 Happy Monday!
Today, let's see how real estate performed in one of Greater Tampa's hottest locations — Wesley Chapel. Wesley Chapel, located in Pasco County, is made up of three zip codes.
In August of 2016, 211 total homes sold throughout Wesley Chapel (31.9% more than in August of 2015).
113 sold in 33543 (up a dramatic 54.79% from August 2015)
49 sold in 33544 (up 4.26% from August 2015)
49 sold in 33545 (up a healthy 22.5% from August 2015).
The average number of days a home stayed on the market ranged from 37 (33545) to 54 (33543) days based on the zip code. The 33545 zip fell 52.56% from last August when it stood at 78 days, while 33543 and 33544 increased 12.5% and 4.26% respectively.
The 33543 zip code had 246 active listings (up 21.78% from last August), while the 33544 area had 126 (up a slight 1.62% from a year ago). The remaining zip, 33545, had only 69 listings, a drop of 36.45% from August 2015 when 107 homes were listed for sale.
Here's a more detailed look at the rest of the data.
33543
33544
33545
Now let's dive into best articles, blog posts and infographics from last week to find out what's going on in Tampa and the real estate market. Each week, we give you the information you need to be a smarter home buyer and/or seller. Enjoy.
Tampa:
Personal income in Florida rose 1.2 percent in the second quarter, the sixth-strongest performance in the country, according to government data released Wednesday.

With a total of $935 billion in personal income statewide, Florida trails only California ($2.17 trillion), Texas ($1.32 trillion) and New York ($1.19 trillion), the Bureau of Economic Analysis reported.

The single-largest component of income growth — higher earnings — rose 1.3 percent in Florida, led by higher earnings in health care.

Nationally, personal income grew 1 percent to $15.9 trillion while earnings grew 1.2 percent.
From the Blog:
Some Highlights:
Existing home inventory is down 10.1% from last year.
A lack of inventory explains the modest increase in home sales (0.8% year-over-year) despite strong buyer demand.
Existing home prices increased 5.1% year-over-year, which is directly related to the lack of inventory.
Advice for Buyers:
1.

Do I want to live in this area for the next five years?

Why? Because there's a chance you'll lose money on the house. "It takes about 5 years to make your money back on your closing costs alone," Egypt Sherrod, author of Keep Calm…It's Just Real Estate and host of Property Virgins, told BuzzFeed. "Having the house for over 5 years can keep you from losing money on your upfront investment."
1. An Open Floor Plan

The days of compartmentalized rooms all separated by walls and doors are gone, and the era of connected living continues to be one of top new home trends. Specifically, buyers "want the kitchen to be open to the family room, which creates the "great room" as it's most typically defined," says Brown. Homebuyers are also looking for an open floor plan kitchen, as it allows people to flow to and from the heart of the home during gatherings.
Advice for Sellers
Millennials are powering the housing market. For the third year in a row, Generation Y (age 18 to 35) comprised the largest group of homebuyers, making up 35 percent of all buyers, according to a March report by the National Association of Realtors.

Partly for this reason, homebuilders are increasingly including the attributes that the millennial generation covets when designing new homes, according to a joint survey by the National Association of Home Builders and Better Homes and Gardens.

But what if you're trying to sell your home—one that may have been around for decades? You may find that figuring out what millennials want can be pretty difficult. "They're picky," says Peggy Yee, a supervising broker at Frankly Realtors in Vienna, Va. "Millennials have specific needs, and if your home doesn't meet them, they're going to move on to the next house."
So what are some signs a buyer isn't serious about your home?

It's a good thing experienced Realtors® can tell the difference between the buyer who means business and the one who has no intention of actually sealing the deal—and that these pros graciously agreed to clue us in.

Do any of the following red flags sound familiar? Keep each in mind, and you can save yourself the drama of dashed hopes.

Home Loans
Investors flocked to the safety of government bonds causing the 10-year Treasury yield to continue its descent following the FOMC's decision to leave rates unchanged. The 30-year fixed-rate mortgage responded by dropping 6 basis points before landing at 3.42 percent–a ten-week low. The course of the economy is uncertain, yet consumers continue to be a bright spot. The September consumer confidence index is up 3 percent to 104.1, exceeding forecasts and reaching a new cycle high.

30-year fixed-rate mortgage (FRM) averaged 3.42 percent with an average 0.5 point for the week ending September 29, 2016, down from last week when it averaged 3.48 percent. A year ago at this time, the 30-year FRM averaged 3.85 percent.
15-year FRM this week averaged 2.72 percent with an average 0.5 point, down from last week when it averaged 2.76 percent. A year ago at this time, the 15-year FRM averaged 3.07 percent.
5-year Treasury-indexed hybrid adjustable-rate mortgage (ARM) averaged 2.81 percent this week with an average 0.4 point, up from last week when it averaged 2.80 percent. A year ago, the 5-year ARM averaged 2.91 percent.

Average commitment rates should be reported along with average fees and points to reflect the total upfront cost of obtaining the mortgage. Visit the following link for the Definitions. Borrowers may still pay closing costs which are not included in the survey.
Thanks for reading Tampa Market Monday. We'd love to help you buy or sell your home so please get in touch! You can reach me, Doug Bohannon or Dale Bohannon at 813-979-4963 or by completing this contact form.
Have a Fantastic week!
–Annette Bohannon, Team Bohannon, Keller Williams, 813-431-2840 www.teambohannon.com
Search for Tampa Homes By Neighborhood