Happy Monday, September 14, 2020
The Wesley Chapel Single-Family Housing Market Favored Sellers in August 2020!
Summary of Key Stats Year over Year (YoY) and Month over Month (MoM):
More Detailed Analysis and Commentary
Home Sales (Sold)
In August 2020, 203 single-family homes sold in Wesley Chapel, a 53.8% rise from the 132 sold in August 2019. It was 16% more than the 175 sales in July 2020.
Current Inventory of Homes (For Sale)
In August 2020, 242 fewer single-family homes listed for sale compared to August 2019, a 59.3% drop. Current inventory fell 21.3% from July 2020.
Homes Under Contract (Pending)
In August 2020, 191 single-family homes were under contract compared to 184 in August 2019, a 3.8% increase. Pending single-family homes jumped 36.4% compared to July 2020.
The Average Sold Price per Square Footage indicates which direction home prices are headed. Median Sold Price and Average Sold Price can sometimes be skewed by outliers that sell for a really high or low price. So the Average Sold Price per Square Footage is a more normalized indicator of home values. The August 2020 Average Sold Price per Square Footage of $140 rose 1.4% from $138 in July 2020 and 8.5% from $129 in August 2019.
The Days on Market Shows Downward Trend
The Average Days on Market (DOM) shows how many days the average home is on the market before it sells. An upward trend in DOM indicates a move towards more of a Buyer's market, a downward trend indicates a move towards more of a Seller's market. The DOM for August 2020 of 43 days declined 24.6% from 57 days in July 2020. The DOM decreased 32.8% from 64 days in August of last year.
The Sold/Original List Price Ratio Remains Steady
The Sold Price vs. Original List Price reveals the average amount that sellers are agreeing to decrease their original list price. The lower the ratio is below 100%, the more of a Buyer's market exists, a ratio at or above 100% indicates more of a Seller's market. August 2020's Sold Price vs. Original List Price of 98% ticked up 1% from July of this year and 2.1% from August of last year.
The Average For Sale Price is Neutral
The Average For Sale Price in August was $375,000, up 4.7% from $358,000 in August 2019 and down 3.6% from $389,000 in July 2020.
The Average Sold Price is Neutral
The Average Sold Price in August was $336,000, up 7.7% from $312,000 in August 2019 and 5% from $320,000 in July 2020.
The Median Sold Price is Neutral
The Median Sold Price in August was $310,000, up 9.9% from $282,000 in August 2019 and 2.6% from $302,000 in July 2020.
August 2020 was a Seller's Market*
A comparatively lower Months of Inventory benefits sellers while a higher Months of Inventory favors buyers.
*Buyer's market: more than 6 months of inventory
Seller's market: less than 3 months of inventory
Neutral market: 3 – 6 months of inventory
Months of Inventory based on Closed Sales
The August 2020 Months of Inventory based on Closed Sales of 0.8 months fell 74.4% compared to August 2019.  It dropped 33.2% compared to July 2020.
The Absorption Rate measures what percentage of the current active listings are being absorbed each month.
*Buyer's market: 16.67% and below
Seller's market: 33.33% and above
Neutral market: 16.67% – 33.33%
Absorption Rate based on Closed Sales
The August 2020 Absorption Rate based on Closed Sales of 122.3 leaped 277.9% compared to August 2019 and up 47.5% compared to July 2020.
Video of the Week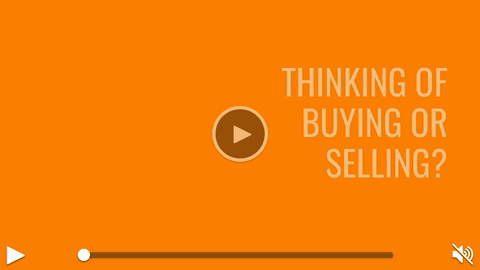 The housing market is on fire as we move into fall. Let's connect to make sure you have the most current information that can make buying a home or selling a house a confident decision for your family.
From the Blog:
Homebuying has been on the rise over the past few months, with record-breaking sales powering through the market in June and July. Buyers are actively purchasing homes, and the momentum is continuing into the fall. It is, however, becoming harder for buyers to find homes to purchase. If you've been thinking about selling your house, the coming weeks might just be the timing you've been waiting for.

According to the Pending Home Sales Report from the National Association of Realtors (NAR):

"Pending home sales in July achieved another month of positive contract activity, marking three consecutive months of growth.

The Pending Home Sales Index (PHSI), a forward-looking indicator of home sales based on contract signings, rose 5.9% to 122.1 in July. Year-over-year, contract signings rose 15.5%. An index of 100 is equal to the level of contract activity in 2001."

This means that for the past several months, buyers have signed an increasing number of contracts to purchase homes – well above where the market was at this time last year. Lawrence Yun, Chief Economist at NAR notes:

"We are witnessing a true V-shaped sales recovery as homebuyers continue their strong return to the housing market…Home sellers are seeing their homes go under contract in record time, with nine new contracts for every 10 new listings."

Below is a graph that shows the impressive recovery of homes sales compared to previous years. The deep blue v marks the slowdown from this spring that turned into an exponential jump in sales that followed through the summer, skyrocketing above years past:

What Does This Mean for Sellers?

If you were thinking about putting your house on the market in the spring, but decided to wait due to the health crisis, it may be time to make your move. Buyers are in the market right now. With so few homes available to purchase, homeowners today are experiencing more bidding wars, creating an optimal time to sell.

Is This Trend Going to Continue?

As CNBC notes, there are no signs of slowing buyer demand this fall:

"The usual summer slowdown in the housing market is not happening this year. Buyers continue to show strong demand, spurred by the new stay-at-home world of the coronavirus and by record low mortgage rates."

Danielle Hale, Chief Economist at realtor.com, concurred:

"In a typical year in the housing market, buyer interest begins to wane before seller interest causing the usual seasonal slowdown as we move into the fall. Due to a delayed spring season and low mortgage rates, we could see buyer interest extend longer than usual into the typically quieter fall. Whether this means more home sales will depend on whether sellers participate or decide to stay on the sidelines."

As Hale mentioned, homeowners who are willing to sell their houses right now will play a big role in whether the trend continues. The market needs more homes to satisfy ongoing buyer demand. Maybe it's time to leverage your equity and move up while eager home shoppers are ready to purchase a house just like yours.

Bottom Line

If your current home doesn't meet your family's changing needs, let's connect to help you sell your house and make the move you've been waiting for all year.
Click the graphic above to visit www.teambohannon.com
The year 2020 will certainly be one to remember, with new realities and norms that changed the way we live. This year's real estate market is certainly no exception to that shift, with historic highlights continuing to break records and challenge what many thought possible in the housing market. Here's a look at four key areas that are fundamentally defining the market this year.

Housing Market Recovery

The economy was intentionally put on pause this spring in response to the COVID-19 health crisis. Many aspects of the common real estate transaction were placed on hold at the same time. Thankfully, technology and innovation helped the industry power forward, and business gradually ramped back up as shelter-in-place orders were lifted.

The result? Total transformation of the market from rock-bottom lows to exceptional highs. Today, the housing recovery is being called truly remarkable by many experts and is far exceeding expectations. From pending home sales to purchase applications, buyers are back in business and homes are selling – fast.

According to the Housing Market Recovery Index by realtor.com, the market has surpassed pre-pandemic levels, and has regained the strength we remember from February of this year (See graph below):

Record-Breaking Mortgage Rates

Historically low mortgage rates are another 2020 game-changer. Today's low rate is one of the big motivating factors bringing buyers back into the market. The average rate reached an all-time low on multiple occasions this year, and it continues to hover in record-low territory.

When rates are this low, buyers have a huge opportunity to get more for their money when purchasing a home, something many are eager to find while continuing to spend more time than expected at home this year, and likely beyond.

Continued Home Price Appreciation

One of the key drivers of home price appreciation this year is historically low inventory. Inventory was low going into the pandemic, and it is still sitting well below the level needed for a normal market. Although sellers are slowly making their way back into the game, buyers are scooping up homes faster than they're coming up for sale.

This is a classic supply and demand scenario, forcing home prices to rise. Selling something when there is a higher demand for what is available naturally bumps up the price. If you're ready to sell your house today, this may be the optimal time to make your move. As Bill Banfield, EVP of Capital Markets at Quicken Loans, notes:

"The pandemic has not stopped the consistent home price growth we have witnessed in recent years." 

Increasing Affordability

Even as home prices continue to rise, affordability is working in favor of today's homebuyers. According to many experts, rates this low are off-setting rising home prices, which increases buyer purchasing power – an opportunity not to be missed, especially if your family's needs have changed. If you now need space for a home office, gym, virtual classroom, and more, it may be time to reconsider your current house.

According to Mortgage News Daily:

"Those shopping for a home can afford 10 percent more home than they could have one year ago while keeping their monthly payment unchanged. This translates into nearly $32,000 more buying power."

Bottom Line

With mortgage rates hitting historic lows, home prices appreciating, affordability rising, and the market recovering like no other, 2020 has been quite a year for real estate – perhaps one we've never seen before and may never see again. Let's connect today if you're ready to take advantage of this year's record-breaking opportunities.
Home Loans
September 10, 2020

Mortgage rates have hit another record low due to a late summer slowdown in the economic recovery. These low rates have ignited robust purchase demand activity, which is up twenty-five percent from a year ago and has been growing at double digit rates for four consecutive months. However, heading into the fall it will be difficult to sustain the growth momentum in purchases because the lack of supply is already exhibiting a constraint on sales activity.

Thanks for reading Tampa Market Monday. We'd love to help you buy or sell your home, so please get in touch! You can reach me, Doug Bohannon or Dale Bohannon at 813-979-4963 or by completing this contact form.
Have a Fantastic Day!
–Annette Bohannon,
Team Bohannon, Keller Williams, 813-431-2840
www.teambohannon.com
Search for Tampa Homes By Neighborhood
Tampa, a beautiful, modern city located on the Gulf Coast of Florida, is bordered by Old Tampa Bay and Hillsborough Bay, which come together to make up Tampa Bay. It offers…
View 3546 homes
Apollo Beach is a vibrant waterfront community, located in Hillsborough County in Tampa, FL. It features over 50 miles of interconnected canals that lead to Tampa Bay and the Gulf…
View 325 homes
Land O' Lakes, located in Pasco County, is north of downtown Tampa. It's also part of the Tampa-St. Petersburg-Clearwater, Florida MSA. The population of the area is a little over…
View 468 homes
FishHawk, Hillsborough County's first "green community", is made up of a variety of smaller communities located in Lithia, Florida. They including Starling at FishHawk, The Preserve, FishHawk Ranch and FishHawk…
View 215 homes
Lutz, which began as a small train depot on the Tampa North Railroad, now has about 20,000 residents. It was named for W. P. Lutz, who brought the railroad to…
View 424 homes
New Tampa, Tampa Bay's fastest growing community is located in the northern side of Tampa. New Tampa, well-known for its master-planned communities, features upscale residences surrounded by lakes, lush green…
View 361 homes
The Carrollwood area, about 7 miles northwest of Tampa includes two distinct communities — Carrollwood and Carrollwood Village. Both are located in Hillsborough County. Together, they have a population of…
View 266 homes
Odessa, located in Pasco County started as a community of open spaces that residents used for ranches and horse farms. But in more recent years, it has grown considerably due…
View 271 homes
Brandon is an appealing suburb, east of downtown Tampa, Florida. It offers residents a quieter, family-oriented lifestyle just outside of Tampa's city center. Over 100,000 people call it home and…
View 311 homes
Riverview, Florida, located in Hillsborough County near Tampa has nearly 80,000 residents. The community saw its population increase close to 500 percent from 2000 to 2010 as new development occurred…
View 703 homes
South Tampa, located on the Interbay Peninsula, includes areas of Tampa south of Kennedy Boulevard. Many of Tampa's most unique and in-demand neighborhoods, Beach Park, Ballast Point, Bayshore Beautiful, Bayshore…
View 1055 homes
Ruskin, located in Hillsborough County, Florida, near Tampa's South shore has blossomed since the early 2000's. It's population, which doubled from 2000 to 2010 now tops 17,000 residents. Background The…
View 297 homes
Valrico, located east of Tampa, is home to more than 35,000 residents. The population has expanded over 400% since 2000, when only 6,500 residents lived there. The median house or…
View 263 homes
Wesley Chapel, in Pasco County, has been one of Tampa Bay's fastest growing communities during the past 10 years. Currently, there are over 45,000 residents, 16,000 households and 12,000 families…
View 502 homes
Westchase, founded in 1991, is a luxurious planned community located between Tampa and Clearwaterin Hillsborough County. It has around 22,000 residents and is one of the most affluent subdivisions the…
View 154 homes
Are you seeking a one-of-a-kind luxury home? You'll discover many remarkable million-dollar-plus properties in the Tampa area. Whether you prefer living on the water with spectacular views, a Championship golf…
View 3772 homes
If you love golf, you'll love the Tampa Bay area's challenging and picturesque golf courses set in vibrant and beautiful communities on the Gulf Coast. You can enjoy a daily…
View 6222 homes
Living on the waterfront means a variety of things to different people. Some love the all-the-time access to sunshine, the beach and the ocean. For other it's about a peaceful…
View 13625 homes
Thanks for taking time to read the Tampa Market Monthly! If you want to buy or sell a home or find out your home's value please let us know. We'd love to work with you. You can reach me, Doug Bohannon or Dale Bohannon at 813-979-4963 or by completing this contact form. You can search all Tampa area homes for sale at www.teambohannon.com.