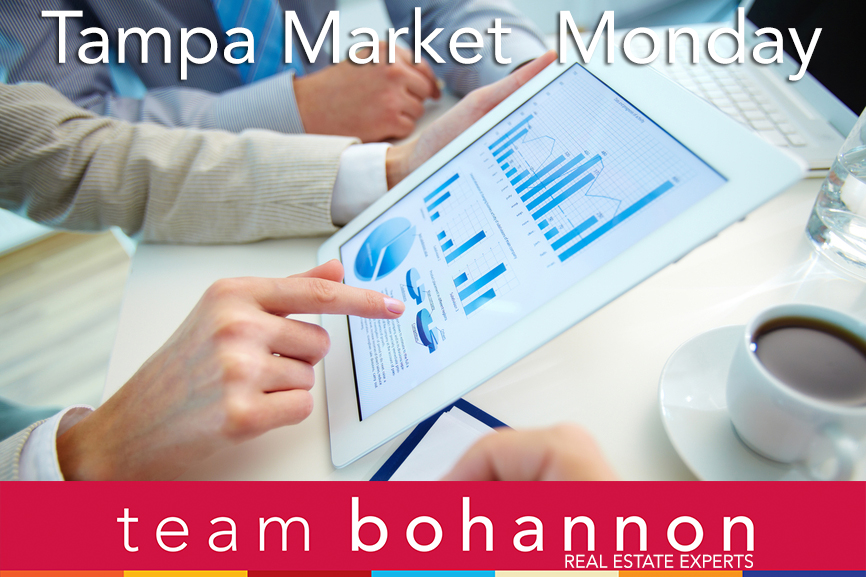 Happy Monday!
Today, let's take a look at the last two years of home sales in Hillsborough County, (Tampa) Florida.
The Number of Homes Sold rose 24% in November of 2016 compared to November two years ago, as 1,536 homes sold. Median Sold Price also climbed 25% — from $179,000 in November of 2014 to $224,250 in November 2016. Keep in mind, median means "in the middle," meaning that half of the homes sold above the Median Sold Price and half sold below it. For example, if 5 homes sold in a zip code for $200,000, $250,000, $300,000, $400,000 and $800,000, the Median Price would be the one in the middle. In this case, that would be the $300,000 home.
In contrast, average selling price would just be the sum of the selling prices of the 5 homes divided by 5, or $330,000.  Many real estate statisticians prefer median price as a better indicator of the "typical" price within an area or zip code. Why? It is not affected by "outliers" or homes sold at an extremely high or low price, like the $800,000 home in our example.
The Average Number of Days a Home Stayed on the Market (53 days) fell 26% compared to November two years ago. Months of Supply, which measures how many months of housing inventory remains based on current sales trends, plunged 41% from November 2014 to November of this year.  In November of 2014, it was 5.0 months, but now there is only 2.9 months of housing inventory.
What It Means
The housing data paints a clear picture. Units sold and prices have climbed more than 20% since 2014 and housing supply has decreased markedly based on the same time periods.  Over the last few weeks, mortgage rates have started to climb, reaching their 2016 highs last week. So even though home sales usually hit a lull this time of year, there is still quite a bit of urgency to get deals done before rates go higher. So whether you are buying or selling, waiting until the "hot" seasons of Spring and Summer is not the best strategy.
(Want a customized evaluation of your home and neighborhood, based on comparable homes that have sold recently? Call Annette Bohannon at 813-431-2840 and get a FREE detailed, market evaluation of your home or you can get a Free Market Report by following this link.)
Now here's a quick overview of some of the best and most informative blog posts, articles and infographics we've run across this week. Enjoy!
Tampa:
Last year, Port Tampa Bay officials were excited to show off sleek, new designs featuring a $1.7 billion urban vision of a futuristic Channelside in downtown Tampa.

Renderings showed 75-story high apartment and condo buildings surrounded by parks and a much bigger cruise terminal. But Thursday, Port Tampa Bay officials unveiled a farther-reaching master plan for the port's various enterprises, which includes a scaled back version of that original urban Channelside district.

The "Vision 2030" master plan was cobbled together by consultants and port staff, and sets the guidelines for growth and new development for port operations for the next 15 to 20 years These new plans aim to help Port Tampa Bay grow, establish new business and build upon its existing industries. The real estate project in Channelside would help the port generate income from rent and sales and better connect its cruise terminal to the rest of downtown Tampa Bay.
Cruise giant Royal Caribbean's first voyage to Cuba will kick off in April from Miami, and the line also plans cruises to the island nation from Tampa.

The line on Friday announced its 1,602-passenger Empress of the Seas would begin Cuba sailings on April 19 with a five-night trip from one of the PortMiami terminals just across from its headquarters. The voyage will include a single day in Havana as well as a day in Costa Maya, Mexico.

Empress then will reposition to Tampa to offer two Caribbean voyages with calls at Havana — a seven-night sailing starting April 30 and a five-night sailing starting May 20. The cruises will be the first from Tampa to Cuba in at least five decades.
From the Blog:
As the temperature in many areas of the country starts to cool down, you might think that the housing market will do the same. This couldn't be further from the truth! Here are 4 reasons you should consider buying your dream home this winter instead of waiting for spring!

1. Prices Will Continue to Rise

CoreLogic's latest Home Price Index reports that home prices have appreciated by 6.3% over the last 12 months. The same report predicts that prices will continue to increase at a rate of 5.2% over the next year.

The bottom in home prices has come and gone. Home values will continue to appreciate for years. Waiting no longer makes sense.

2. Mortgage Interest Rates are Projected to Increase

Your monthly housing cost is as much related to the price you pay for your home as it is to the mortgage interest rate you secure.

Freddie Mac's Primary Mortgage Market Survey shows that interest rates for a 30-year mortgage are currently at 4.08%. The Mortgage Bankers Association, Fannie Mae, Freddie Mac & the National Association of Realtors are in unison, projecting that rates will increase by this time next year.

An increase in rates will impact YOUR monthly mortgage payment. A year from now, your housing expense will increase if a mortgage is necessary to buy your next home.
A recent study of more than 7 million home sales over the past four years revealed that the season in which a home is listed may be able to shed some light on the likelihood that the home will sell for more than asking price, as well as how quickly the sale will close.

It's no surprise that listing a home for sale during the spring saw the largest return, as the spring is traditionally the busiest month for real estate. What is surprising, though, is that listing during the winter came in second!

"Among spring listings, 18.7 percent of homes fetched above asking, with winter listings not far behind at 17.5 percent. While 48.0 percent of homes listed in spring sold within 30 days, 46.2 percent of homes in winter did the same."

The study goes on to say that:

"Buyers [in the winter] often need to move, so they're much less likely to make a lowball offer and they'll often want to close quickly — two things that can make the sale much smoother."  
Advice for Buyers:
For many people, the dream of owning a home might become a reality next year, especially with signs pointing to a homebuyer's market in 2017.

Existing-home sales next year are expected to grow about 2% to 5.46 million homes, helped by millennial first-time home buyers or those born in the 1980s and 1990s. Though there's always the debate between buying versus renting, buying is becoming attractive, much more so than it has been in years. In fact, it's nearly 38% cheaper to buy than rent now in the top 100 cities in America, according to real-estate firm Trulia.
Advice for Sellers
Unless you're a total Scrooge, it's hard to argue with the fact that glitter lights and colorful accents make a home look more cheerful and inviting. But you also probably know that if you're trying to sell your home, buyers need to have an easy time imagining themselves (and their own holiday traditions) in your home.

You don't have to ditch the holiday decorations altogether. But you shouldn't hang all the boughs of holly, Christmas lights, Hanukkah menorahs, and every holiday card you receive, either.

Home Loans
The 10-year Treasury yield dipped this week following the release of the Job Openings and Labor Turnover Survey. The 30-year mortgage rate rose another 5 basis points to 4.13 percent, starting the month 18 basis points higher than this time last year. As rates continue to climb and the year comes to a close, next week's FOMC meeting will be the talk of the town with the markets 94 percent certain of a quarter-point-rate hike.

30-year fixed-rate mortgage (FRM) averaged 4.13 percent with an average 0.5 point for the week ending December 8, 2016, up from last week when it averaged 4.08 percent. A year ago at this time, the 30-year FRM averaged 3.95 percent.
15-year FRM this week averaged 3.36 percent with an average 0.5 point, up from last week when it averaged 3.34 percent. A year ago at this time, the 15-year FRM averaged 3.19 percent.
5-year Treasury-indexed hybrid adjustable-rate mortgage (ARM) averaged 3.17 percent this week with an average 0.5 point, up from last week when it averaged 3.15 percent. A year ago, the 5-year ARM averaged 3.03 percent.

Average commitment rates should be reported along with average fees and points to reflect the total upfront cost of obtaining the mortgage. Visit the following link for the Definitions. Borrowers may still pay closing costs which are not included in the survey.
Thanks for reading Tampa Market Monday. We'd love to help you buy or sell your home so please get in touch! You can reach me, Doug Bohannon or Dale Bohannon at 813-979-4963 or by completing this contact form.
Have a Fantastic week!
–Annette Bohannon, Team Bohannon, Keller Williams, 813-431-2840 www.teambohannon.com
Search for Tampa Homes By Neighborhood
Tampa, a beautiful, modern city located on the Gulf Coast of Florida, is bordered by Old Tampa Bay and Hillsborough Bay, which come together to makeup Tampa Bay. It offers…
View 3546 homes
Apollo Beach is a vibrant waterfront community, located in Hillsborough County in Tampa, FL. It features over 50 miles of interconnected canals that lead to Tampa Bay and the Gulf…
View 325 homes
Land O' Lakes, located in Pasco County, is north of downtown Tampa. It's also part of the Tampa-St. Petersburg-Clearwater, Florida MSA. The population of the area is a little over…
View 468 homes
FishHawk, Hillsborough County's first "green community", is made up of a variety of smaller communities located in Lithia, Florida. They including Starling at FishHawk, The Preserve, FishHawk Ranch and FishHawk…
View 215 homes
Lutz, which began as a small train depot on the Tampa North Railroad, now has about 20,000 residents. It was named for W. P. Lutz, who brought the railroad to…
View 424 homes
New Tampa, Tampa Bay's fastest growing community is located in the northern side of Tampa. New Tampa, well-known for its master-planned communities, features upscale residences surrounded by lakes, lush green…
View 361 homes
The Carrollwood area, about 7 miles northwest of Tampa includes two distinct communities — Carrollwood and Carrollwood Village. Both are located in Hillsborough County. Together, they have a population of…
View 266 homes
Odessa, located in Pasco County started as a community of open spaces that residents used for ranches and horse farms. But in more recent years, it has grown considerably due…
View 271 homes
Brandon is an appealing suburb, east of downtown Tampa, Florida. It offers residents a quieter, family-oriented lifestyle just outside of Tampa's city center. Over 100,000 people call it home and…
View 311 homes
Riverview, Florida, located in Hillsborough County near Tampa has nearly 80,000 residents. The community saw its population increase close to 500 percent from 2000 to 2010 as new development occurred…
View 703 homes
South Tampa, located on the Interbay Peninsula, includes areas of Tampa south of Kennedy Boulevard. Many of Tampa's most unique and in-demand neighborhoods, Beach Park, Ballast Point, Bayshore Beautiful, Bayshore…
View 1055 homes
Ruskin, located in Hillsborough County, Florida, near Tampa's South shore has blossomed since the early 2000's. It's population, which doubled from 2000 to 2010 now tops 17,000 residents. Background The…
View 297 homes
Valrico, located east of Tampa, is home to more than 35,000 residents. The population has expanded over 400% since 2000, when only 6,500 residents lived there. The median house or…
View 263 homes
Wesley Chapel, in Pasco County, has been one of Tampa Bay's fastest growing communities during the past 10 years. Currently, there are over 45,000 residents, 16,000 households and 12,000 families…
View 502 homes
Westchase, founded in 1991, is a luxurious planned community located between Tampa and Clearwaterin Hillsborough County. It has around 22,000 residents and is one of the most affluent subdivisions the…
View 154 homes
Are you seeking a one-of-a-kind luxury home? You'll discover many remarkable million-dollar-plus properties in the Tampa area. Whether you prefer living on the water with spectacular views, a Championship golf…
View 3772 homes
If you love golf, you'll love the Tampa Bay area's challenging and picturesque golf courses set in vibrant and beautiful communities on the Gulf Coast. You can enjoy a daily…
View 6222 homes
Living on the waterfront means a variety of things to different people. Some love the all-the-time access to sunshine, the beach and the ocean. For other it's about a peaceful…
View 13625 homes