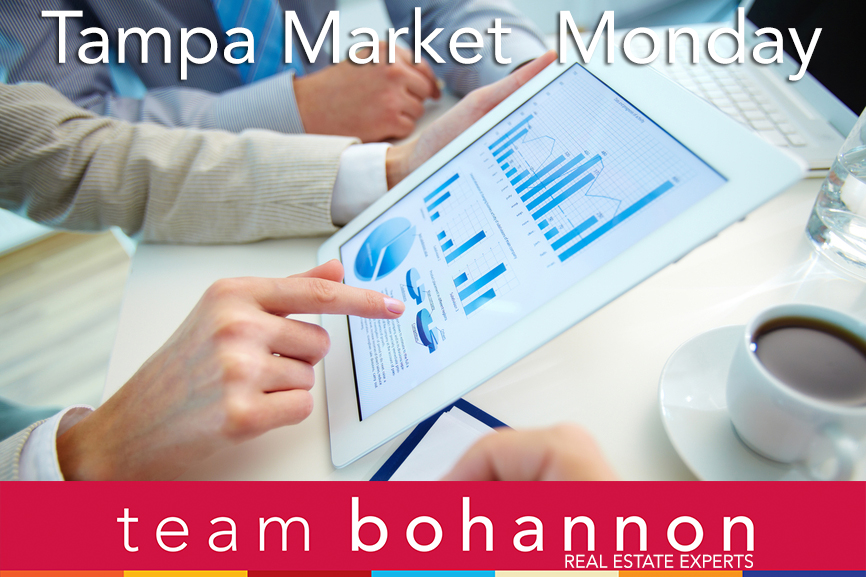 Happy Monday!
Greater Tampa home sales numbers are in for April of 2016, so today, let's look at how homes sales are going compared to previous years.
Here's a quick look at the stats:
More Homes Selling
In April of 2016, 2,897 Homes Sold in the Greater Tampa area. (Click here to view a map of the communities.) That's 20% more than the 5-Year April Average, 5% more than April of 2016, and 7.7% more than one month ago. So all three data points indicate that the Tampa market is trending up.
Fewer Homes for Sale
But if you'll notice, Active Listings are actually below the 5-YR April Average. There are currently 7,116 homes for sale, 4.5% less than the 5-year average for April. Months of Supply, which measures the inventory of homes on the market is also down markedly — 20% — from the 5-Year April Average and April of 2015. The median days on the market shows that half the homes for sale in Tampa sold in 34 days or less and half sold in more than 35 days. So the market is sending a pretty clear signal that MANY homes will sell in one to two months.
Home Prices Keep Climbing
The sales price for homes in Tampa also continued to increase in April of 2016. The Median Sold Price (the price more half of the homes sold for) hit $192,000. This represented an 11.7% price gain compared to April of 2015 and a 2.7% increase over March of 2016. The Average Sold Price of $234,012 was a 7.7% increase over April of 2015 and a 0.8% increase from March 2015.
The Total Sold Dollar Volume, which sums up the cost of all sold homes, stood at $677,933,500 for April of 2016, a 13% jump over April 2016 and 8.6% over March 2015.
What It Means
As I've said before, NOW is a GREAT time to SELL. Home sales and prices are trending up. Interest rates are at historic lows (see infographic below). And last, but not least, the inventory numbers show that the market is SOLIDLY in the SELLER's favor. Consider that, 6-7 months of supply is a BALANCED MARKET, 7 months of supply is a BUYER's MARKET, and less than 6 months is a SELLER's MARKET. TAMPA is at 2.8 months of housing supply, which means SELLERS are in the driver's seat.
So if you're ready to sell, contact us and let us focus our expertise, experience and award-winning client services on helping you sell your home quickly and for top dollar. If you're a buyer, you should also reach out.  Our skilled and experienced BUYERS agents will position you to move fast and negotiate smartly in an ultra-competitive SELLERS market.
(Want a customized evaluation of your home and neighborhood, based on comparable homes that have sold recently? Call Annette Bohannon at 813-431-2840 and get a FREE detailed, market evaluation of your home or you can get a Free Market Report by following this link.)
Now let's review a few of our blog posts and some articles that can give you the information you need to buy and sell in today's real estate market.
From the Blog:
Advice for Buyers:
When you're shopping for a new home, you'll go to quite a few open houses. While you're touring a house, make note of these important features.

Over at Forbes, Trulia lists a handful of important things to consider and questions to ask while you're taking a look at a potential home. Most of us know to check for major issues like foundation cracks or water damage. Here are some other key questions to ask, though:
First-time buyers and former homeowners in South Florida may be eligible for 100 percent down payment assistance through a new program arranged by a nonprofit housing counseling agency based in Hollywood.

Advice for Sellers
Indeed, "we can partially attribute the sizable gain in April in home selling optimism both to a correction for last month's unexpected dip and to typical seasonal strength in housing activity in the spring and summer," says Doug Duncan, senior vice president and chief economist at Fannie Mae. "Even after accounting for these factors, continued tight housing supply has led to renewed strength in home price appreciation, making selling a home a more attractive prospect this year in particular. This improved sentiment could provide an extra boost of much-needed supply for the spring selling season."

Home Loans\
News Facts

30-year fixed-rate mortgage (FRM) averaged 3.57 percent with an average 0.5 point for the week ending May 12, 2016, down from last week when it averaged 3.61 percent. A year ago at this time, the 30-year FRM averaged 3.85 percent.
15-year FRM this week averaged 2.81 percent with an average 0.5 point, down from last week when it averaged 2.86 percent. A year ago at this time, the 15-year FRM averaged 3.07 percent.
5-year Treasury-indexed hybrid adjustable-rate mortgage (ARM) averaged 2.78 percent this week with an average 0.5 point, down from last week when it averaged 2.80 percent. A year ago, the 5-year ARM averaged 2.89 percent.
Thanks and Please Contact Us. We'd Love to Help You!
Thanks for taking time to read #Tampa Market Monday from Annette Bohannon. We would love to hear from you if you need help selling your home or buying a new one! You can reach me, Doug Bohannon or Dale Bohannon at 813-979-4963 or by completing this contact form.
Have a Fantastic week!
–Annette Bohannon, Team Bohannon, Keller Williams, 813-431-2840 www.teambohannon.com
Search for Tampa Homes By Neighborhood