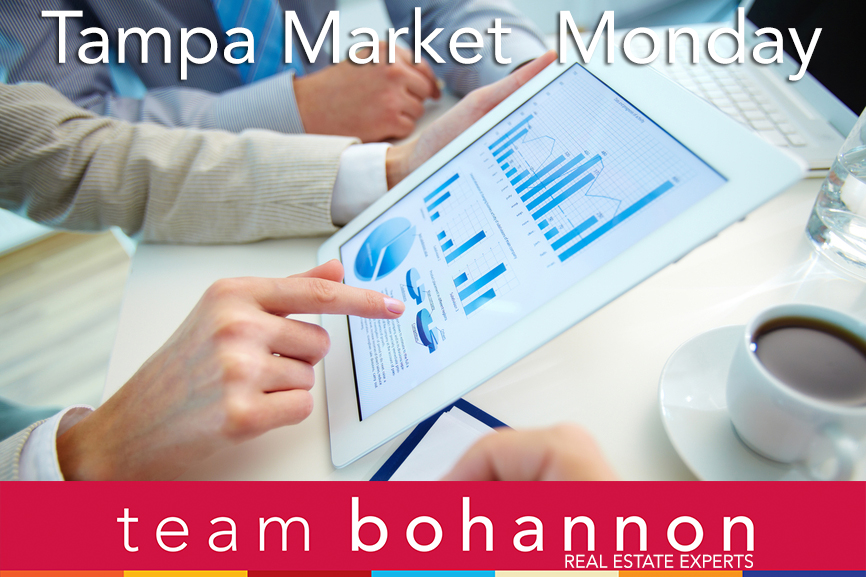 Happy Tuesday!
I hope everyone is enjoying the holidays with family and friends.
Since the year is coming to a close, I thought it would be a good time to look at some YTD (year-to-date) figures for the Greater Tampa (view a map of the communities) and New Tampa housing market.
Greater Tampa
So far (through the end of November) Sold Dollar Volume is up 16.14% in Greater Tampa. Average Sold Price has increased 10.74% compared to last year at this time. Also, 4.88% more homes have sold across the area. The time it takes for Greater Tampa homes to sell has also fallen 15.71% compared to 2015. List Price for Solds has also jumped 10.31%. So all in all, the housing market has improved across the board.
New Tampa
The New Tampa housing market has not been as robust, but as we've talked about in previous Market Mondays that is mostly due to a drop in the number of homes for sale. Sold Dollar Volume for the area is almost on par with 2015, ticking down a mere 0.21%, but Average Sold Price has increased a healthy 6.12%. The Number of Homes Sold did drop though, decreasing 5.96% compared to 2015. Average Days on the Market also declined 19.48%. So the key takeaway is that homes sold faster and for a higher price on average, but the lower levels of housing inventory held down the total number of homes sold.
Bottom Line
We should see homes continue to sell well as the New Year kicks off and through the Winter. This can sometimes be a slower season, but with the economy improving and interest rates expected to rise many buyers have a sense of urgency to buy sooner, rather than later.
(Want a customized evaluation of your home and neighborhood, based on comparable homes that have sold recently? Call Annette Bohannon at 813-431-2840 and get a FREE detailed, market evaluation of your home or you can get a Free Market Report by following this link.)
Now here's a quick overview of some of the best and most informative blog posts, articles and infographics we've run across this week. Enjoy!
Tampa:
During the holiday season and beyond, Tampa Bay residents now have another option for online deliveries other than porches and post offices.

Instead of leaving packages to sit on doorsteps all day that could be stolen, or having to rush to a post office before 5 p.m., people can pick up items at one of the more than 20 Amazon Lockers now in the bay area.

The service launched in the company's hometown of Seattle in 2011. New York and London also got lockers around that time and the program's popularity grew, prompting Amazon to expand it this year, adding stations in metros across the country.

Tampa Bay alone had more than 20 lockers installed over the summer, most being situated outside 7-Eleven and Speedway convenience stores and gas stations.
From the Blog:
In today's market, with home prices rising and a lack of inventory, some homeowners may consider trying to sell their home on their own, known in the industry as a For Sale by Owner (FSBO). There are several reasons why this might not be a good idea for the vast majority of sellers.
You may have heard that the Federal Reserve raised rates last week… But what does that mean if you are looking to buy a home in the near future?

Many in the housing industry have predicted that the Federal Open Market Committee (FOMC), the policy-making arm of the Federal Reserve, would vote to raise the federal fund's target rate at their December meeting. For only the second time in a decade, this is exactly what happened.

There were many factors that contributed to the 0.25 point increase (from 0.50 to 0.75), but many are pointing to the latest jobs report and low unemployment rate (4.6%) as the main reason.

Tim Manni, Mortgage Expert at Nerd Wallet, had this to say,

"Homebuyers shouldn't be particularly concerned with [last week's] Fed move. Even with rates hovering over 4 percent, they're still historically low. Most market observers are expecting a gradual rise in home loan rates in the near term, anticipating mortgage rates to stay under 5 percent through 2017."

Bottom Line

Only time will tell what the long-term impact of the rate hike will be, but in the short term, there should be no reason for alarm.
Advice for Buyers:
Winter is supposed to be a buyer's market, right? Fewer buyers = way less competition. After all, you have no problem trekking through the snow to find the perfect home. Let the others wait until spring. Right?

But winter home-buying assumptions can cost you. Just because the market moves slower doesn't mean there aren't pitfalls lying beneath the powder. Keep in mind these six common mistakes—otherwise you might just lose out on your dream space. And that would lead to a very long winter indeed.
With 56% of American homes housing furry family members, many pets go through the moving process at least once in their life-time. Buying or selling a home while taking care of your pet can easily become overwhelming. Consider the following tips to ease your stress as well as theirs.
Advice for Sellers
Jan Dusold and her husband, Edward, originally bought a second home in Florida to live in for just half the year, spending the remainder in their hometown of St. Louis to be close to children and grandchildren.

Not long after, the couple decided they liked their Punta Gorda lifestyle more, and the cost of owning the St. Louis home while they were away was adding up to the tune of $18,000 annually.

Once, after several months in Florida, they came home to a slow sink leak that had damaged their home. They decided to sell and opt for a three-month furnished lease in their hometown once a year for a net savings of nearly $14,000. They'll invest the proceeds of the sale or possibly start a small business, ultimately living life more simply and comfortably.

 About 64 percent of retirees said they are likely to move at least once during retirement, with 37 percent having already done so and 27 percent anticipating doing so, according to a

survey by Merrill Lynch and Age Wave

.
There are many pros and cons of winter homebuying, but what if you're on the selling side? A recent Redfin report found that winter is the second-best time of the year to list your home, after spring, of course. Nearly eighteen percent of winter listings sell above asking price and 46.2 percent of winter listed homes are off the market within 30 days. From lighting techniques and home staging to energy efficiency, here's how to make your winter listing draw in prospective buyers.

Home Loans
A week after the only rate hike of 2016, the mortgage industry digested the Fed's decision and this week's survey reflects that response. Following Yellen's speech last Wednesday, the 10-year Treasury yield rose approximately 10 basis points. The 30-year mortgage rate rose 14 basis points to 4.30 percent, reaching highs we have not seen since April 2014.

30-year fixed-rate mortgage (FRM) averaged 4.30 percent with an average 0.5 point for the week ending December 22, 2016, up from last week when it averaged 4.16 percent. A year ago at this time, the 30-year FRM averaged 3.96 percent.
15-year FRM this week averaged 3.52 percent with an average 0.5 point, up from last week when it averaged 3.37 percent. A year ago at this time, the 15-year FRM averaged 3.22 percent.
5-year Treasury-indexed hybrid adjustable-rate mortgage (ARM) averaged 3.32 percent this week with an average 0.4 point, up from last week when it averaged 3.19 percent. A year ago, the 5-year ARM averaged 3.06 percent.

Average commitment rates should be reported along with average fees and points to reflect the total upfront cost of obtaining the mortgage. Visit the following link for the Definitions. Borrowers may still pay closing costs which are not included in the survey.
Thanks for reading Tampa Market Monday. We'd love to help you buy or sell your home so please get in touch! You can reach me, Doug Bohannon or Dale Bohannon at 813-979-4963 or by completing this contact form.
Have a Fantastic week!
–Annette Bohannon, Team Bohannon, Keller Williams, 813-431-2840 www.teambohannon.com
Search for Tampa Homes By Neighborhood
Tampa, a beautiful, modern city located on the Gulf Coast of Florida, is bordered by Old Tampa Bay and Hillsborough Bay, which come together to makeup Tampa Bay. It offers…
View 3546 homes
Apollo Beach is a vibrant waterfront community, located in Hillsborough County in Tampa, FL. It features over 50 miles of interconnected canals that lead to Tampa Bay and the Gulf…
View 325 homes
Land O' Lakes, located in Pasco County, is north of downtown Tampa. It's also part of the Tampa-St. Petersburg-Clearwater, Florida MSA. The population of the area is a little over…
View 468 homes
FishHawk, Hillsborough County's first "green community", is made up of a variety of smaller communities located in Lithia, Florida. They including Starling at FishHawk, The Preserve, FishHawk Ranch and FishHawk…
View 215 homes
Lutz, which began as a small train depot on the Tampa North Railroad, now has about 20,000 residents. It was named for W. P. Lutz, who brought the railroad to…
View 424 homes
New Tampa, Tampa Bay's fastest growing community is located in the northern side of Tampa. New Tampa, well-known for its master-planned communities, features upscale residences surrounded by lakes, lush green…
View 361 homes
The Carrollwood area, about 7 miles northwest of Tampa includes two distinct communities — Carrollwood and Carrollwood Village. Both are located in Hillsborough County. Together, they have a population of…
View 266 homes
Odessa, located in Pasco County started as a community of open spaces that residents used for ranches and horse farms. But in more recent years, it has grown considerably due…
View 271 homes
Brandon is an appealing suburb, east of downtown Tampa, Florida. It offers residents a quieter, family-oriented lifestyle just outside of Tampa's city center. Over 100,000 people call it home and…
View 311 homes
Riverview, Florida, located in Hillsborough County near Tampa has nearly 80,000 residents. The community saw its population increase close to 500 percent from 2000 to 2010 as new development occurred…
View 703 homes
South Tampa, located on the Interbay Peninsula, includes areas of Tampa south of Kennedy Boulevard. Many of Tampa's most unique and in-demand neighborhoods, Beach Park, Ballast Point, Bayshore Beautiful, Bayshore…
View 1055 homes
Ruskin, located in Hillsborough County, Florida, near Tampa's South shore has blossomed since the early 2000's. It's population, which doubled from 2000 to 2010 now tops 17,000 residents. Background The…
View 297 homes
Valrico, located east of Tampa, is home to more than 35,000 residents. The population has expanded over 400% since 2000, when only 6,500 residents lived there. The median house or…
View 263 homes
Wesley Chapel, in Pasco County, has been one of Tampa Bay's fastest growing communities during the past 10 years. Currently, there are over 45,000 residents, 16,000 households and 12,000 families…
View 502 homes
Westchase, founded in 1991, is a luxurious planned community located between Tampa and Clearwaterin Hillsborough County. It has around 22,000 residents and is one of the most affluent subdivisions the…
View 154 homes
Are you seeking a one-of-a-kind luxury home? You'll discover many remarkable million-dollar-plus properties in the Tampa area. Whether you prefer living on the water with spectacular views, a Championship golf…
View 3772 homes
If you love golf, you'll love the Tampa Bay area's challenging and picturesque golf courses set in vibrant and beautiful communities on the Gulf Coast. You can enjoy a daily…
View 6222 homes
Living on the waterfront means a variety of things to different people. Some love the all-the-time access to sunshine, the beach and the ocean. For other it's about a peaceful…
View 13625 homes