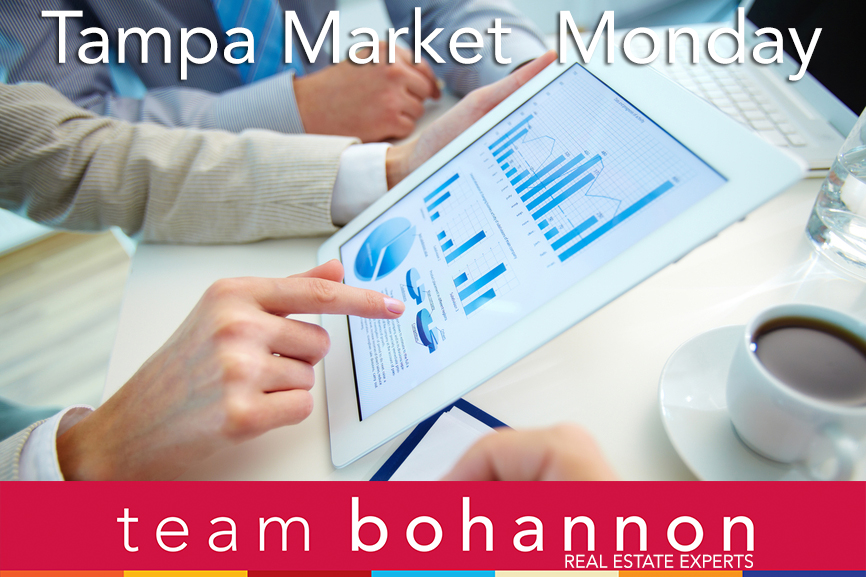 Happy Monday!
Today, we're going to review the first quarter (January 1 – March 31) of the New Tampa housing market compared to Q1 of 2015.
For the quarter, New Tampa SOLD DOLLAR VOLUME increased by 14.31% over Q1 of 2015, rising to $71,938,814 from $63,033,172.
New Tampa's AVERAGE SOLD PRICE increased from 10.82% from $235,198 to $260,648 from Q1 2015 to Q1 2016.
New Tampa's AVERAGE LIST PRICE climbed 9.48%, while the MEDIAN SOLD PRICE gained 13.64%.
The number of HOMES SOLD in New Tampa bumped up 2.99% — from 268 in Q1 of 2015 to 276 in Q1 of 2016.
The AVERAGE DAYS ON THE MARKET for New Tampa homes decreased 16.47%. Homes sold 14 days faster, on average, than in Q1 of 2016.
The RATIO OF AVERAGE SOLD PRICE TO AVERAGE ORIGINAL LIST PRICE increased by 1.73% in New Tampa. In Q1 2015 New Tampa homes SOLD for 93.0% of the original list price, but in Q1 of 2016 they sold for 94.6% of the original list price.
ACTIVE LISTINGS or homes for sale in the first quarter of 2015 stood at 384 in New Tampa. But in Q1 of 2016 the inventory had dropped 21.88% to 300.
To sum it up, home sales in New Tampa continued to build momentum. The most pressing concern for buyers is the drop in housing inventory, as this means they have to act faster and negotiate better.
As for sellers, they have a lot to feel good about. Less inventory means more buyers competing, which should lead to better offers and higher sales prices. If you've been on the fence about listing your property, it's time to jump off. You may not see a better time than now to sell fast and for a top price. The home buying season is heating up, mortgage rates are staying low, and buyers need and want more homes to choose from.
(Want a customized evaluation of your home and neighborhood, based on comparable homes that have sold recently? Call Annette Bohannon at 813-431-2840 and get a FREE detailed, market evaluation of your home or you can get a Free Market Report by following this link.)
Now let's take a quick look at some blog posts and articles about buying and selling a home, as well as the trends in mortgage rates.
From the Blog:
With home prices expected to appreciate by over 5% this year, some are beginning to worry about a new housing bubble forming. Warren Buffet addressed this issue last week in an article by Fortune Magazine. He simply explained:

"I don't see a nationwide bubble in real estate right now at all."

Later, when questioned whether real estate and/or mortgaging could present the same challenges for the economy as they did in 2008, Buffet said:

"I don't think we will have a repeat of that."

What factors are driving home prices up?

Advice for Buyers:
'Don't bother getting pre-approved for a mortgage'

Why you might hear this: Hey, you've barely begun shopping for a home! There's no need to get all serious about mortgages just yet. And besides, a mortgage pre-approval isn't real anyway— your application isn't reviewed by an underwriter, so it's no guarantee you'll get approved for a mortgage later. So why bother?

Why it's bad advice: While a pre-approval might not be "official," it will help you avoid major problems down the road.

Advice for Sellers
What is home staging? Just like makeup, it's an on-the-surface solution. Staging can help your place look its best during the sales period without the cost or expense of a renovation. For about $3,500 to $4,500 a month, the home you're about to put on the market can be filled with great-looking furniture, well-considered accessories and tasteful art.
1. Spruce up the grounds

This is one of the easiest—and cheapest—tricks in the book: Good landscaping can add up to 28% to overall home value. Why pass up free money?"When it comes to houses, they are often read by their cover," says Helaine Newman, a Realtor® in Fairfax, VA. "Homeowners should make sure their home is nicely landscaped so buyers want to come in."Hire a landscaper to give your front yard the once-over, or just clean up the details yourself (e.g., edge the lawn, plant flowers), and update the outdoor furniture on the front porch to give the space a fresh, "buy me now" appeal.

Home Loans
A year ago, a 30-year, fixed-rate mortgage averaged 3.80 percent, according to Freddie Mac.

Home loans have been getting cheaper since December, when the Federal Reserve raised its benchmark rate on short-term loans.Fed Chair Janet Yellen and her team left that rate unchanged at their meeting last month.

"The Fed's decision to stand pat followed by a week of assorted unsettling newsdrove Treasury yields lower," Freddie chief economist Sean Becketti said. "Since the start of February, mortgage rates have varied within a narrow range, providing an extended period for house hunters to take advantage."
News Facts

30-year fixed-rate mortgage (FRM) averaged 3.61 percent with an average 0.6 point for the week ending May 5, 2016, down from last week when it averaged 3.66 percent. A year ago at this time, the 30-year FRM averaged 3.80 percent.
15-year FRM this week averaged 2.86 percent with an average 0.5 point, down from last week when it averaged 2.89 percent. A year ago at this time, the 15-year FRM averaged 3.02 percent.
5-year Treasury-indexed hybrid adjustable-rate mortgage (ARM) averaged 2.80 percent this week with an average 0.5 point, down from last week when it averaged 2.86 percent. A year ago, the 5-year ARM averaged 2.90 percent.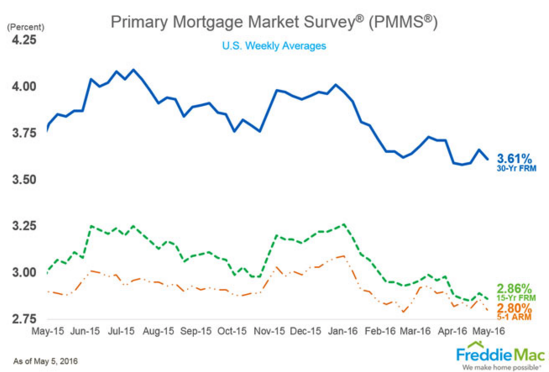 Tampa Lifestyle
Bern's was named a finalist in this year's Outstanding Wine Program category. With what is said to be the largest restaurant wine list in the country, Bern's competed against Canlis in Seattle, Commander's Palace in New Orleans, FIG in Charleston, S.C., and Sepia in Chicago.
Thanks for taking time to read #Tampa Market Monday from Annette Bohannon. We would love to hear from you if you need help selling your home or buying a new one! You can reach me, Doug Bohannon or Dale Bohannon at 813-979-4963 or by completing this contact form.
Have a Fantastic week!
–Annette Bohannon, Team Bohannon, Keller Williams, 813-431-2840 www.teambohannon.com
Search for Tampa Homes By Neighborhood