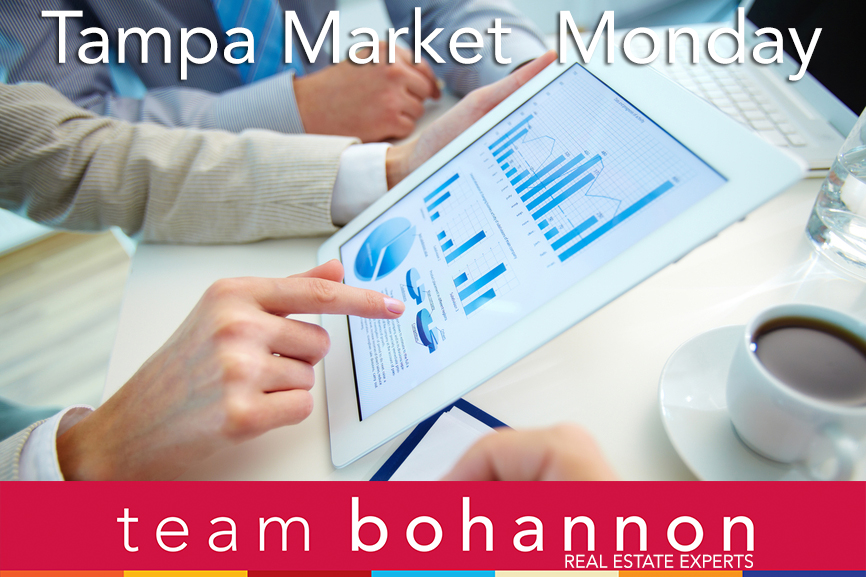 Happy Monday!
Today we're going to focus on one of the fastest-growing areas in the Tampa Area — New Tampa. In fact, New Tampa is the most populous zip code in all of Hillsborough County with a population of 68,367 and is projected to grow by 12% or more by 2021. (Source: Nielsen Sitewise 2016)
Since this is such an in-demand area, we're going to look at how the housing market has performed this year compared to 2015.
Here's an overview of what's happened so far this year (January through July):
As you see above the number of homes sold has actually declined some compared to 2015, while the Average and Median Sold Price have increased 6.26% and 12% respectively (see below). So the Sold Dollar Volume has basically held steady (up 0.54%).
New Tampa homes are also selling faster — 20.51% faster — than they did in 2015. So far this year homes have only stayed on the market an average of 62 days compared to 78 at this point in 2015.
The percentage of selling price to original list price (SP to OLP Ratio) has also gone up from 94.3% to 95.7%.
So what does this show us? To sum it up, homes are selling faster and for a higher price, which indicates demand is solid. The lower number of units sold so far this year is likely due to the lower number of homes for sale (see Active Listings below). If you place your cursor on the month, you'll see that active listing were down 16% in January, 25.4% in February, 21.9% in March, 19.1% in April, 15.8% in May, 9.9% in June and -5.1% in July. The bottom line for sellers is they are selling their homes faster and for more money than in 2015.
If you're ready to sell, contact us and let us focus our expertise, experience and award-winning client services on helping you sell your home quickly and for top dollar. If you're a buyer, please call us.  Our skilled and experienced BUYERS agents will position you to move fast and negotiate smartly in a very competitive SELLERS market.
(Want a customized evaluation of your home and neighborhood, based on comparable homes that have sold recently? Call Annette Bohannon at 813-431-2840 and get a FREE detailed, market evaluation of your home or you can get a Free Market Report by following this link.)
Now here's a quick overview of some of the best and most informative blog posts, articles and infographics we've run across this week. Enjoy!
Tampa:
In a move expected to create 170 new jobs, a Virginia-based information technology company is opening a new contact center in Tampa.

Iron Bow Technologies, a provider of technology solutions and outsourced customer service support for government, health care and commercial clients, said it will open a new contact center in Tampa that should be up and running at Woodland Corporate Center by Nov. 1.
The winner is: Loli's Mexican Cravings, located at 8005 Benjamin Road.

Loli's has a five-star average on Yelp, with 492 reviews. Here are some of the reviews:

"Hands down, the best tacos we have eaten in the U.S. The food is so good and fresh, we visited this place twice in four days!"

"This hole in the wall tiny restaurant down a non-descript Tampa Street has the best and most authentic Mexican food in the whole area."
From the Blog:
School is back in session, the holidays are right around the corner, you might not think that now is the best time to sell your house. But with inventory below historic numbers and demand still strong, you could be missing out on a great opportunity for your family.

Here are five reasons why you should consider selling your house this fall: 
Some are looking at the last three years of home sales and comparing them to the three years just prior to the housing bubble. Looking at the graph below, we can understand that thinking.
Advice for Buyers:
The high number of those just starting to dip their toes into the market this year is related to a sizable shift toward first-time buyers. Last August, 35% of buyers identified themselves as first-time buyers. This August, the share of first-time buyers jumped to 51%.
Just looking for a house casually is not a big deal.

Some people may want to just start looking at homes to get a feel for the area, before they even sit down with a REALTOR®. But they could be setting themselves up for major heartbreak. "A buyer might be viewing homes that are in a higher or lower price range than what they are qualified for," Connie Antoniou, a broker associate in Barrington, Ill., told realtor.com®. Home shoppers – even at the earliest stages – should get pre-approved for a mortgage so they know their budget from the get-go and don't waste time looking at homes that are out of their price range.
Search Tampa Homes For Sales

Advice for Sellers
So you've put your home on the market… Congratulations! But don't pop the champagne just yet. If you really want to attract the best buyers and fetch top dollar, then you need to put time into prepping things. There is an art to staging a house, and while it can seem a little intimidating at first, a few minor touch-ups go a long way in the eyes of potential buyers. You want them to walk in and say, "I can see myself living here."

Home Loans
Low Mortgage Rates Continue to Spur Refinancing
The 30-year fixed-rate mortgage fell 2 basis points to 3.44 percent this week. As mortgage rates continue to range between 3.41 and 3.48 percent, many are taking advantage of the historically low rates by refinancing. Since the Brexit vote, the refinance share of mortgage activity has remained above 60 percent.

30-year fixed-rate mortgage (FRM) averaged 3.44 percent with an average 0.6 point for the week ending September 8, 2016, down from last week when it averaged 3.46 percent. A year ago at this time, the 30-year FRM averaged 3.90 percent.
15-year FRM this week averaged 2.76 percent with an average 0.5 point, down from last week when it averaged 2.77 percent. A year ago at this time, the 15-year FRM averaged 3.10 percent.
5-year Treasury-indexed hybrid adjustable-rate mortgage (ARM) averaged 2.81 percent this week with an average 0.4 point, down from last week when it averaged 2.83 percent. A year ago, the 5-year ARM averaged 2.91 percent.

Average commitment rates should be reported along with average fees and points to reflect the total upfront cost of obtaining the mortgage. Visit the following link for the Definitions. Borrowers may still pay closing costs which are not included in the survey.
Thanks for reading Tampa Market Monday. We'd love to help you buy or sell your home so please get in touch! You can reach me, Doug Bohannon or Dale Bohannon at 813-979-4963 or by completing this contact form.
Have a Fantastic week!
–Annette Bohannon, Team Bohannon, Keller Williams, 813-431-2840 www.teambohannon.com
Search for Tampa Homes By Neighborhood
Tampa, a beautiful, modern city located on the Gulf Coast of Florida, is bordered by Old Tampa Bay and Hillsborough Bay, which come together to makeup Tampa Bay. It offers…
View 3546 homes
Apollo Beach is a vibrant waterfront community, located in Hillsborough County in Tampa, FL. It features over 50 miles of interconnected canals that lead to Tampa Bay and the Gulf…
View 325 homes
Land O' Lakes, located in Pasco County, is north of downtown Tampa. It's also part of the Tampa-St. Petersburg-Clearwater, Florida MSA. The population of the area is a little over…
View 468 homes
FishHawk, Hillsborough County's first "green community", is made up of a variety of smaller communities located in Lithia, Florida. They including Starling at FishHawk, The Preserve, FishHawk Ranch and FishHawk…
View 215 homes
Lutz, which began as a small train depot on the Tampa North Railroad, now has about 20,000 residents. It was named for W. P. Lutz, who brought the railroad to…
View 424 homes
New Tampa, Tampa Bay's fastest growing community is located in the northern side of Tampa. New Tampa, well-known for its master-planned communities, features upscale residences surrounded by lakes, lush green…
View 361 homes
The Carrollwood area, about 7 miles northwest of Tampa includes two distinct communities — Carrollwood and Carrollwood Village. Both are located in Hillsborough County. Together, they have a population of…
View 266 homes
Odessa, located in Pasco County started as a community of open spaces that residents used for ranches and horse farms. But in more recent years, it has grown considerably due…
View 271 homes
Brandon is an appealing suburb, east of downtown Tampa, Florida. It offers residents a quieter, family-oriented lifestyle just outside of Tampa's city center. Over 100,000 people call it home and…
View 311 homes
Riverview, Florida, located in Hillsborough County near Tampa has nearly 80,000 residents. The community saw its population increase close to 500 percent from 2000 to 2010 as new development occurred…
View 703 homes
South Tampa, located on the Interbay Peninsula, includes areas of Tampa south of Kennedy Boulevard. Many of Tampa's most unique and in-demand neighborhoods, Beach Park, Ballast Point, Bayshore Beautiful, Bayshore…
View 1055 homes
Ruskin, located in Hillsborough County, Florida, near Tampa's South shore has blossomed since the early 2000's. It's population, which doubled from 2000 to 2010 now tops 17,000 residents. Background The…
View 297 homes
Valrico, located east of Tampa, is home to more than 35,000 residents. The population has expanded over 400% since 2000, when only 6,500 residents lived there. The median house or…
View 263 homes
Wesley Chapel, in Pasco County, has been one of Tampa Bay's fastest growing communities during the past 10 years. Currently, there are over 45,000 residents, 16,000 households and 12,000 families…
View 502 homes
Westchase, founded in 1991, is a luxurious planned community located between Tampa and Clearwaterin Hillsborough County. It has around 22,000 residents and is one of the most affluent subdivisions the…
View 154 homes
Are you seeking a one-of-a-kind luxury home? You'll discover many remarkable million-dollar-plus properties in the Tampa area. Whether you prefer living on the water with spectacular views, a Championship golf…
View 3772 homes
If you love golf, you'll love the Tampa Bay area's challenging and picturesque golf courses set in vibrant and beautiful communities on the Gulf Coast. You can enjoy a daily…
View 6222 homes
Living on the waterfront means a variety of things to different people. Some love the all-the-time access to sunshine, the beach and the ocean. For other it's about a peaceful…
View 13625 homes