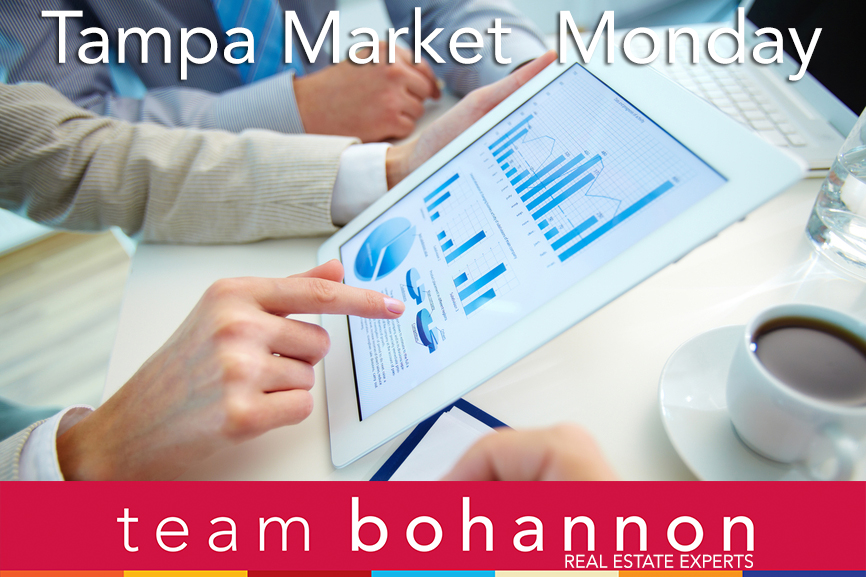 Happy Monday!
Today, let's look at May 2016 home sales in New Tampa. In May 123 homes sold, which was an increase of 1.6% compared to May of 2015 and 10.8% compared to April of 2016. The median sold price was $265,000, up 19.8% from the price in May of last year and 11.3% more than the price in April of 2016. The pricing ratio—the percentage a home sales for compared to its asking price—stood at 96%, where it has stayed for most of this year. Homes stayed on the market for an average of 29 days, down significantly (37%) from a year ago and 21.6% from last month. Months of supply also declined markedly (20.25) compared to May of 2016, but actually rose 11.1% compared to April of 2016. This is a welcome trend for buyers as housing inventory has been tight for most of the year. ( See a more detailed view of the stats in the interactive charts below. Place your cursor  on the monthly data points to see the actual numbers or percentage of increase or decrease.)
Next, we'd like to share a few articles articles and infographics to give you an idea of the general trends shaping the housing market across the U.S. and in Tampa, but we'd be happy to provide you a more focused view of your local community or neighborhood. Just call us (813) 431-2840 or complete our contact form. Enjoy.
Tampa:
The University of Florida and Florida State University soon may have some competition for their storied spots atop Florida's higher education food chain. The University of South Florida was the only state university Tuesday to be awarded "emerging preeminence" status by the Florida Board of Governor's Strategic Planning Committee…

USF was the only school that would have met the criteria for "emerging preeminence" in 2015, and now meets nine of 12 benchmarks in areas such as national rankings, average GPA and SAT scores for incoming freshmen, annual research expenditures and numbers of doctoral degrees awarded each year.
From the Blog:
Advice for Buyers:
The old real estate cliche doesn't name this quality as tops for nothing. Unless you plan to take a unique or historic home off its foundation, you can't change location.

If a home is on a busy intersection, across from a shopping plaza, or within earshot of the freeway, take major note. That home will always be valued at significantly less than a similar home nearby.

Unless you're willing to sacrifice to get into the school district or neighborhood of your dreams, keep looking. Once you snag a good location, nobody can ever take that away from you.

Advice for Sellers
"The biggest complaint I get from buyers is when sellers stay in the house while they are looking at it," says Eldad Moraru, an agent with Long & Foster Real Estate in Bethesda, Md. "It's best for sellers not to be there at all or at least to leave as soon as the buyers arrive. The worst is sellers who follow the buyers around to show them features or talk about the place. Buyers feel as if they're intruding and won't even look at the house."

Home Loans
News Facts

30-year fixed-rate mortgage (FRM) averaged 3.56 percent with an average 0.6 point for the week ending June 23, 2016, up from last week when it averaged 3.54 percent. A year ago at this time, the 30-year FRM averaged 4.02 percent.
15-year FRM this week averaged 2.83 percent with an average 0.5 point, up from last week when it averaged 2.81 percent. A year ago at this time, the 15-year FRM averaged 3.21 percent.
5-year Treasury-indexed hybrid adjustable-rate mortgage (ARM) averaged 2.74 percent this week with an average 0.5 point, unchanged from last week. A year ago, the 5-year ARM averaged 2.98.
Thanks again for reading #Tampa Market Monday from Annette Bohannon. We would love to hear from you if you need help selling your home or buying a new one! You can reach me, Doug Bohannon or Dale Bohannon at 813-979-4963 or by completing this contact form.
Have a Fantastic week!
–Annette Bohannon, Team Bohannon, Keller Williams, 813-431-2840 www.teambohannon.com
Search for Tampa Homes By Neighborhood