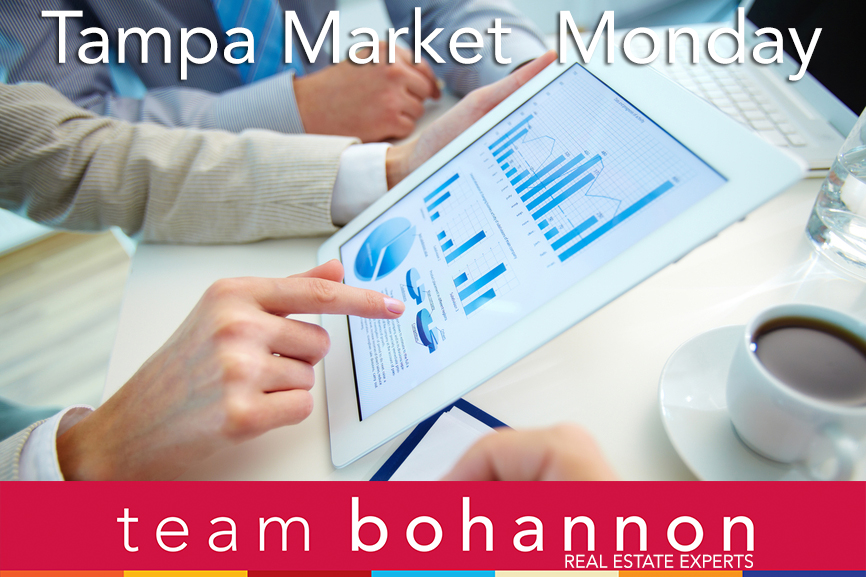 Happy Monday!
New Tampa (Zip Code – 33647) home sales dropped in July 2016 compared to July of 2015. Total Sold Dollar Volume fell 20.8% to $33,033,724 as 126 homes changed hands. This represented a 18.7% decrease in the number of homes sold compared to last July and a 17.1% decline from June 2016. However, Median Sold Price held steady year over year, staying at $240,000 just like in July 0f 2015. It was down 8.3% from June 2016.
The average number of days a home stayed on the market dropped 16.22% from a year ago to 62 days. Months of Supply, which measures how many months of housing inventory remain, dropped to 3.00 — 6.8% from a year ago. Five months or less indicates a sellers market. Six months or more of inventory favors buyers. So sellers still have the upper hand.
There were 333 active listings in July 2016, a decline of 18 listings from July 2015, but 146 new listings came on the market in July 0f 2016, 16 more new listings than July a year ago.
Here's a detailed look at the stats: (Note: This are the latest statistics and will be updated the 16th of each month. You can view percentage of increase and decrease by placing your cursor on the data points.)
What It Means
Currently, the New Tampa real estate market provides great opportunities for sellers. Why? Housing inventory is very low and that is likely a big reason home sales are declining so much. Buyers have fewer homes to choose from.
If you're ready to sell, contact us and let us focus our expertise, experience and award-winning client services on helping you sell your home quickly and for top dollar. If you're a buyer, you should also reach out.  Our skilled and experienced BUYERS agents can help you find homes that fits your needs and wants even with inventory levels so low. Plus, we keep you updated on all the new listings that come on the market so you are positioned to move fast in a highly competitive SELLERS market.
(Want a customized evaluation of your home and neighborhood, based on comparable homes that have sold recently? Call Annette Bohannon at 813-431-2840 and get a FREE detailed, market evaluation of your home or you can get a Free Market Report by following this link.)
Now let's review some of the best and most informative blog posts, articles and infographics we've run across this week. Enjoy!
Tampa:
The first visible sign of construction in Strategic Property Partners' $2 billion district in downtown Tampa will begin Aug. 29.

That's when Kimmins Contracting Corp. will break ground on the first phase of a $35 million infrastructure project that will realign roadways in SPP's development as well as the distribution pipes for a central cooling facility ( freeing up rooftops for things like bars and dog parks) and underground utilities.
An 11-year-old Tampa girl whose left arm was amputated below the elbow won 15 gold medals and set a national record in 13 events during her team's recent participation in the National Junior Disability Championships.

Danielle Kanas, a sixth-grader at Martinez Middle School in Lutz, competed in discus, shot put, long jump and javelin, other track and field events and swimming.
Independent filmmakers from Plant City are hiring more workers for their production, "No Postage Necessary."

"No Postage Necessary" being shot in Tampa Bay area

Filmmakers almost didn't shoot in Florida because of lack of incentives
Filmmakers are natives of Plant City
Production bringing more than 350 jobs to Bay area


Two Roads Picture Company began shooting the movie earlier this month. The movie centers around a computer "hactivist" who tries to win the heart of a young widow. Filmmakers said the production has brought more than 350 jobs to the Bay area.
From the Blog:
Advice for Buyers:
Housing starts increased in July both monthly and annually, therefore homebuyers could soon receive much-needed relief from the competitive housing market and increasing home prices.

"Single-family starts are still growing at double-digit rates," Trulia Chief Economist Ralph McLaughlin said. "Supply-constrained homebuyers should rest assured that relief is on the way."

Advice for Sellers
Every home buyer knows hiring a home inspector to check out a property before closing is a good idea. In fact, a home inspection is often a requirement for a mortgage. The trickier question is this: Should home sellers also hire a home inspector to conduct a pre-inspection? That's where you have an inspector scrutinize your property for problems before it's even listed.

Is a pre-inspection worthwhile? Let's take a look at the pros and cons.
So says Bin He, principal economist for CoreLogic's Decision Analytics & Research Team, in a research paper called "Say what?! Public Listing Comments Can Have an Impact on Days on Market?" He analyzed more than a million single-family transactions this year across the United States. Here are the phrases that, when written in the property descriptions of online home listings, were associated with faster sales:

Fenced backyard.
Open concept.
Natural light.
Updated kitchen.

Home Loans
Ahead of the release of the FOMC minutes for July, 10-year Treasury yields were little changed from the prior week. The 30-year fixed-rate mortgage fell 2 basis points to 3.43 percent this week, erasing last week's uptick. For eight consecutive weeks mortgage rates have ranged between 3.41 and 3.48 percent. Inflation is not adding any upward pressure on interest rates as the Bureau of Labor Statistics reported that the Consumer Price Index was unchanged in July.

30-year fixed-rate mortgage (FRM) averaged 3.43 percent with an average 0.5 point for the week ending August 18, 2016, down from last week when it averaged 3.45 percent. A year ago at this time, the 30-year FRM averaged 3.93 percent.
15-year FRM this week averaged 2.74 percent with an average 0.5 point, down from last week when it averaged 2.76 percent. A year ago at this time, the 15-year FRM averaged 3.15 percent.
5-year Treasury-indexed hybrid adjustable-rate mortgage (ARM) averaged 2.76 percent this week with an average 0.4 point, up from last week when it averaged 2.74 percent. A year ago, the 5-year ARM averaged 2.94 percent.

Average commitment rates should be reported along with average fees and points to reflect the total upfront cost of obtaining the mortgage. Visit the following link for the Definitions. Borrowers may still pay closing costs which are not included in the survey.
Thanks for reading Tampa Market Monday. We'd love to help you buy or sell your home so please get in touch! You can reach me, Doug Bohannon or Dale Bohannon at 813-979-4963 or by completing this contact form.
Have a Fantastic week!
–Annette Bohannon, Team Bohannon, Keller Williams, 813-431-2840 www.teambohannon.com
Search for Tampa Homes By Neighborhood