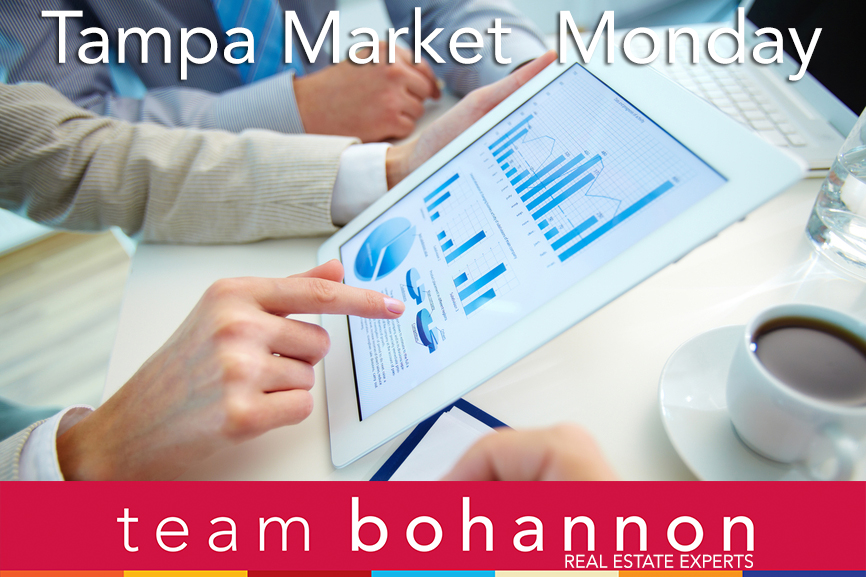 Happy Monday!
Today, let's review the performance of the New Tampa (33647) housing market for January of 2017 compared to January 2016.
Median Sold Price* rose 3% compared to January 2016. But the really dramatic change came in the Number of Homes Sold, as 70 units switched hands compared to 48 in the first month of 2016. That's a 43% jump!
But the Number of Homes for Sale continued to trend down (4%) as only 363 homes were listed for sale compared to 379 in January 2016.
The Average Number of Days a home stayed on the market before selling increased 35% — from 63 to 90 days. Months of Supply, which measures housing inventory, dropped from 4.1 months (January 2016) to 3.3 months (January 2017).
(MEDIAN SOLD PRICE – Median means "in the middle," meaning that half of the homes sold above the Median Sold Price and half sold below it. For example, if 5 homes sold in a zip code for $200,000, $250,000, $300,000, $400,000 and $800,000, the Median Price would be the one in the middle. In this case, that would be the $300,000 home.In contrast, average selling price would just be the sum of the selling prices of the 5 homes divided by 5, or $330,000. Many real estate statisticians prefer median price as a better indicator of the "typical" price within an area or zip code. Why? It is not affected by "outliers" or homes sold at an extremely high or low price, like the $800,000 home in our example.)
Bottom Line
This robust start to 2017 is likely an indication that we will see an unusually busy winter buying/selling season. The higher than normal average days on the market for sold homes probably shows that buyers are so motivated they are purchasing homes that have been on the market awhile since there are so few new listings.
If you want to sell your New Tampa home in the next year or so, the low housing inventory is an incentive to do it now — before the spring rush when you face more competition.
(Want a customized evaluation of your home and neighborhood, based on comparable homes that have sold recently? Call Annette Bohannon at 813-431-2840 and get a FREE detailed, market evaluation of your home or you can get a Free Market Report by following this link.)
Now let's look at some of the most informative blog posts, articles and infographics we've read this week. Enjoy!
Tampa:
When deciding where to put down roots, many factors rest in the eye of the beholder, such as climate, politics, or proximity to extended family.

Other aspects are coveted by nearly everybody: affordable housing, access to well-paying jobs, a low cost of living, good schools, and quality healthcare. In its 2017 ranking of the best places to live in America, U.S. News & World Report gathered data on these crucial components for the 100 most populous US cities.

They then categorized the data into five indexes for each city — job market, value, quality of life, desirability, and net migration — to definitively rank these major metro areas. You can read U.S. News' full methodology here.

Scores for "value," a blend of annual household income and cost of living, and "quality of life," which accounts for crime, college readiness, commute, and other factors, are included below on a 10-point scale, as well as the city's population and average annual salary.
Residents of the Tampa Bay area enjoy both a laid-back beach lifestyle and the amenities of a large metropolitan area, including three professional sports teams, interesting museums and an array of entertainment and dining options.

The Tampa Bay metro area is a sprawling and diverse region that encompasses three cities – Tampa, St. Petersburg and Clearwater – each with a distinct personality.
A new study said the Tampa Bay area was the fifth most popular moving destination in the U.S. in 2016.

The study, Penske Truck Rental: 2016 Top Moving Destinations, was compiled using one-way rental truck data.
From the Blog:
The most recent Housing Pulse Survey released by the National Association of Realtors revealed that the two major reasons Americans prefer owning their own home instead of renting are:

They want the opportunity to build equity.
They want a stable and safe environment.
The most recent Pending Homes Sales Index from the National Association of Realtors revealed a slight bump in contracts with an increase of 1.6% in December. This news comes as existing home sales are also forecasted to be on pace for 5.54 million in 2017, a 1.7% increase over 2016, which was the best year for sales in a decade.

The Pending Home Sales Index is a leading indicator for the housing sector, based on pending sales of existing homes. A sale is listed as pending when the contract has been signed but the transaction has not closed.

According to NAR's Chief Economist, Lawrence Yun,

"Pending sales bounded last month as enough buyers fended off rising mortgage rates and alarmingly low inventory levels to sign a contract."
Advice for Buyers:
Are you planning to buy a new home this year? Unless you've recently won the lottery or can otherwise afford to pay in cash, it's probably time to start thinking about how to prepare your credit for an upcoming mortgage application.

The condition of your credit reports and scores is never more important than when you're preparing to apply for a new home loan. A mediocre credit score can cost you tens of thousands of dollars over the life of a loan. Even if your credit is already in decent shape, you could still potentially earn a better rate and save money each month by working to improve your credit before applying for a mortgage.
Advice for Sellers
If you're looking to sell or remodel your home in 2017, listen up: The real estate agents at Redfin have rounded up seven design features and materials that you should consider installing to get the most bang for your buck on the market, plus two fads that are quickly losing their appeal with potential homebuyers.What do you think of the home decor elements that made their way onto this list?
Abraham Lincoln is credited to have said: "Give me six hours to chop down a tree and I will spend the first four sharpening the axe." While this is not a post about improving your landscaping through tree removal, it is, however, an outline of how you can take advantage of the current real estate market with a little bit of prep.

When the Clemson University Tigers won the College Football Playoff National Championship on Jan. 9, each of those players had spent a lifetime practicing for that moment. They performed countless drills, ran plays over and over, and spent unending hours in the film room. Those were not glamorous moments, but they gave the players the confidence and abilities necessary to make quick decisions come game time.

Nothing about preparing for a real estate transaction is glitzy or glamorous. Likely, none of it is an earth-shattering revelation. Still, many people fail to line up their ducks before they start the homebuying or selling process and end up blind-sided by unexpected costs or feel forced into making uninformed decisions. If 2017 is the year you decide to buy or sell a home, follow these basic guidelines to help ensure a smooth transaction.

Home Loans
The 30-year fixed mortgage fell two basis points to 4.17 percent this week. Rates are at about the same level at which they started the year and have stayed within a two basis point range over the past three weeks. Mixed economic releases such as Friday's jobs report and uncertainty about the Administration's fiscal policies have contributed to the holding pattern in rates.

30-year fixed-rate mortgage (FRM) averaged 4.17 percent with an average 0.4 point for the week ending Feb. 9, 2017, down from last week when it averaged 4.19 percent. A year ago at this time, the 30-year FRM averaged 3.65 percent.
15-year FRM this week averaged 3.39 percent with an average 0.4 point, down from last week when it averaged 3.41 percent. A year ago at this time, the 15-year FRM averaged 2.95 percent.
5-year Treasury-indexed hybrid adjustable-rate mortgage (ARM) averaged 3.21 percent this week with an average 0.4 point, down from last week when it averaged 3.23 percent. A year ago, the 5-year ARM averaged 2.83 percent.

Average commitment rates should be reported along with average fees and points to reflect the total upfront cost of obtaining the mortgage. Visit the following link for the Definitions. Borrowers may still pay closing costs which are not included in the survey.
Thanks for reading Tampa Market Monday. If you want help buying or selling your home, please get in touch. We have sold over 4,600 homes in the Tampa area and our mission is "to elevate the practice of real estate to an art form — and to deliver a real estate experience that is re-imagined and extraordinary!
You can reach me, Doug Bohannon or Dale Bohannon at 813-979-4963 or by completing this contact form.
Have a Fantastic week!
–Annette Bohannon,
Team Bohannon, Keller Williams, 813-431-2840
www.teambohannon.com
Search for Tampa Homes By Neighborhood
Tampa, a beautiful, modern city located on the Gulf Coast of Florida, is bordered by Old Tampa Bay and Hillsborough Bay, which come together to makeup Tampa Bay. It offers…
View 3546 homes
Apollo Beach is a vibrant waterfront community, located in Hillsborough County in Tampa, FL. It features over 50 miles of interconnected canals that lead to Tampa Bay and the Gulf…
View 325 homes
Land O' Lakes, located in Pasco County, is north of downtown Tampa. It's also part of the Tampa-St. Petersburg-Clearwater, Florida MSA. The population of the area is a little over…
View 468 homes
FishHawk, Hillsborough County's first "green community", is made up of a variety of smaller communities located in Lithia, Florida. They including Starling at FishHawk, The Preserve, FishHawk Ranch and FishHawk…
View 215 homes
Lutz, which began as a small train depot on the Tampa North Railroad, now has about 20,000 residents. It was named for W. P. Lutz, who brought the railroad to…
View 424 homes
New Tampa, Tampa Bay's fastest growing community is located in the northern side of Tampa. New Tampa, well-known for its master-planned communities, features upscale residences surrounded by lakes, lush green…
View 361 homes
The Carrollwood area, about 7 miles northwest of Tampa includes two distinct communities — Carrollwood and Carrollwood Village. Both are located in Hillsborough County. Together, they have a population of…
View 266 homes
Odessa, located in Pasco County started as a community of open spaces that residents used for ranches and horse farms. But in more recent years, it has grown considerably due…
View 271 homes
Brandon is an appealing suburb, east of downtown Tampa, Florida. It offers residents a quieter, family-oriented lifestyle just outside of Tampa's city center. Over 100,000 people call it home and…
View 311 homes
Riverview, Florida, located in Hillsborough County near Tampa has nearly 80,000 residents. The community saw its population increase close to 500 percent from 2000 to 2010 as new development occurred…
View 703 homes
South Tampa, located on the Interbay Peninsula, includes areas of Tampa south of Kennedy Boulevard. Many of Tampa's most unique and in-demand neighborhoods, Beach Park, Ballast Point, Bayshore Beautiful, Bayshore…
View 1055 homes
Ruskin, located in Hillsborough County, Florida, near Tampa's South shore has blossomed since the early 2000's. It's population, which doubled from 2000 to 2010 now tops 17,000 residents. Background The…
View 297 homes
Valrico, located east of Tampa, is home to more than 35,000 residents. The population has expanded over 400% since 2000, when only 6,500 residents lived there. The median house or…
View 263 homes
Wesley Chapel, in Pasco County, has been one of Tampa Bay's fastest growing communities during the past 10 years. Currently, there are over 45,000 residents, 16,000 households and 12,000 families…
View 502 homes
Westchase, founded in 1991, is a luxurious planned community located between Tampa and Clearwaterin Hillsborough County. It has around 22,000 residents and is one of the most affluent subdivisions the…
View 154 homes
Are you seeking a one-of-a-kind luxury home? You'll discover many remarkable million-dollar-plus properties in the Tampa area. Whether you prefer living on the water with spectacular views, a Championship golf…
View 3772 homes
If you love golf, you'll love the Tampa Bay area's challenging and picturesque golf courses set in vibrant and beautiful communities on the Gulf Coast. You can enjoy a daily…
View 6222 homes
Living on the waterfront means a variety of things to different people. Some love the all-the-time access to sunshine, the beach and the ocean. For other it's about a peaceful…
View 13625 homes