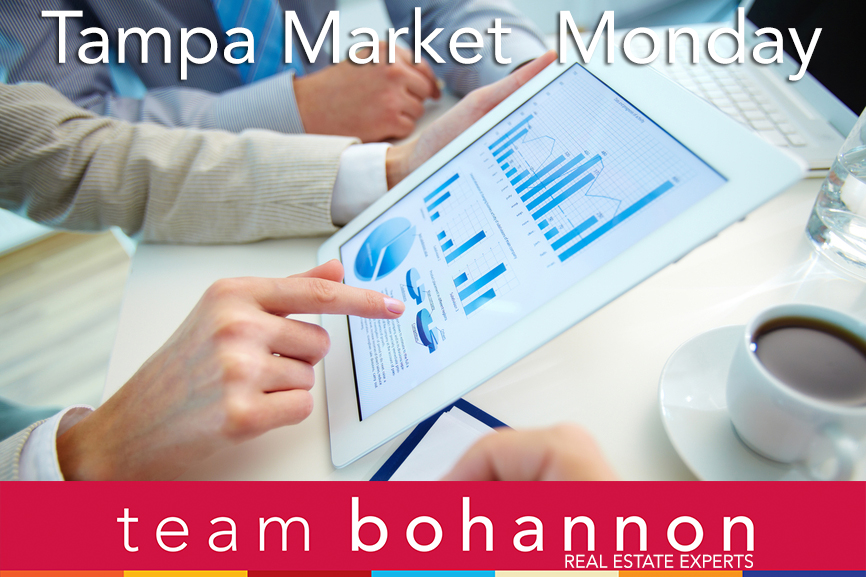 Happy Monday! I hope all of you have a wonderful 4th of July Holiday!
Today, I'll review how the Hillsborough County's (Tampa) housing market performed in June of 2017. Prices continue to rise, while the inventory of homes for sale goes down.
Median Sold Price* stood at $245,000 in June — up 7% (or $16,000) compared to June of 2016. The number of Homes Sold rose by 4% — from 1,901 in June of 2016 to 1,977 this June. So 76 more homes sold than June a year ago.  In addition, there were 402 fewer Homes for Sale, a 5% decline from a year ago. The number of New Properties increased 11% from June of 2016.
The Average Number of Days a home stayed on the market before being sold fell 15% year over year. Homes sold in an average of 46 days compared to 54 in June a year ago. Also, Housing Inventory plunged 40% — from 3.3 months of supply (June 2016) to 1.3 months (June of 2017).
See a more detailed view of the trends  in the charts below.
(MEDIAN SOLD PRICE – Median means "in the middle," meaning that half of the homes sold above the Median Sold Price and half sold below it. For example, if 5 homes sold in a zip code for $200,000, $250,000, $300,000, $400,000 and $800,000, the Median Price would be the one in the middle. In this case, that would be the $300,000 home.In contrast, average selling price would just be the sum of the selling prices of the 5 homes divided by 5, or $330,000. Many real estate statisticians prefer median price as a better indicator of the "typical" price within an area or zip code. Why? It is not affected by "outliers" or homes sold at an extremely high or low price, like the $800,000 home in our example.)
Bottom Line
Sellers still hold the upper hand as housing inventory stays under two months of supply and buyers continue to buy homes at a strong pace.  So prices should continue to trend upwards. (Five months and under is considered a seller's market, five to six is a balanced market, and over six is a buyer's market.) But fortunately for buyers interest rates have not gone up as anticipated. That means buyers can still get a lot of bang for the buck, which means more house for their dollars.
(Want a customized evaluation of your home and neighborhood, based on comparable homes that have sold recently? Call Annette Bohannon at 813-431-2840 and get a FREE detailed, market evaluation of your home or you can get a Free Market Report by following this link.)
Now let's look at some of the best blog posts, articles and infographics we've found this week. Enjoy!
Tampa:
Developers on Tuesday released new details on the scope and substance of an ambitious real estate project that will increase the size and population of downtown Tampa, vastly altering the city's skyline and creating a "main street" out of thin air and parking lots.

The project is named Water Street Tampa. It's a joint venture between Lightning owner Jeff Vinik and Microsoft co-founder Bill Gates. Over the next 10 years, they will invest more than $3-billion in transforming the area around Amalie Arena and Channelside Drive.

"This is one of the biggest construction projects in the country," said James Nozar, CEO of Strategic Property Partners, which is the official name of the real estate venture. "When work begins full-throttle in a few months, we'll have upwards of 22 construction cranes swinging around downtown Tampa."
From the Blog:
In many markets across the country, the number of buyers searching for their dream homes greatly outnumbers the amount of homes for sale. This has led to a competitive marketplace where buyers often need to stand out. One way to show you are serious about buying your dream home is to get pre-qualified or pre-approved for a mortgage before starting your search.

Even if you are in a market that is not as competitive, knowing your budget will give you the confidence of knowing if your dream home is within your reach.

Freddie Mac lays out the advantages of pre-approval in the My Home section of their website:

"It's highly recommended that you work with your lender to get pre-approved before you begin house hunting. Pre-approval will tell you how much home you can afford and can help you move faster, and with greater confidence, in competitive markets."
The National Association of Realtors (NAR) recently released the findings of their Q2 Homeownership Opportunities and Market Experience (HOME) Survey. The report covers core topics like, "if now is a good time to buy or sell a home, the perception of home price changes, perceived ability to qualify for a mortgage, and [an] outlook on the U.S. economy."

The survey revealed that 75% of homeowners think now is a good time to sell, compared to 70% last quarter. This is a considerable increase from more than a year ago when 66% agreed.
Buyers:
Housing inventory fell 8.9% from last year in the second quarter of 2017, sending homebuyers scurrying to beat the rising competition.

Housing inventory dropped for nine consecutive quarters, and is currently down a full 20% from inventory levels five years ago, a new report from Trulia shows.
Sellers
Before decluttering, cleaning or rearranging furniture to put a house on the market, homeowners have to get in the right frame of mind to ensure a successful sale.

The best outcomes happen when selling a home starts with the seller's ideology about the process. The home seller's psychology, habits and practices are what solidify the deal, because they're willing to live with – or in some cases, live without – their stuff to get to the closing table.
Before you put your home on the market, consider remodeling. Even small projects can recoup 100% or more of their costs.

The projects most likely to make back their money include a remodeled master bathroom and minor updates to the kitchen. But there are four that won't increase your home's value:

Home office
Upscale master suite addition
Family room addition
Upscale kitchen remodel

Remodeling rooms people spend less time in (a home office, media room or master bedroom addition) might be worth it if you're planning on staying in your home. But if you're looking at return on investment, these projects only give you a 50% to 75% return rate.
Home Loans
The 30-year mortgage rate fell 2 basis points to 3.88 percent this week. However, the majority of our survey was conducted prior to Tuesday's sell-off in the bond market which drove Treasury yields higher. Mortgage rates may increase in next week's survey if Treasury yields continue to rise.

30-year fixed-rate mortgage (FRM) averaged 3.88 percent with an average 0.5 point for the week ending June 29, 2017, down from last week when it averaged 3.90 percent. A year ago at this time, the 30-year FRM averaged 3.48 percent.
15-year FRM this week averaged 3.17 percent with an average 0.5 point, the same as last week. A year ago at this time, the 15-year FRM averaged 2.78 percent.
5-year Treasury-indexed hybrid adjustable-rate mortgage (ARM) averaged 3.17 percent this week with an average 0.5 point, up from last week when it averaged 3.14 percent. A year ago at this time, the 5-year ARM averaged 2.70 percent.
Thanks for reading Tampa Market Monday. We'd love to help you buy or sell your home so please get in touch! You can reach me, Doug Bohannon or Dale Bohannon at 813-979-4963 or by completing this contact form.
Have a Fantastic week!
–Annette Bohannon, Team Bohannon, Keller Williams, 813-431-2840 www.teambohannon.com
Search for Tampa Homes By Neighborhood
Tampa, a beautiful, modern city located on the Gulf Coast of Florida, is bordered by Old Tampa Bay and Hillsborough Bay, which come together to makeup Tampa Bay. It offers…
View 3546 homes
Apollo Beach is a vibrant waterfront community, located in Hillsborough County in Tampa, FL. It features over 50 miles of interconnected canals that lead to Tampa Bay and the Gulf…
View 325 homes
Land O' Lakes, located in Pasco County, is north of downtown Tampa. It's also part of the Tampa-St. Petersburg-Clearwater, Florida MSA. The population of the area is a little over…
View 468 homes
FishHawk, Hillsborough County's first "green community", is made up of a variety of smaller communities located in Lithia, Florida. They including Starling at FishHawk, The Preserve, FishHawk Ranch and FishHawk…
View 215 homes
Lutz, which began as a small train depot on the Tampa North Railroad, now has about 20,000 residents. It was named for W. P. Lutz, who brought the railroad to…
View 424 homes
New Tampa, Tampa Bay's fastest growing community is located in the northern side of Tampa. New Tampa, well-known for its master-planned communities, features upscale residences surrounded by lakes, lush green…
View 361 homes
The Carrollwood area, about 7 miles northwest of Tampa includes two distinct communities — Carrollwood and Carrollwood Village. Both are located in Hillsborough County. Together, they have a population of…
View 266 homes
Odessa, located in Pasco County started as a community of open spaces that residents used for ranches and horse farms. But in more recent years, it has grown considerably due…
View 271 homes
Brandon is an appealing suburb, east of downtown Tampa, Florida. It offers residents a quieter, family-oriented lifestyle just outside of Tampa's city center. Over 100,000 people call it home and…
View 311 homes
Riverview, Florida, located in Hillsborough County near Tampa has nearly 80,000 residents. The community saw its population increase close to 500 percent from 2000 to 2010 as new development occurred…
View 703 homes
South Tampa, located on the Interbay Peninsula, includes areas of Tampa south of Kennedy Boulevard. Many of Tampa's most unique and in-demand neighborhoods, Beach Park, Ballast Point, Bayshore Beautiful, Bayshore…
View 1055 homes
Ruskin, located in Hillsborough County, Florida, near Tampa's South shore has blossomed since the early 2000's. It's population, which doubled from 2000 to 2010 now tops 17,000 residents. Background The…
View 297 homes
Valrico, located east of Tampa, is home to more than 35,000 residents. The population has expanded over 400% since 2000, when only 6,500 residents lived there. The median house or…
View 263 homes
Wesley Chapel, in Pasco County, has been one of Tampa Bay's fastest growing communities during the past 10 years. Currently, there are over 45,000 residents, 16,000 households and 12,000 families…
View 502 homes
Westchase, founded in 1991, is a luxurious planned community located between Tampa and Clearwaterin Hillsborough County. It has around 22,000 residents and is one of the most affluent subdivisions the…
View 154 homes
Are you seeking a one-of-a-kind luxury home? You'll discover many remarkable million-dollar-plus properties in the Tampa area. Whether you prefer living on the water with spectacular views, a Championship golf…
View 3772 homes
If you love golf, you'll love the Tampa Bay area's challenging and picturesque golf courses set in vibrant and beautiful communities on the Gulf Coast. You can enjoy a daily…
View 6222 homes
Living on the waterfront means a variety of things to different people. Some love the all-the-time access to sunshine, the beach and the ocean. For other it's about a peaceful…
View 13625 homes