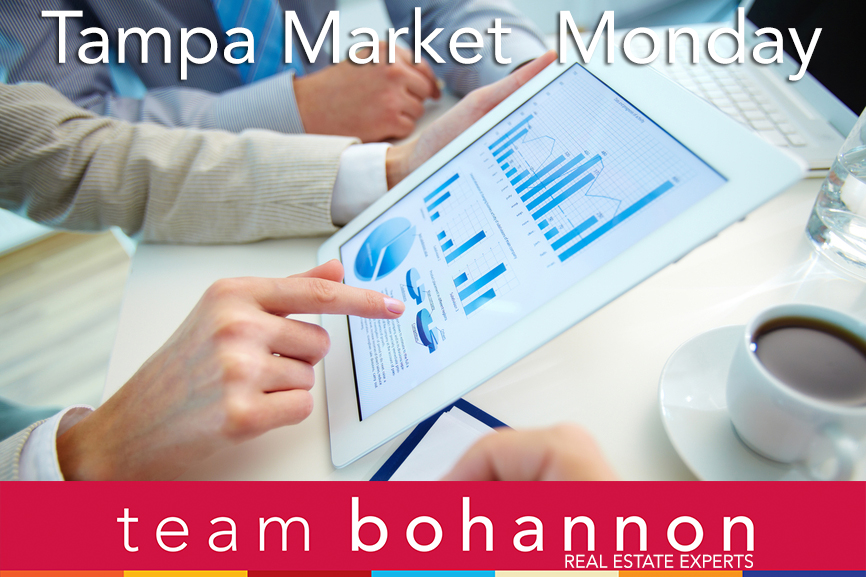 Happy Monday!
Hillsborough County's  (Tampa) housing market continued to beat 2016 performance in February.
Median Sold Price* rose 13% compared to February of 2016, as 1,323 Homes Sold. That was 38 more than last February, a 3% gain. In contrast, the Number of Homes for Sale dropped 4% or 272 units from a year ago.
The Average Number of Days a home stayed on the market before selling also fell 14%, as homes sold in 55 days on average, compared to 64 days in February of 2016. Housing Inventory continued to dry up too, as Months of Supply hit 2.4 months versus 2.9 months in February of 2016. That represented a drop of 14%.
(MEDIAN SOLD PRICE – Median means "in the middle," meaning that half of the homes sold above the Median Sold Price and half sold below it. For example, if 5 homes sold in a zip code for $200,000, $250,000, $300,000, $400,000 and $800,000, the Median Price would be the one in the middle. In this case, that would be the $300,000 home.In contrast, average selling price would just be the sum of the selling prices of the 5 homes divided by 5, or $330,000. Many real estate statisticians prefer median price as a better indicator of the "typical" price within an area or zip code. Why? It is not affected by "outliers" or homes sold at an extremely high or low price, like the $800,000 home in our example.)
Bottom Line
This year is starting off stronger than 2017 and with a glowing jobs report it appears that the Fed will raise rates sooner rather than later. So now is the time to buy and sell your home. If the economy continues to perform well interest rates will only go higher, meaning your purchasing power will decrease (you'll get less home for your money) and if you are selling it could become harder to sell your home as the year progresses.
(Want a customized evaluation of your home and neighborhood, based on comparable homes that have sold recently? Call Annette Bohannon at 813-431-2840 and get a FREE detailed, market evaluation of your home or you can get a Free Market Report by following this link.)
Now let's look at some of the best blog posts, articles and infographics we've found this week. Enjoy!
Tampa:
Data company Niche released its 2017 rankings of the top private K-12 schools in the country.

Only one Tampa Bay private school made the national rankings. With and A+ overall ranking, Berkeley Preparatory School ranked No. 57 in the country and No. 2 in the state. This puts Berkeley Preparatory in the top 4 percent of private K-12 schools included in the ratings.

View the photo gallery to see the 24 highest-ranked private K-12 schools in the Tampa Bay area.

Niche assessed 1,594 private schools that offer grades kindergarten through 12th grade by looking at multiple metrics including test scores, percentage of seniors who go on to college, student-teacher ratio and feedback from parents and students.
From the Blog:
That headline might be a little aggressive. However, as the data on the 2017 housing market begins to roll in, we can definitely say one thing: If you are considering selling, IT IS TIME TO LIST YOUR HOME!

The February numbers are not in yet, but the January numbers were sensational. Lawrence Yun, Chief Economist for the National Association of Realtors, said:

"Much of the country saw robust sales activity last month as strong hiring and improved consumer confidence at the end of last year appear to have sparked considerable interest in buying a home. Market challenges remain, but the housing market is off to a prosperous start as homebuyers staved off inventory levels that are far from adequate…"
Just like our clocks this weekend in the majority of the country, the housing market will soon "spring forward!" Similar to tension in a spring, the lack of inventory available for sale in the market right now is what is holding back the market.

Many potential sellers believe that waiting until Spring is in their best interest, and traditionally they would have been right.

Buyer demand has seasonality to it, which usually falls off in the winter months, especially in areas of the country impacted by arctic temperatures and conditions.
Advice for Buyers:
When it comes to homeownership, there are people who think it's "an escalator to wealth" and others who claim it's "the American nightmare."

What does self-made billionaire Warren Buffett say? His advice is to buy.

Real estate is a valuable asset "for a great many people," particularly for families that plan on being in the same location for many years, he tells CNBC: "If you know you're going to live in a given area, or think it's very likely, for a considerable period of time and you've got a family, the home is terrific."
Advice for Sellers
Thinking about buying or selling a home next year?

No matter what your real estate goals, it's good to learn everything you can in order to make the best deal.

We asked Svenja Gudell, chief economist for Zillow, and Jonathan Smoke, chief economist for Realtor.com, what we can expect to see in the market next year.

While predicting how the real estate market will behave is never an exact science, this year could be especially difficult to predict, the experts said.

"I think at this point it will be a very interesting year as we see what President Trump will put into place as far as housing policies," Gudell said. He cited possible changes to affordable housing regulations, vouchers and how the Federal Housing Authority works during the Trump administration.

While some presidential policies are tough to foresee at this early stage, plenty of market trends for the new year are much clearer.

Click ahead for nine predictions about the real estate market in 2017.

Home Loans
The 10-year Treasury yield rose about 10 basis points this week. For the first time in weeks, the 30-year mortgage rate moved with treasury yields and jumped 11 basis points to 4.21 percent. The strength of Friday's employment report and the outcome of next week's FOMC meeting are likely to set the direction of next week's survey rate.

30-year fixed-rate mortgage (FRM) averaged 4.21 percent with an average 0.5 point for the week ending March 9, 2017, up from last week when it averaged 4.10 percent. A year ago at this time, the 30-year FRM averaged 3.68 percent.
15-year FRM this week averaged 3.42 percent with an average 0.5 point, up from last week when it averaged 3.32 percent. A year ago at this time, the 15-year FRM averaged 2.96 percent.
5-year Treasury-indexed hybrid adjustable-rate mortgage (ARM) averaged 3.23 percent this week with an average 0.4 point, up from last week when it averaged 3.14 percent. A year ago, the 5-year ARM averaged 2.92 percent.

Average commitment rates should be reported along with average fees and points to reflect the total upfront cost of obtaining the mortgage. Visit the following link for the Definitions. Borrowers may still pay closing costs which are not included in the survey.
Thanks for reading Tampa Market Monday. We'd love to help you buy or sell your home so please get in touch! You can reach me, Doug Bohannon or Dale Bohannon at 813-979-4963 or by completing this contact form.
Have a Fantastic week!
–Annette Bohannon, Team Bohannon, Keller Williams, 813-431-2840 www.teambohannon.com
Search for Tampa Homes By Neighborhood
Tampa, a beautiful, modern city located on the Gulf Coast of Florida, is bordered by Old Tampa Bay and Hillsborough Bay, which come together to makeup Tampa Bay. It offers…
View 3546 homes
Apollo Beach is a vibrant waterfront community, located in Hillsborough County in Tampa, FL. It features over 50 miles of interconnected canals that lead to Tampa Bay and the Gulf…
View 325 homes
Land O' Lakes, located in Pasco County, is north of downtown Tampa. It's also part of the Tampa-St. Petersburg-Clearwater, Florida MSA. The population of the area is a little over…
View 468 homes
FishHawk, Hillsborough County's first "green community", is made up of a variety of smaller communities located in Lithia, Florida. They including Starling at FishHawk, The Preserve, FishHawk Ranch and FishHawk…
View 215 homes
Lutz, which began as a small train depot on the Tampa North Railroad, now has about 20,000 residents. It was named for W. P. Lutz, who brought the railroad to…
View 424 homes
New Tampa, Tampa Bay's fastest growing community is located in the northern side of Tampa. New Tampa, well-known for its master-planned communities, features upscale residences surrounded by lakes, lush green…
View 361 homes
The Carrollwood area, about 7 miles northwest of Tampa includes two distinct communities — Carrollwood and Carrollwood Village. Both are located in Hillsborough County. Together, they have a population of…
View 266 homes
Odessa, located in Pasco County started as a community of open spaces that residents used for ranches and horse farms. But in more recent years, it has grown considerably due…
View 271 homes
Brandon is an appealing suburb, east of downtown Tampa, Florida. It offers residents a quieter, family-oriented lifestyle just outside of Tampa's city center. Over 100,000 people call it home and…
View 311 homes
Riverview, Florida, located in Hillsborough County near Tampa has nearly 80,000 residents. The community saw its population increase close to 500 percent from 2000 to 2010 as new development occurred…
View 703 homes
South Tampa, located on the Interbay Peninsula, includes areas of Tampa south of Kennedy Boulevard. Many of Tampa's most unique and in-demand neighborhoods, Beach Park, Ballast Point, Bayshore Beautiful, Bayshore…
View 1055 homes
Ruskin, located in Hillsborough County, Florida, near Tampa's South shore has blossomed since the early 2000's. It's population, which doubled from 2000 to 2010 now tops 17,000 residents. Background The…
View 297 homes
Valrico, located east of Tampa, is home to more than 35,000 residents. The population has expanded over 400% since 2000, when only 6,500 residents lived there. The median house or…
View 263 homes
Wesley Chapel, in Pasco County, has been one of Tampa Bay's fastest growing communities during the past 10 years. Currently, there are over 45,000 residents, 16,000 households and 12,000 families…
View 502 homes
Westchase, founded in 1991, is a luxurious planned community located between Tampa and Clearwaterin Hillsborough County. It has around 22,000 residents and is one of the most affluent subdivisions the…
View 154 homes
Are you seeking a one-of-a-kind luxury home? You'll discover many remarkable million-dollar-plus properties in the Tampa area. Whether you prefer living on the water with spectacular views, a Championship golf…
View 3772 homes
If you love golf, you'll love the Tampa Bay area's challenging and picturesque golf courses set in vibrant and beautiful communities on the Gulf Coast. You can enjoy a daily…
View 6222 homes
Living on the waterfront means a variety of things to different people. Some love the all-the-time access to sunshine, the beach and the ocean. For other it's about a peaceful…
View 13625 homes