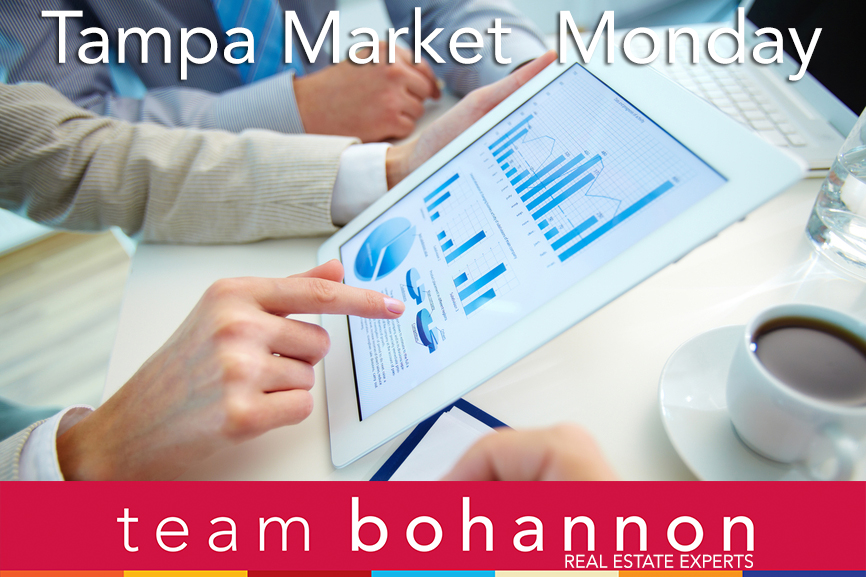 Happy Tuesday! Hope everyone had a great Labor Day weekend. (Typically, we publish the Market Monday on Monday, but are sending it out Tuesday this week due to the Holiday.)
As a new month starts, we look back to the latest home sales data for Hillsborough County. August numbers will be out next week, so let's take a quick look at what happened in July. That way we will have a solid reference point as we transition from the Spring/Summer — usually the best time for real estate sales — into the Fall selling season when things normally slow a bit.
First let's look at the market for the year (January through July). As you'll see in the chart below Sold Dollar Volume was up 14.31% compared to the same time period in 2015. Median Sold Price also rose nearly 14% (13.87%) compared to 2015. So far in  2016, 342 more homes sold than over the same time frame in 2015. That's an increase of 2.43%. In a nutshell, more homes have sold for more total dollars and for a higher median price than in 2015. So the market is trending up on a yearly basis.
You'll also notice that the time homes stayed on the market before selling moved down 14.49% from January to July of 2016 compared to 2015. Another clear signal that the Tampa real estate market has grown stronger this year.
Now let's dig a little deeper into how the Hillsborough County market has trended on a monthly basis over the last 12 months.
Here's a detailed look at the stats: (If you place your cursor on the data points for each month, you will see the monthly and yearly percentage of change.)
What It Means
As summer starts to wind down, it is not unusual to see housing sales slow down some, but does that mean it is a bad time to sell? Absolutely not! First of all, housing inventory is down, meaning buyers have less to choose from. Plus, interest rates are STILL historically low, but there are rumblings that a rate increase may happen sooner rather than later (see article at end of the Market Monday), so buyers continue to have sense of urgency. Also, home sales and prices are trending up from a year ago. But it is true that the faster you list, the better off you will probably be.
If you're ready to sell, contact us and let us focus our expertise, experience and award-winning client services on helping you sell your home quickly and for top dollar. If you're a buyer, please call us.  Our skilled and experienced BUYERS agents will position you to move fast and negotiate smartly in a very competitive SELLERS market.
(Want a customized evaluation of your home and neighborhood, based on comparable homes that have sold recently? Call Annette Bohannon at 813-431-2840 and get a FREE detailed, market evaluation of your home or you can get a Free Market Report by following this link.)
Now here's a quick overview of some of the best and most informative blog posts, articles and infographics we've run across this week. Enjoy!
Tampa:
Passengers on American Airlines, Delta, JetBlue and United Airlines will soon find it a little tougher to reach their flights at Tampa International Airport.

The airport is closing the blue side arrival and departure curbsides from 8 p.m. to 4 a.m. for construction of the SkyConnect guideway beginning Sept. 6 through early 2017, said TIA spokeswoman Janet Zink.
Tampa Bay WaVE, a nonprofit that services and houses growing startup companies, is one of 68 winners nationwide in a U.S. Small Business Administration competition.

Tampa Bay WaVE will receive a cash prize of $50,000 from the Growth Accelerator Fund Competition, designed to draw attention and funding to parts of the country where there are gaps in the entrepreneurial ecosystem, the SBA said.
From the Blog:
Let's assume that instead of the rise and fall in home prices that we saw last decade, we just had normal historic appreciation from 2000 to today. According to the 100+ experts that are surveyed for the Home Price Expectation Survey, normal annual appreciation for residential single family homes from 1987 to 1999 was 3.6%.
We are often asked why there is so much paperwork mandated by the bank for a mortgage loan application when buying a home today. It seems that the bank needs to know everything about us and requires three separate sources to validate each and every entry on the application form.

Many buyers are being told by friends and family that the process was a hundred times easier when they bought their home ten to twenty years ago.

There are two very good reasons that the loan process is much more onerous on today's buyer than perhaps any time in history.
Advice for Buyers:
Whether you are a first-time buyer or an experienced owner, buying a house requires a "preflight check," in the words of Barry Zigas, director of housing policy for the Consumer Federation of America.

Read on for Bankrate's 6-item checklist, including tips on the types of savings you need, plus advice about what matters beyond purchasing a home at its resale value.

Strengthen your credit score
Figure out what you can afford
Save for down payment, closing costs
Build a healthy savings account
Get preapproved for a mortgage
Buy a house you like
Everyone makes mistakes. It happens. However, the impact of our mistakes is not always the same. When a homebuyer makes mistakes on their home purchase, it can have devastating effects on their finances and living circumstances for years to come.

Millennials are quickly becoming the largest group of homebuyers in the U.S. As they start to enter the market for the first time, there are some common rookie mistakes that will likely be made. These mistakes can easily be avoided with some basic understanding of the home buying process.
Search Tampa Homes For Sales

Advice for Sellers
Improve Landscaping: Great curb appeal is crucial if you want to get your home noticed. Make a good first impression to potential homebuyers by mowing the lawn, weeding the garden and planting a few flowers.

Clean the Exterior: If the outside of your home looks messy, buyers might think you've been slacking on interior maintenance, as well. Give the home's siding a good cleaning and don't forget the gutters!

Make Repairs: Don't you want your home looking as great as possible to potential buyers? Take care of major problems like broken windows or a leaky faucet that could turn buyers away.

Remove Clutter: A potential buyer needs to be able to envision their things in your home. Clean up knickknacks, photos and other personal items that may prohibit them from visualizing themselves in the home

Organize and Clean: Take the time to make things look neat in your home, especially your closet. A messy closet gives off the illusion there is not enough space. Also, your home should be spotless, from the floor to the tops of the ceiling fans!

Tone Down the Color: Bright colors might be exciting for a child's bedroom, but it could deter potential buyers. Paint the walls a neutral color to create a blank canvas that will appeal to a wide range of homebuyers.

Eliminate Odors: Hide the litter box and spray an air neutralizer throughout your home. When you go to show your home, put out fresh flowers or bake a batch of cookies!
If you're planning to sell your home soon, it's a good idea to set up a budget for those expenses so you know what you're facing. Take a look at a sample family, the Smiths, to see what kinds of expenses your family could face from the time you decide to put your home on the market all the way through to closing.

Home Loans
The 10-year Treasury yield inched up in response to Fed Chair Janet Yellen's speech last Friday then settled near last week's average. The 30-year fixed-rate mortgage rose 3 basis points to 3.46 percent. Mortgage rates have hovered between 3.41 and 3.48 percent for the past ten weeks.

30-year fixed-rate mortgage (FRM) averaged 3.46 percent with an average 0.5 point for the week ending September 1, 2016, up from last week when it averaged 3.43 percent. A year ago at this time, the 30-year FRM averaged 3.89 percent.
15-year FRM this week averaged 2.77 percent with an average 0.5 point, up from last week when it averaged 2.74 percent. A year ago at this time, the 15-year FRM averaged 3.09 percent.
5-year Treasury-indexed hybrid adjustable-rate mortgage (ARM) averaged 2.83 percent this week with an average 0.4 point, up from last week when it averaged 2.75 percent. A year ago, the 5-year ARM averaged 2.90 percent.

Average commitment rates should be reported along with average fees and points to reflect the total upfront cost of obtaining the mortgage. Visit the following link for the Definitions. Borrowers may still pay closing costs which are not included in the survey.
Thanks for reading Tampa Market Monday. We'd love to help you buy or sell your home so please get in touch! You can reach me, Doug Bohannon or Dale Bohannon at 813-979-4963 or by completing this contact form.
Have a Fantastic week!
–Annette Bohannon, Team Bohannon, Keller Williams, 813-431-2840 www.teambohannon.com
Search for Tampa Homes By Neighborhood
Tampa, a beautiful, modern city located on the Gulf Coast of Florida, is bordered by Old Tampa Bay and Hillsborough Bay, which come together to makeup Tampa Bay. It offers…
View 3546 homes
Apollo Beach is a vibrant waterfront community, located in Hillsborough County in Tampa, FL. It features over 50 miles of interconnected canals that lead to Tampa Bay and the Gulf…
View 325 homes
Land O' Lakes, located in Pasco County, is north of downtown Tampa. It's also part of the Tampa-St. Petersburg-Clearwater, Florida MSA. The population of the area is a little over…
View 468 homes
FishHawk, Hillsborough County's first "green community", is made up of a variety of smaller communities located in Lithia, Florida. They including Starling at FishHawk, The Preserve, FishHawk Ranch and FishHawk…
View 215 homes
Lutz, which began as a small train depot on the Tampa North Railroad, now has about 20,000 residents. It was named for W. P. Lutz, who brought the railroad to…
View 424 homes
New Tampa, Tampa Bay's fastest growing community is located in the northern side of Tampa. New Tampa, well-known for its master-planned communities, features upscale residences surrounded by lakes, lush green…
View 361 homes
The Carrollwood area, about 7 miles northwest of Tampa includes two distinct communities — Carrollwood and Carrollwood Village. Both are located in Hillsborough County. Together, they have a population of…
View 266 homes
Odessa, located in Pasco County started as a community of open spaces that residents used for ranches and horse farms. But in more recent years, it has grown considerably due…
View 271 homes
Brandon is an appealing suburb, east of downtown Tampa, Florida. It offers residents a quieter, family-oriented lifestyle just outside of Tampa's city center. Over 100,000 people call it home and…
View 311 homes
Riverview, Florida, located in Hillsborough County near Tampa has nearly 80,000 residents. The community saw its population increase close to 500 percent from 2000 to 2010 as new development occurred…
View 703 homes
South Tampa, located on the Interbay Peninsula, includes areas of Tampa south of Kennedy Boulevard. Many of Tampa's most unique and in-demand neighborhoods, Beach Park, Ballast Point, Bayshore Beautiful, Bayshore…
View 1055 homes
Ruskin, located in Hillsborough County, Florida, near Tampa's South shore has blossomed since the early 2000's. It's population, which doubled from 2000 to 2010 now tops 17,000 residents. Background The…
View 297 homes
Valrico, located east of Tampa, is home to more than 35,000 residents. The population has expanded over 400% since 2000, when only 6,500 residents lived there. The median house or…
View 263 homes
Wesley Chapel, in Pasco County, has been one of Tampa Bay's fastest growing communities during the past 10 years. Currently, there are over 45,000 residents, 16,000 households and 12,000 families…
View 502 homes
Westchase, founded in 1991, is a luxurious planned community located between Tampa and Clearwaterin Hillsborough County. It has around 22,000 residents and is one of the most affluent subdivisions the…
View 154 homes
Are you seeking a one-of-a-kind luxury home? You'll discover many remarkable million-dollar-plus properties in the Tampa area. Whether you prefer living on the water with spectacular views, a Championship golf…
View 3772 homes
If you love golf, you'll love the Tampa Bay area's challenging and picturesque golf courses set in vibrant and beautiful communities on the Gulf Coast. You can enjoy a daily…
View 6222 homes
Living on the waterfront means a variety of things to different people. Some love the all-the-time access to sunshine, the beach and the ocean. For other it's about a peaceful…
View 13625 homes