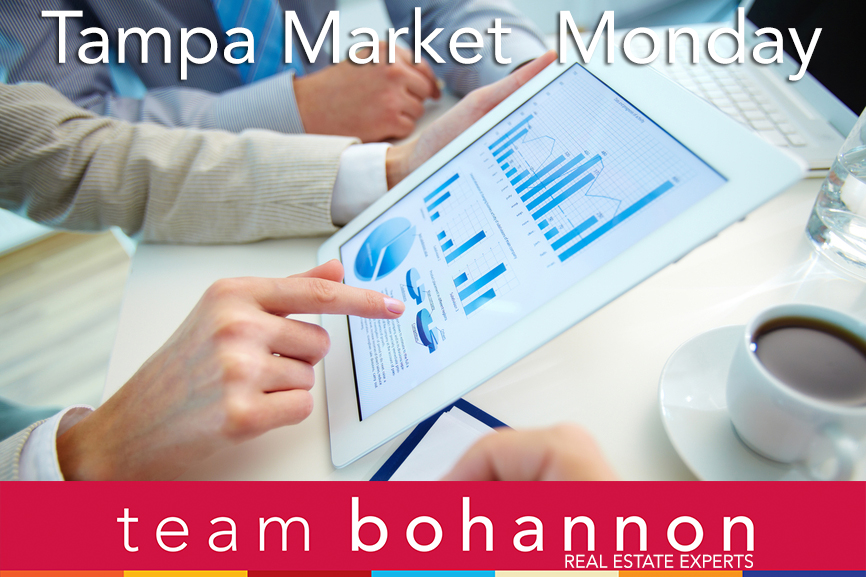 Happy Independence Day! I hope everyone is enjoying a great weekend with family and friends.
In the the last few weeks, we have looked at May home sales in Greater Tampa, Wesley Chapel and New Tampa. Today, we"ll continue our review of the area with a look at Hillsborough County as a whole.
As you see from the statistics above, the Tampa – Hillsborough County, Florida housing market is heating up. Sold dollar volume rose 26.7% year-over-year and 7.8% from last month. Closed sales were 17% higher than last May and 5.4% higher than April 2016. Median sold price increased 13.7% year-over-year and 6.8% month-over-month. Median days on the market fell below the 30 day level, which represented a 24.3% decline from last May and 15.2% from April of this year.
The interactive charts below give you a more detailed look at the trends over the last 12 months. (Simply point to the data points with your cursor to see the percentage of increase or decrease)
Next, we'd like to share a few articles and infographics explaining the general trends shaping the housing market across the U.S. and in Tampa, but we'd be happy to provide you a more focused view of your local community or neighborhood. Just call us (813) 431-2840 or complete our contact form. Enjoy.
Tampa:
Tampa is the closest of Florida's full-service ports to the newly expanded Panama Canal, Anderson said earlier this year at the State of Port meeting. He said its prime location "means saving customers two full days or more getting to market as opposed to sailing around the state an up the East Coast."

One of the largest economic engines in west central Florida, Port Tampa Bay supports nearly 80,000 jobs and generates almost $15 billion in annual economic impact.
As the North Tampa area continues to evolve with a focus on becoming an innovation district, this grant will serve as a roadmap to higher-wage, middle-class jobs for current residents, according to the Tampa Innovation Alliance.

Partners will work to develop programming and training. Education and training providers, including the University of South Florida, will allow participants to earn various credentials including certificates and associate degrees in customized programs, including computer system analysts, computer programmers, software developers, web developers, computer user support specialists, registered nurses, medical and clinical laboratory technologists and technicians and phlebotomists.
From the Blog:
In a recent article, the Washington Post explained:

"Brexit has spawned the recent bout of volatility in global financial markets. That has anxious investors scurrying for safety — and few assets are safer than U.S. Treasuries. High demand for government debt pulls down interest rates.

That all translates into ultra-low mortgage rates for American households. And with Britain voting for Brexit, they could go even lower."

However, the lower rates caused by Brexit may be short lived as Trulia Chief Economist Ralph McLaughlin pointed out in a recent post:

"While the departure of the UK from the European Union has driven down the 10-year bond, and thus mortgage rates, we expect them to rebound later in the year as uncertainty over the economic consequences of the departure lifts."
Advice for Buyers:
The answer often boils down to a lack of information. Many potential first-time buyers continue renting because they assume homeownership is only for the wealthy, those who can afford a hefty 20% down payment. They feel in their gut what economists have verified — that saving for 20% down on an average home with an average income could take a decade or more.

Here's what these aspiring but frustrated potential buyers don't know: the 20% down payment requirement is a myth. Mortgages for as little as 3% down are readily available.

Advice for Sellers

Home Loans
In the wake of the Brexit vote, the yield on the 10-year U.S. Treasury bond plummeted 24 basis points. The 30-year mortgage rate declined as well, but not by as much, falling 8 basis points to 3.48 percent. This week's survey rate is the lowest since May 2013 and only 17 basis points above the all-time low recorded in November 2012. This extremely low mortgage rate should support solid home sales and refinancing volume this summer.

30-year fixed-rate mortgage (FRM) averaged 3.48 percent with an average 0.5 point for the week ending June 30, 2016, down from last week when it averaged 3.56 percent. A year ago at this time, the 30-year FRM averaged 4.08 percent.
15-year FRM this week averaged 2.78 percent with an average 0.4 point, down from last week when it averaged 2.83 percent. A year ago at this time, the 15-year FRM averaged 3.24 percent.
5-year Treasury-indexed hybrid adjustable-rate mortgage (ARM) averaged 2.70 percent this week with an average 0.5 point, down from last week when it averaged 2.74 percent. A year ago, the 5-year ARM averaged 2.99.

Average commitment rates should be reported along with average fees and points to reflect the total upfront cost of obtaining the mortgage. Visit the following link for the Definitions. Borrowers may still pay closing costs which are not included in the survey.
Thanks again for reading #Tampa Market Monday from Annette Bohannon. We would love to hear from you if you need help selling your home or buying a new one! You can reach me, Doug Bohannon or Dale Bohannon at 813-979-4963 or by completing this contact form.
Have a Fantastic week!
–Annette Bohannon, Team Bohannon, Keller Williams, 813-431-2840 www.teambohannon.com
Search for Tampa Homes By Neighborhood