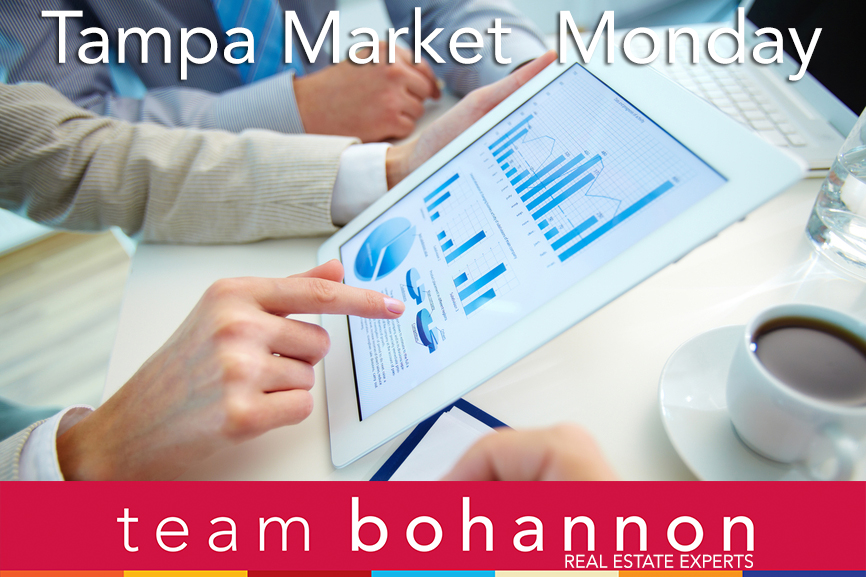 Happy Monday!
Greater Tampa (view a map of the communities) home sales increased in September compared to August a year ago. The number of Homes Sold climbed 12.7% to 2,914, while the Total Sold Dollar Volume jumped 22.1% to $697,937,259. On a month-to-month basis, Closed Sales and Total Sold Dollar Volume went down 6.7% and 8.7% respectively. The Median Sold Price hit $205,000 — a 11.4% rise compared to September 2015 and a 2.4% decrease from August 2016.
The Average Number of Days a Home Stayed on the Market (56 days) dropped 15.2% compared to September a year ago and increased 3.1% compared to August of this year. Months of Supply which measures how many months of housing inventory remain based on current sales trends is down to 2.79 months. So the key takeaway for sellers is this September was much more robust than last September and this trend should continue even though the next few months will see somewhat of a seasonal slowdown.
Year-to-Date Home Sales for Greater Tampa
Here's a detailed look at the stats:
What It Means
Home sales and prices keep going up compared to the same time periods from last year, and interest rates REMAIN historically low. Plus lending requirements are loosening a bit which is good for buyers and sellers. So it's STILL a GREAT time to SELL. 
If you're ready to do so, contact us and let us focus our expertise, experience and award-winning client services on helping you sell your home quickly and for top dollar. If you're a buyer, please call us.  Our skilled and experienced BUYERS agents will position you to move fast and negotiate smartly in a very competitive SELLERS market.
(Want a customized evaluation of your home and neighborhood, based on comparable homes that have sold recently? Call Annette Bohannon at 813-431-2840 and get a FREE detailed, market evaluation of your home or you can get a Free Market Report by following this link.)
Now here's a quick overview of some of the best and most informative blog posts, articles and infographics we've run across this week. Enjoy!
Tampa:
There are people who eat and people who eat recreationally. For that second group, good food is like a drug: The more they enjoy, the harder it becomes to say no. But like any expensive habit, an insatiable palate can strike a hard blow to the foodie's finances. Americans today spend nearly athird of every food dollar on restaurant services. And in 2015, the National Restaurant Association reported that Americans spent more money at food establishments than at grocery stores.But foodies with strong taste buds don't limit themselves to eating out. Dining in can be equally satisfying — and costly. Fortunately, some of America's culinary hotspots are sympathetic toward their cash-strapped epicures and offer plenty of affordable options. These wallet-friendly cities cater to foodies who prefer to concoct their own scrumptious creations at home, sample unique flavors of the local gastronomy or both.In honor of World Food Day on Oct. 16, WalletHub crunched the numbers to determine the best and cheapest foodie scenes among the 150 largest cities. We compared the cities across 21 key metrics, ranging from "cost of groceries" to "prevalence of affordable restaurants rated at least 4.5 stars" to "number of food festivals per capita." Continue reading below for the winners, expert foodie commentary and a full description of our methodology. Happy eating!
The service is called Amazon Restaurants, and starting October 13, the online retailer will be delivering food from popular restaurants including Taco Bus, Datz, P.F. Changs, India's Grill, Renzo's Gourmet, and many more.Datz owner Suzanne Perry says they are thrilled to offer their customers delivery with Amazon. She also expressed her excitement as a customer to use the service.Amazon says that they will offer transparent pricing with no markups or hidden service fees. Delivery on all orders is free for Prime Members.The service is available only to Prime members, and can be accessed using the Prime Now app or by visitingamazon.com/restaurants.
The initial flight takes off Monday, Dec. 12. It will be the first commercial flight in more than five decades between the two cities."It is exciting to connect people to the things in their lives that are important to them, and this is important to Tampa," said Adam Decaire, managing director of network planning for Southwest Airlines.Initially, one 75-minute direct flight will depart from Tampa each day at 6:15 a.m. Flights back to Tampa will depart at either 6:05 p.m. or 11:15 p.m.
From the Blog:
CoreLogic released their most current Home Price Index last week. In the report, they revealed home appreciation in three categories: percentage appreciation over the last year, over the last month and projected over the next twelve months.
Advice for Buyers:
Buying a home is probably one of the biggest purchases you'll ever make in your life, which is why it's so important that necessary repairs are made to ensure your safety, financial stability, and overall happiness. However, where do you draw the line when requesting repairs from sellers as to not jeopardize the sale of the property all together?
So you still think it's impossible to get a mortgage because lenders' standards continue to be super strict and your profile doesn't quite fit the standard underwriting molds? You're right — it can be tough. But it's no longer impossible, thanks to new programs becoming available from national and regional lenders for applicants who qualify.Check out terms like these:
•Minimum down payments of 3 percent or even 1 percent, sometimes without monthly mortgage insurance premium charges.
•Debt-to-income levels that stretch as high as 45 to 50 percent.
•Looser definitions of what qualifies as income.
•Underwriting flexibility that acknowledges that growing numbers of Americans live with extended families and have multiple resident earners who can contribute to household expenses.
Advice for Sellers
When you get ready to sell your home, you might very well have a false sense of security. After all, you got through the hard part of buying. Now all you have to do is call a Realtor, put your home on the market, and wait for the buyers to line up. Selling will be a breeze, right?Of course not! Selling a home is as much a science as buying one is. And lots of peoplewho've been there before will want to tell you how it's done. Beware of these (well-meaning) storytellers, and don't fall for some of the most common misconceptions about selling your home.

Home Loans
This week the 10-year Treasury yield continued its climb as an increasing number of financial market participants foresee a December rate hike after a series of positive economic data releases. The 30-year fixed-rate mortgage moved up 5 basis points to 3.47 percent in this week's survey, the first increase in one month. Even though we've seen economic activity pick up, consumer price inflation and implied inflation expectations remain below the Federal Reserve's 2 percent target.
30-year fixed-rate mortgage (FRM) averaged 3.47 percent with an average 0.6 point for the week ending October 13, 2016, up from last week when they averaged 3.42 percent. A year ago at this time, the 30-year FRM averaged 3.82 percent.
15-year FRM this week averaged 2.76 percent with an average 0.6 point, up from last week when they averaged 2.72 percent. A year ago at this time, the 15-year FRM averaged 3.03 percent.
5-year Treasury-indexed hybrid adjustable-rate mortgage (ARM) averaged 2.82 percent this week with an average 0.4 point, up from last week when it averaged 2.80 percent. A year ago, the 5-year ARM averaged 2.88 percent.
Average commitment rates should be reported along with average fees and points to reflect the total upfront cost of obtaining the mortgage. Visit the following link for the Definitions. Borrowers may still pay closing costs which are not included in the survey.
Thanks for reading Tampa Market Monday. We'd love to help you buy or sell your home so please get in touch! You can reach me, Doug Bohannon or Dale Bohannon at 813-979-4963 or by completing this contact form.
Have a Fantastic week!
–Annette Bohannon, Team Bohannon, Keller Williams, 813-431-2840 www.teambohannon.com
Search for Tampa Homes By Neighborhood
Tampa, a beautiful, modern city located on the Gulf Coast of Florida, is bordered by Old Tampa Bay and Hillsborough Bay, which come together to makeup Tampa Bay. It offers…
View 3546 homes
Apollo Beach is a vibrant waterfront community, located in Hillsborough County in Tampa, FL. It features over 50 miles of interconnected canals that lead to Tampa Bay and the Gulf…
View 325 homes
Land O' Lakes, located in Pasco County, is north of downtown Tampa. It's also part of the Tampa-St. Petersburg-Clearwater, Florida MSA. The population of the area is a little over…
View 468 homes
FishHawk, Hillsborough County's first "green community", is made up of a variety of smaller communities located in Lithia, Florida. They including Starling at FishHawk, The Preserve, FishHawk Ranch and FishHawk…
View 215 homes
Lutz, which began as a small train depot on the Tampa North Railroad, now has about 20,000 residents. It was named for W. P. Lutz, who brought the railroad to…
View 424 homes
New Tampa, Tampa Bay's fastest growing community is located in the northern side of Tampa. New Tampa, well-known for its master-planned communities, features upscale residences surrounded by lakes, lush green…
View 361 homes
The Carrollwood area, about 7 miles northwest of Tampa includes two distinct communities — Carrollwood and Carrollwood Village. Both are located in Hillsborough County. Together, they have a population of…
View 266 homes
Odessa, located in Pasco County started as a community of open spaces that residents used for ranches and horse farms. But in more recent years, it has grown considerably due…
View 271 homes
Brandon is an appealing suburb, east of downtown Tampa, Florida. It offers residents a quieter, family-oriented lifestyle just outside of Tampa's city center. Over 100,000 people call it home and…
View 311 homes
Riverview, Florida, located in Hillsborough County near Tampa has nearly 80,000 residents. The community saw its population increase close to 500 percent from 2000 to 2010 as new development occurred…
View 703 homes
South Tampa, located on the Interbay Peninsula, includes areas of Tampa south of Kennedy Boulevard. Many of Tampa's most unique and in-demand neighborhoods, Beach Park, Ballast Point, Bayshore Beautiful, Bayshore…
View 1055 homes
Ruskin, located in Hillsborough County, Florida, near Tampa's South shore has blossomed since the early 2000's. It's population, which doubled from 2000 to 2010 now tops 17,000 residents. Background The…
View 297 homes
Valrico, located east of Tampa, is home to more than 35,000 residents. The population has expanded over 400% since 2000, when only 6,500 residents lived there. The median house or…
View 263 homes
Wesley Chapel, in Pasco County, has been one of Tampa Bay's fastest growing communities during the past 10 years. Currently, there are over 45,000 residents, 16,000 households and 12,000 families…
View 502 homes
Westchase, founded in 1991, is a luxurious planned community located between Tampa and Clearwaterin Hillsborough County. It has around 22,000 residents and is one of the most affluent subdivisions the…
View 154 homes
Are you seeking a one-of-a-kind luxury home? You'll discover many remarkable million-dollar-plus properties in the Tampa area. Whether you prefer living on the water with spectacular views, a Championship golf…
View 3772 homes
If you love golf, you'll love the Tampa Bay area's challenging and picturesque golf courses set in vibrant and beautiful communities on the Gulf Coast. You can enjoy a daily…
View 6222 homes
Living on the waterfront means a variety of things to different people. Some love the all-the-time access to sunshine, the beach and the ocean. For other it's about a peaceful…
View 13625 homes