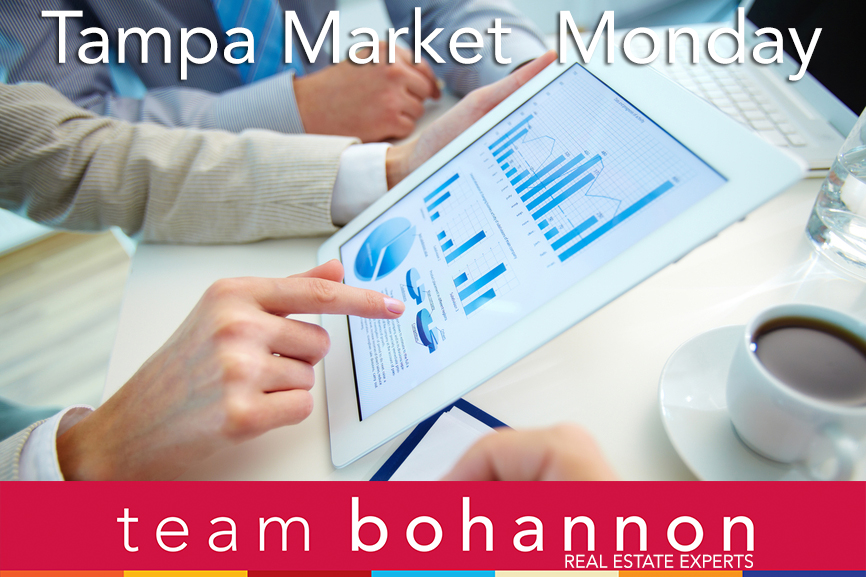 Happy Monday!
Today, let's take a look at how the housing market did in the Greater Tampa area in May of 2017.
The table above shows that Total Sold Dollar Volume climbed 27.6% in May 2017 compared to May of last year. The Number of Homes Sold (or Closed Sales) also jumped 14.2% YOY (Year-Over-Year), as 3,548 homes sold. In addition, The Median Sold Price* rose 8.6% to $220,000. Average Price Per Square Foot was also up compared to last May. It increased 11.8% to $133.
The Average Number of Days a home stayed on the market dropped to 48 days, 15.8% lower than May of 2016, while the Median Days a home stayed on the market plummeted 32.3% to 21 days. To get the Average Days you simply take the number of days it took all homes to sell and divide it by the number of homes sold. On the other hand, Median Days on the Market shows that half of the homes on the market sold in 23 days or less and the other half took more than 23 days.
(MEDIAN SOLD PRICE – Median means "in the middle," meaning that half of the homes sold above the Median Sold Price and half sold below it. For example, if 5 homes sold in a zip code for $200,000, $250,000, $300,000, $400,000 and $800,000, the Median Price would be the one in the middle. In this case, that would be the $300,000 home. In contrast, average selling price would just be the sum of the selling prices of the 5 homes divided by 5, or $330,000. Many real estate statisticians prefer median price as a better indicator of the "typical" price within an area or zip code. Why? "Outliers" or homes sold at an extremely high or low price — like the $800,000 home in our example — do not affect it as much.)
See charts below for a more detailed breakdown of the trends.
Bottom Line
The Greater Tampa real estate market as a whole is performing much better than in 2017. Demand indicators, such as home sales, prices, and total dollar volume increased, while supply indicators like months of supply and days on the market fell. These trends are expected to continue as the real estate season moves from Spring into Summer.
The next two to three months present a prime selling opportunity for those who want to sell. You still have plenty of time to get your home on the market and sold before things settle some in the fall, but you need to act now to do so.
(Want a customized evaluation of your home and neighborhood, based on comparable homes that have sold recently? Call Annette Bohannon at 813-431-2840 and get a FREE detailed, market evaluation of your home.)
Now here's an overview of some of the most helpful and interesting blog posts, articles, and infographics we've read this week. Enjoy!
Tampa:
TAMPA — Port Tampa Bay's board of directors unanimously approved a plan to demolish part of Channelside Bay Plaza to make room for new restaurants, retailers and waterfront views.

Port officials voted in favor of amending Strategic Property Partners' ground lease on the 230,532-square-foot retail plaza adjacent to the port at a meeting Tuesday morning.

This amendment allows SPP — the real estate firm owned by Tampa Bay Lightning owner Jeff Vinik and Bill Gates' Cascade Investment — to demolish the southwest portion of the retail center to create better views of the waterfront and enhance the visibility of Bay Plaza.
From the Blog:
Read More
CoreLogic's latest Equity Report revealed that 91,000 properties regained equity in the first quarter of 2017. This is great news for the country, as 48.2 million of all mortgaged properties are now in a positive equity situation.

Price Appreciation = Good News for Homeowners

Frank Nothaft, CoreLogic's Chief Economist, explains

"One million borrowers achieved positive equity over the last year, which means risk continues to steadily decline as a result of increasing home prices."
Buyers:
Investors are scouring real estate markets looking for low-priced homes, and they're increasingly stepping on the toes of first-time home buyers, who are hunting in the same price range. "The investor is starting to gobble up pretty much anything under $200,000," Dennis Cisterna, chief revenue officer for Investability Real Estate, which markets rental homes, told The Dallas Morning News. "We are not adding any new supply to the market to serve that first-time home buyer."

Housing inventories are at the lowest level in 30 years, and the shortages are most pronounced in the low and middle price ranges. "We are losing inventory at a record pace and in the segment of the market with the most demand," says Javier Vivas, a realtor.com® analyst.

Investors comprised 33 percent of all single-family and condo sales in 2016, the highest percentage ever recorded by real estate data firm ATTOM Data Solutions. "This is setting the stage for a boom in single-family rentals," says Daren Blomquist, an economist at ATTOM.
Buying a home is an enormous decision, one that has an impact on your credit and finances like no other purchase could. The vast majority of homes are purchased through a mortgage, but most traditional mortgages require 20% down — and that is a big chunk of change that many potential homeowners might not have.

What if you meet all other requirements but just don't have the cash for that big down payment?

Fortunately, there are numerous programs out there designed to get you into that home with little to no money down. Here are a few of the options that might work to make your dream come true.
Sellers
If you're getting ready to sell your home, you've probably made a list of items to tackle around the house. Declutter your rooms, paint the walls, fix any broken or worn items. Certainly, maximizing the visual appeal of your home is essential when staging to sell. But there's one very important task to add to your list: making sure your home has a scent that will please the masses.

What exactly is a crowd-pleasing scent? That may seem a matter of debate, since an aroma's appeal can be quite subjective. But there are definite strategies to follow. Read on for five guidelines for creating a pleasant home scent for prospective buyers.
Home Loans
Following last week's sharp decline, the 10-year Treasury yield rose 3 basis points this week. The 30-year mortgage rate remained relatively flat, falling 1 basis point to 3.90 percent. Mortgage rates are continuing to hold at year-to-date lows amidst ongoing economic uncertainty.

30-year fixed-rate mortgage (FRM) averaged 3.90 percent with an average 0.5 point for the week ending June 22, 2017, down from last week when it averaged 3.91 percent. A year ago at this time, the 30-year FRM averaged 3.56 percent.
15-year FRMthis week averaged 3.17 percent with an average 0.5 point, down from last week when it averaged 3.18 percent. A year ago at this time, the 15-year FRM averaged 2.83 percent.
5-year Treasury-indexed hybrid adjustable-rate mortgageARM) averaged 3.14 percent this week with an average 0.5 point, down from last week when it averaged 3.15 percent. A year ago at this time, the 5-year ARM averaged 2.74 percent.

Average commitment rates should be reported along with average fees and points to reflect the total upfront cost of obtaining the mortgage. Visit the following link for the Definitions. Borrowers may still pay closing costs which are not included in the survey.
Thanks for reading Tampa Market Monday. We'd love to help you buy or sell your home, so please get in touch! You can reach me, Doug Bohannon or Dale Bohannon at 813-979-4963 or by completing this contact form.
Have a Fantastic week!
–Annette Bohannon,
Team Bohannon, Keller Williams, 813-431-2840
www.teambohannon.com
Search for Tampa Homes By Neighborhood
Tampa, a beautiful, modern city located on the Gulf Coast of Florida, is bordered by Old Tampa Bay and Hillsborough Bay, which come together to makeup Tampa Bay. It offers…
View 3546 homes
Apollo Beach is a vibrant waterfront community, located in Hillsborough County in Tampa, FL. It features over 50 miles of interconnected canals that lead to Tampa Bay and the Gulf…
View 325 homes
Land O' Lakes, located in Pasco County, is north of downtown Tampa. It's also part of the Tampa-St. Petersburg-Clearwater, Florida MSA. The population of the area is a little over…
View 468 homes
FishHawk, Hillsborough County's first "green community", is made up of a variety of smaller communities located in Lithia, Florida. They including Starling at FishHawk, The Preserve, FishHawk Ranch and FishHawk…
View 215 homes
Lutz, which began as a small train depot on the Tampa North Railroad, now has about 20,000 residents. It was named for W. P. Lutz, who brought the railroad to…
View 424 homes
New Tampa, Tampa Bay's fastest growing community is located in the northern side of Tampa. New Tampa, well-known for its master-planned communities, features upscale residences surrounded by lakes, lush green…
View 361 homes
The Carrollwood area, about 7 miles northwest of Tampa includes two distinct communities — Carrollwood and Carrollwood Village. Both are located in Hillsborough County. Together, they have a population of…
View 266 homes
Odessa, located in Pasco County started as a community of open spaces that residents used for ranches and horse farms. But in more recent years, it has grown considerably due…
View 271 homes
Brandon is an appealing suburb, east of downtown Tampa, Florida. It offers residents a quieter, family-oriented lifestyle just outside of Tampa's city center. Over 100,000 people call it home and…
View 311 homes
Riverview, Florida, located in Hillsborough County near Tampa has nearly 80,000 residents. The community saw its population increase close to 500 percent from 2000 to 2010 as new development occurred…
View 703 homes
South Tampa, located on the Interbay Peninsula, includes areas of Tampa south of Kennedy Boulevard. Many of Tampa's most unique and in-demand neighborhoods, Beach Park, Ballast Point, Bayshore Beautiful, Bayshore…
View 1055 homes
Ruskin, located in Hillsborough County, Florida, near Tampa's South shore has blossomed since the early 2000's. It's population, which doubled from 2000 to 2010 now tops 17,000 residents. Background The…
View 297 homes
Valrico, located east of Tampa, is home to more than 35,000 residents. The population has expanded over 400% since 2000, when only 6,500 residents lived there. The median house or…
View 263 homes
Wesley Chapel, in Pasco County, has been one of Tampa Bay's fastest growing communities during the past 10 years. Currently, there are over 45,000 residents, 16,000 households and 12,000 families…
View 502 homes
Westchase, founded in 1991, is a luxurious planned community located between Tampa and Clearwaterin Hillsborough County. It has around 22,000 residents and is one of the most affluent subdivisions the…
View 154 homes
Are you seeking a one-of-a-kind luxury home? You'll discover many remarkable million-dollar-plus properties in the Tampa area. Whether you prefer living on the water with spectacular views, a Championship golf…
View 3772 homes
If you love golf, you'll love the Tampa Bay area's challenging and picturesque golf courses set in vibrant and beautiful communities on the Gulf Coast. You can enjoy a daily…
View 6222 homes
Living on the waterfront means a variety of things to different people. Some love the all-the-time access to sunshine, the beach and the ocean. For other it's about a peaceful…
View 13625 homes