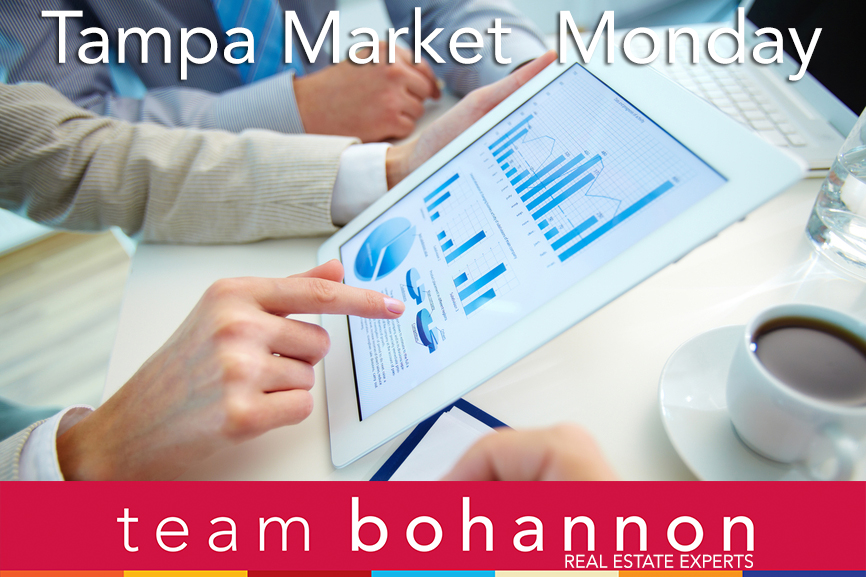 Happy Monday!
Greater Tampa (view a map of the communities) home sales continued to go up in June. The median sales price increased to $210,000 — a 3.7% increase compared to May 2016 and a 13.6% rise from June 2015.  Greater Tampa had 3,238 homes change hands — a 4.2% increase from May 2016 and a 3% rise from June of 2015.
The median number of days a home stayed on the market ticked up some from 31 days on the market in May to 32 in June, but Tampa homes still sold 25.6% faster than a year ago. Months of supply which measures how many months of housing inventory remain, increased slightly as well — from 2.71 to 2.85. Housing inventory is down 11.4% from last June. However the market continues to favor sellers. The law of supply and  demand dictates that fewer homes on the market leads to more competition and should lead to increased prices.
Here's a detailed look at the stats:
What It Means
NOW is a GREAT time to SELL. Home sales and prices are trending up from a year ago, and interest rates are historically low.
If you're ready to sell, contact us and let us focus our expertise, experience and award-winning client services on helping you sell your home quickly and for top dollar. If you're a buyer, you should also reach out.  Our skilled and experienced BUYERS agents will position you to move fast and negotiate smartly in an highly competitive SELLERS market.
(Want a customized evaluation of your home and neighborhood, based on comparable homes that have sold recently? Call Annette Bohannon at 813-431-2840 and get a FREE detailed, market evaluation of your home or you can get a Free Market Report by following this link.)
Now here's a quick overview of some of the best and most informative blog posts, articles and infographics we've run across this week. Enjoy!
Tampa:
Tampa offers one of the most favorable structures for businesses among large cities in the United States, according to a new study from KPMG LLP.

Of the 51 large international cities highlighted in the study, Tampa placed No. 14 and No. 5 in the U.S., a press release said.
Tampa's signature sandwich has landed one Ybor City restaurant on national TV.

The Travel Channel will feature Gaspar's Grotto on a pork-themed episode of "Food Paradise" that airs at 8 p.m. July 17. Titled "Hog Heaven," the episode will focus on dishes that feature pork.
From the Blog:


Advice for Buyers:
The U.S. Senate tonight passed H.R. 3700, the "Housing Opportunity Through Modernization Act," by unanimous consent. This legislation includes reforms to current Federal Housing Administration restrictions on condominium financing, among other provisions, and is long supported by the National Association of Realtors®.

Changes include efforts to make FHA's recertification process "substantially less burdensome," while lowering FHA's current owner-occupancy requirement from 50 percent to 35 percent. The bill also requires FHA to replace existing policy on transfer fees with the less-restrictive model already in place at the Federal Housing Finance Agency.

Advice for Sellers
Regret No. 1: Not fully preparing the place

Serious about selling your home? Spiff it up, stat! Recent seller Kim Maggio admits that she didn't focus on making cosmetic changes before putting her Haverhill, MA, house on the market and wishes that she had.

"I didn't spend enough time prepping our house for sale—purging, staging, or doing small repair projects," she says. "And I regret not planning ahead or getting real about what had to be done, because it ended up dragging out the home-selling process—in terms of finding a buyer and negotiating repairs—costing me precious time and money."

Home Loans
We describe the last few weeks as A Tale of Two Rates. Immediately following the Brexit vote, U.S. Treasury yields plummeted to all-time lows. This week, markets stabilized and the 10-year Treasury yield rebounded sharply. In contrast, the 30-year mortgage rate declined after the Brexit vote, but only by half as much as the 10-year Treasury yield. This week, the 30-year fixed rate barely budged, rising just one basis point to 3.42 percent. This pattern suggests that mortgage rates are likely to remain low throughout the summer.

30-year fixed-rate mortgage (FRM) averaged 3.42 percent with an average 0.5 point for the week ending July 14, 2016, up from last week when it averaged 3.41 percent. A year ago at this time, the 30-year FRM averaged 4.09 percent.
15-year FRM this week averaged 2.72 percent with an average 0.5 point, down from last week when it averaged 2.74 percent. A year ago at this time, the 15-year FRM averaged 3.25 percent.
5-year Treasury-indexed hybrid adjustable-rate mortgage (ARM) averaged 2.76 percent this week with an average 0.4 point, up from last week when it averaged 2.68 percent. A year ago, the 5-year ARM averaged 2.96.
Thanks for reading Tampa Market Monday. We'd love to help you buy or sell your home so please get in touch! You can reach me, Doug Bohannon or Dale Bohannon at 813-979-4963 or by completing this contact form.
Have a Fantastic week!
–Annette Bohannon, Team Bohannon, Keller Williams, 813-431-2840 www.teambohannon.com
Search for Tampa Homes By Neighborhood