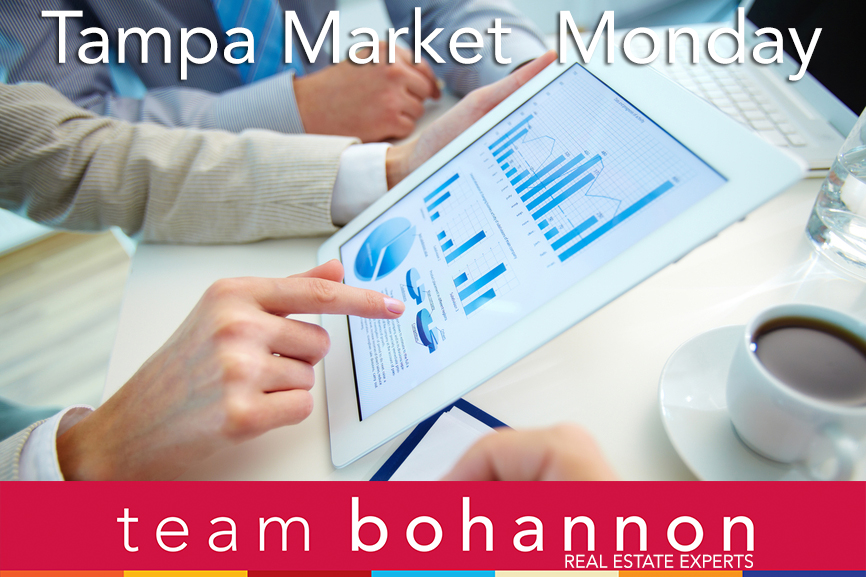 Happy Monday!
Today, let's examine how the the Greater Tampa housing market has trended over the last few years.
The Number of Single-Family Homes Sold hit 2,633 in July of 2017, which was 7.7% higher than in July of 2016. If you look at Quarterly Chart below, you'll notice that Q2 2017 sales (through June) beat Q2 2016 sales by 7.3% as nearly 8,000 homes sold from April through June of this year. This suggests that July is just the beginning of a solid Q3 of sales.
The Median Sale Price has also increased during the last two years. In August of 2015, it stood at $199,000. Since then the Median Price has jumped $38,000 or 19%. That's also 7.7% higher than in July of 2016.
(MEDIAN SOLD PRICE – Median means "in the middle," meaning that half of the homes sold above the Median Sold Price and half sold below it. For example, if 5 homes sold in a zip code for $200,000, $250,000, $300,000, $400,000 and $800,000, the Median Price would be the one in the middle. In this case, that would be the $300,000 home. In contrast, average selling price would just be the sum of the selling prices of the 5 homes divided by 5, or $330,000. Many real estate statisticians prefer median price as a better indicator of the "typical" price within an area or zip code. Why? "Outliers" or homes sold at an extremely high or low price — like the $800,000 home in our example — do not affect it as much.)
The Average Number of Days a home stayed on the market fell to 47 days, 19% lower than July of 2016. Two years ago, it took 68 days on average to sell a Tampa home, which is 68% longer than it did in July 2017. Months of Supply, which measures housing inventory, has dropped from 2.97 months in August 2015 to 2.57 months as of July 2017. A year ago, this market indicator stood at 2.87 months.
Bottom Line
The trends show that the Greater Tampa housing market is maintaining its strong performance during 2017. Year over year increases in number of sales and prices, along with decreases in housing inventory and days on the market, suggest that demand should continue to outpace supply. But that's great news for those who plan to sell their homes before the end of 2017.
(Want a customized evaluation of your home and neighborhood, based on comparable homes that have sold recently? Call Annette Bohannon at 813-431-2840 and get a FREE detailed, market evaluation of your home.)
Now here's an overview of some of the most helpful and interesting blog posts, articles, and infographics we've read this week. Enjoy!
Tampa:
Strategic Property Partners has revealed the conceptual design of the first phase of its mixed-use district — and it's essentially a new, tree-lined city between the Channel district waterfront and the central business district.

SPP, the real estate holding company controlled by Tampa Bay Lightning owner Jeff Vinik and Cascade Investment LLC, on Tuesday rolled out a fly-through video and conceptual images of Water Street, which is slated to break ground in early 2018.
From the Blog:
We previously informed you about a study conducted by TransUnion titled, "The Bubble, the Burst and Now – What Happened to the Consumer?" The study revealed that 1.5 million homeowners who were negatively impacted by the housing crisis could re-enter the housing market between 2016-2019.

Recently, HousingWire analyzed data from the US Bankruptcy Courts and revealed that 6 million Americans will have their bankruptcies disappear off their credit reports over the next five years and that this could "possibly send a flood of more homebuyers into the housing market."
The results of countless studies have shown that potential home buyers, and even current homeowners, have an inflated view of what is really required to qualify for a mortgage in today's market.

One such study by the Wharton School of Business at the University of Pennsylvania revealed that many millennials have not yet considered purchasing homes simply because they don't believe they can qualify for a mortgage.

A recent article about millennials by Realtor.com explained that:

"About 72% of aspiring millennial buyers said they're waiting because they can't afford to buy…"

The article also explained that 29% of millennials believe their credit scores are too low to buy.The problem here is the fact that they think they will be denied a mortgage is keeping them from even attempting to apply.

Ellie Mae's Vice President Jonas Moe encouraged buyers to know their options before assuming that they won't qualify for a mortgage:

"Many potential home buyers are 'disqualifying' themselves. You don't need a 750 FICO® Score and a 20% down payment to buy."
Buyers:
Millennials are finally starting their own baby boom and heading for the suburbs in big sport utility vehicles, much like their parents did.

Americans aged about 18 to 34 have become the largest group of homebuyers, and almost half live in the suburbs, according to Zillow Group data. As they shop for bigger homes to accommodate growing families, they're upsizing their vehicles to match. U.S. industry sales of large SUVs have jumped 11 percent in the first half of the year, Ford Motor Co. estimates, compared with increases of 9 percent for midsize and 4 percent for small SUVs.

"We do see that demographic group driving larger sport utility sales as they acquire homes, create families and gain some wealth," said Michelle Krebs, an analyst at car-shopping website Autotrader. "They started with compact sport utilities and now, with families, they're moving up."
Sellers
Determining a price for your home can be stressful, especially if you don't know how to prepare for an appraisal. If the home's appraised value is too far from the listing price, it can make or break the deal. Plus, even though appraisers are subject to strict regulations, much of their job is subjective, which means it's crucial for your home to make a good impression on them.

Luckily, there's a lot you can do to help present your home at its best.
Home Loans

Thanks for reading Tampa Market Monday. We'd love to help you buy or sell your home, so please get in touch! You can reach me, Doug Bohannon or Dale Bohannon at 813-979-4963 or by completing this contact form.
Have a Fantastic week!
–Annette Bohannon,
Team Bohannon, Keller Williams, 813-431-2840
www.teambohannon.com
Search for Tampa Homes By Neighborhood
Tampa, a beautiful, modern city located on the Gulf Coast of Florida, is bordered by Old Tampa Bay and Hillsborough Bay, which come together to makeup Tampa Bay. It offers…
View 3546 homes
Apollo Beach is a vibrant waterfront community, located in Hillsborough County in Tampa, FL. It features over 50 miles of interconnected canals that lead to Tampa Bay and the Gulf…
View 325 homes
Land O' Lakes, located in Pasco County, is north of downtown Tampa. It's also part of the Tampa-St. Petersburg-Clearwater, Florida MSA. The population of the area is a little over…
View 468 homes
FishHawk, Hillsborough County's first "green community", is made up of a variety of smaller communities located in Lithia, Florida. They including Starling at FishHawk, The Preserve, FishHawk Ranch and FishHawk…
View 215 homes
Lutz, which began as a small train depot on the Tampa North Railroad, now has about 20,000 residents. It was named for W. P. Lutz, who brought the railroad to…
View 424 homes
New Tampa, Tampa Bay's fastest growing community is located in the northern side of Tampa. New Tampa, well-known for its master-planned communities, features upscale residences surrounded by lakes, lush green…
View 361 homes
The Carrollwood area, about 7 miles northwest of Tampa includes two distinct communities — Carrollwood and Carrollwood Village. Both are located in Hillsborough County. Together, they have a population of…
View 266 homes
Odessa, located in Pasco County started as a community of open spaces that residents used for ranches and horse farms. But in more recent years, it has grown considerably due…
View 271 homes
Brandon is an appealing suburb, east of downtown Tampa, Florida. It offers residents a quieter, family-oriented lifestyle just outside of Tampa's city center. Over 100,000 people call it home and…
View 311 homes
Riverview, Florida, located in Hillsborough County near Tampa has nearly 80,000 residents. The community saw its population increase close to 500 percent from 2000 to 2010 as new development occurred…
View 703 homes
South Tampa, located on the Interbay Peninsula, includes areas of Tampa south of Kennedy Boulevard. Many of Tampa's most unique and in-demand neighborhoods, Beach Park, Ballast Point, Bayshore Beautiful, Bayshore…
View 1055 homes
Ruskin, located in Hillsborough County, Florida, near Tampa's South shore has blossomed since the early 2000's. It's population, which doubled from 2000 to 2010 now tops 17,000 residents. Background The…
View 297 homes
Valrico, located east of Tampa, is home to more than 35,000 residents. The population has expanded over 400% since 2000, when only 6,500 residents lived there. The median house or…
View 263 homes
Wesley Chapel, in Pasco County, has been one of Tampa Bay's fastest growing communities during the past 10 years. Currently, there are over 45,000 residents, 16,000 households and 12,000 families…
View 502 homes
Westchase, founded in 1991, is a luxurious planned community located between Tampa and Clearwaterin Hillsborough County. It has around 22,000 residents and is one of the most affluent subdivisions the…
View 154 homes
Are you seeking a one-of-a-kind luxury home? You'll discover many remarkable million-dollar-plus properties in the Tampa area. Whether you prefer living on the water with spectacular views, a Championship golf…
View 3772 homes
If you love golf, you'll love the Tampa Bay area's challenging and picturesque golf courses set in vibrant and beautiful communities on the Gulf Coast. You can enjoy a daily…
View 6222 homes
Living on the waterfront means a variety of things to different people. Some love the all-the-time access to sunshine, the beach and the ocean. For other it's about a peaceful…
View 13625 homes