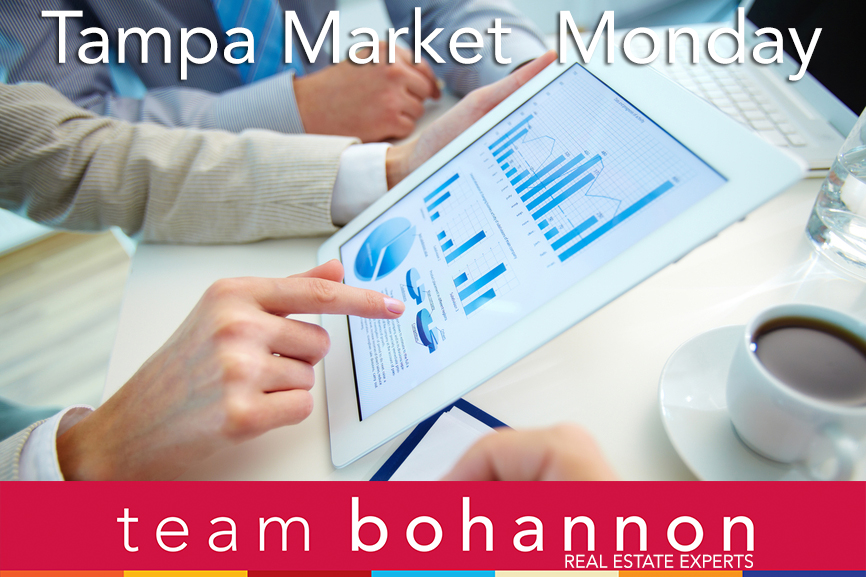 Happy Monday!
Wow! 2017 is off to a great start. You'll see what I mean when we review January 2017 housing data for the Greater Tampa Real Estate Market. So far prices and sales are way ahead of where they were in 2016. February sales data comes out next week and we will see if the momentum is building, holding steady,  or slowing down.
But for now, here's a quick overview of January 2017
Greater Tampa
The table above makes it clear that January 2017 outpaced the start of 2016.
Sold Dollar Volume jumped 36.3% compared to January 2016. Average Sold Price (13.5%) and Median Sold Price*(13.6%) also rose double-digits. The Number of Homes Sold climbed 20% as 355 more home sold than in January a year ago. The Ratio of Average Sold Price-to-Original List Price also increased from 94.5% to 95.4% and Average Sales Price Per Square Foot gained 10.9% or $12 per square foot. Homes also sold 20.6% faster than January 2015, as the Average Days a Home Stayed on the Market dropped from 71 to 54 days. Months of Supply decreased 3.7% from 2.71 months to 2.61.
Here is a more detailed look at the trends over the last 12 months.
(Want a customized evaluation of your home and neighborhood, based on comparable homes that have sold recently? Call Annette Bohannon at 813-431-2840 and get a FREE detailed, market evaluation of your home or you can get a Free Market Report by following this link.)
Now let's review the best and most informative blog posts, articles and infographics we've seen this past week. Enjoy!
Tampa:
Most parents are familiar with the public school grading system released by the state every year. Niche, a Pittsburgh-based data company, goes beyond the scores when evaluating schools.

In addition to the usual metrics based on test scores, the ranking takes into account student and parent assessments, student life data, teacher ratings and various ratings of a school's culture and diversity.

Niche released its 2017 ratings of public elementary schools.

View the 25 highest-rated elementary schools.
Nearly 40 occupations in the Tampa-St. Petersburg-Clearwater metropolitan statistical area draw an annual average wage of $100,000 or more.

That's double the annual average wage of $44,510 in the metro area, according to 2015 data from the U.S. Bureau of Labor Statistics.
From the Blog:

So, you've decided to sell your house. You've hired a real estate professional to help you with the entire process, and they have asked you what level of access you want to provide to potential buyers.

There are four elements to a quality listing. At the top of the list is Access, followed by Condition, Financing, and Price. There are many levels of access that you can provide to your agent so that he or she can show your home.

The 5 Levels of Access You Can Give Buyers
Advice for Buyers:
Once a buyer settles on a home, they often show their commitment with an earnest-money deposit. But if they're not careful, they could lose thousands of dollars.
Realtor.com® recently featured some of the biggest mistakes home buyers most often make with earnest-money deposits, including:
Advice for Sellers
When it's time to sell your home, you can invest a ton of time, energy and money into getting the place ready for sale. You might declutter, stage and even remodel the house to make it as appealing to buyers as possible.

Sometimes, though, no amount of preparation can overcome something in the home that, rightly or wrongly, offends some buyers and gives them negative impressions of you and your house.

Home Loans
In a short week following Presidents Day, the 10-year Treasury yield fell about 8 basis points. However, the 30-year mortgage rate rose 1 basis point to 4.16 percent. This week's survey once again displays the disconnect between mortgage rates and Treasury yields, a result of continued uncertainty.

30-year fixed-rate mortgage (FRM) averaged 4.16 percent with an average 0.5 point for the week ending Feb. 23, 2017, up from last week when it averaged 4.15 percent. A year ago at this time, the 30-year FRM averaged 3.62 percent.
15-year FRM this week averaged 3.37 percent with an average 0.5 point, up from last week when it averaged 3.35 percent. A year ago at this time, the 15-year FRM averaged 2.93 percent.
5-year Treasury-indexed hybrid adjustable-rate mortgage (ARM) averaged 3.16 percent this week with an average 0.4 point, down from last week when it averaged 3.18 percent. A year ago, the 5-year ARM averaged 2.79 percent.

Average commitment rates should be reported along with average fees and points to reflect the total upfront cost of obtaining the mortgage. Visit the following link for the Definitions. Borrowers may still pay closing costs which are not included in the survey.
Thanks for reading Tampa Market Monday. If you are ready to buy or sell a home, let us know! We'd love to put our expertise, enthusiasm, and local knowledge of the Greater Tampa real estate market to work for you. You can reach me, Doug Bohannon or Dale Bohannon at 813-979-4963 or by completing this contact form.
Have a Fantastic week!
–Annette Bohannon, Team Bohannon, Keller Williams, 813-431-2840 www.teambohannon.com
Search for Tampa Homes By Neighborhood
Tampa, a beautiful, modern city located on the Gulf Coast of Florida, is bordered by Old Tampa Bay and Hillsborough Bay, which come together to makeup Tampa Bay. It offers…
View 3546 homes
Apollo Beach is a vibrant waterfront community, located in Hillsborough County in Tampa, FL. It features over 50 miles of interconnected canals that lead to Tampa Bay and the Gulf…
View 325 homes
Land O' Lakes, located in Pasco County, is north of downtown Tampa. It's also part of the Tampa-St. Petersburg-Clearwater, Florida MSA. The population of the area is a little over…
View 468 homes
FishHawk, Hillsborough County's first "green community", is made up of a variety of smaller communities located in Lithia, Florida. They including Starling at FishHawk, The Preserve, FishHawk Ranch and FishHawk…
View 215 homes
Lutz, which began as a small train depot on the Tampa North Railroad, now has about 20,000 residents. It was named for W. P. Lutz, who brought the railroad to…
View 424 homes
New Tampa, Tampa Bay's fastest growing community is located in the northern side of Tampa. New Tampa, well-known for its master-planned communities, features upscale residences surrounded by lakes, lush green…
View 361 homes
The Carrollwood area, about 7 miles northwest of Tampa includes two distinct communities — Carrollwood and Carrollwood Village. Both are located in Hillsborough County. Together, they have a population of…
View 266 homes
Odessa, located in Pasco County started as a community of open spaces that residents used for ranches and horse farms. But in more recent years, it has grown considerably due…
View 271 homes
Brandon is an appealing suburb, east of downtown Tampa, Florida. It offers residents a quieter, family-oriented lifestyle just outside of Tampa's city center. Over 100,000 people call it home and…
View 311 homes
Riverview, Florida, located in Hillsborough County near Tampa has nearly 80,000 residents. The community saw its population increase close to 500 percent from 2000 to 2010 as new development occurred…
View 703 homes
South Tampa, located on the Interbay Peninsula, includes areas of Tampa south of Kennedy Boulevard. Many of Tampa's most unique and in-demand neighborhoods, Beach Park, Ballast Point, Bayshore Beautiful, Bayshore…
View 1055 homes
Ruskin, located in Hillsborough County, Florida, near Tampa's South shore has blossomed since the early 2000's. It's population, which doubled from 2000 to 2010 now tops 17,000 residents. Background The…
View 297 homes
Valrico, located east of Tampa, is home to more than 35,000 residents. The population has expanded over 400% since 2000, when only 6,500 residents lived there. The median house or…
View 263 homes
Wesley Chapel, in Pasco County, has been one of Tampa Bay's fastest growing communities during the past 10 years. Currently, there are over 45,000 residents, 16,000 households and 12,000 families…
View 502 homes
Westchase, founded in 1991, is a luxurious planned community located between Tampa and Clearwaterin Hillsborough County. It has around 22,000 residents and is one of the most affluent subdivisions the…
View 154 homes
Are you seeking a one-of-a-kind luxury home? You'll discover many remarkable million-dollar-plus properties in the Tampa area. Whether you prefer living on the water with spectacular views, a Championship golf…
View 3772 homes
If you love golf, you'll love the Tampa Bay area's challenging and picturesque golf courses set in vibrant and beautiful communities on the Gulf Coast. You can enjoy a daily…
View 6222 homes
Living on the waterfront means a variety of things to different people. Some love the all-the-time access to sunshine, the beach and the ocean. For other it's about a peaceful…
View 13625 homes